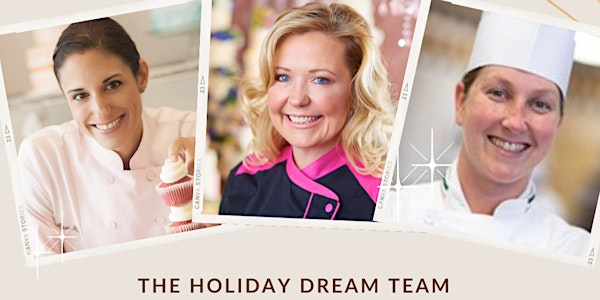 Holiday Dream Team - ONLINE Event
Join the RBA for three online events that will get you ready for the Holiday Rush! Real skills, real techniques, and real products!
About this event
Real skills, real techniques, and real products you can add to your HOLIDAY case this season. Join us for three days of online learning with our Holiday Dream Team!
Tuesday Oct. 26 @ 10am EST — Anne Heap
Cozy Knit Holiday Trends
Learn some different techniques for your holiday cakes this year! Learn how to achieve a realistic knit look on your cookies and cakes for the holidays. Anne will demonstrate how quickly and easily these cookies and cakes can be decorated.
Wednesday Oct 27 @ 10am EST — Lisa Kirshner
Versatility of Viennois!
During this online class we will learn how to mix, shape, and bake Viennois (Pain au Lait). A variation using dried cherries/cranberries and white chocolate. This dough is very soft and handles very well. It can be made ahead of time and ferment in the cooler for up to 2 days. This variation is great around wintertime because it pairs well with hot cocoa or a nice cup of coffee.
Thursday Oct 28th @10am EST— Bronwen Weber
Mid Century Glass Sculpted Ornament Cake
See how to sculpt a quarter sheet into a fun retro ornament. Bronwen will show you how to be fast with fondant and airbrushing. Add this new cake to your holiday case this year!
RBA Members are FREE!
Not a member? Non-Members: $25 per class, or $50 for the 3-part series