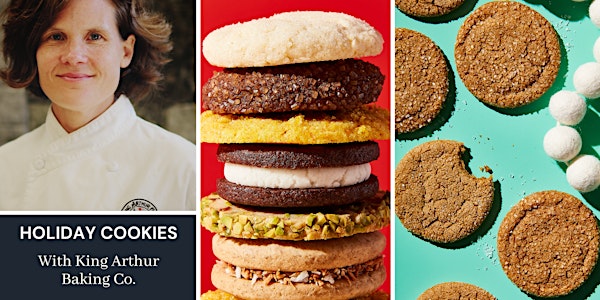 Holiday Cookies with King Arthur Baking Co.
King Arthur Baking Company is back to help you complete your cookie gift boxes and holiday spreads.
Refund Policy
Contact the organizer to request a refund.
About this event
NOTE: iphone and ipad users, CLICK HERE to register for class.
What's on the Menu:
Zaletti (Venetian Cornmeal Cookies)
Brown Sugar Snaps
Plus, inspiration for cookie adaptations & variations
Nothing says the holiday season like a plate of perfect cookies. So how do you ensure that your cookies this winter season are truly great? With the knowledge and skill from the fine folks at King Arthur Baking Company, of course. In this livestream class, King Arthur Baking Co. instructor Elisabeth Berthasavage will teach you two irresistible cookies that you will make again and again this year and for years to come. You'll see how the way you incorporate butter—whether it's cold and cut in or warmed and creamed in—completely transforms the texture of a cookie. You'll use both cornmeal and all-purpose flour to create one Italian classic and one American mainstay. You'll get a primer on different shaping techniques: the roll and cut versus the slice and bake. You'll get inspiration from your instructor on how to customize your cookies with add-ins. And you'll learn how the pros determine precisely when a cookie is perfectly baked. The lessons you'll learn in this class extend far beyond the recipes of the day, making you a more confident cookie connoisseur no matter what you're making.
About your instructor: Elisabeth Berthasavage is a graduate of the New England Culinary Institute in Montpelier, Vermont. Prior to King Arthur Flour, Elisabeth worked as a baker for several Vermont bakeries and was the bakery rounds instructor for the New England Culinary Institute. She loves all things pastry, with a concentration on custom cakes for weddings and other special occasions. Elisabeth's training took her to Germany for a year, where she had the opportunity to focus on modeling with marzipan, and this influence continues to have a real place in her cake designs today. She lives in New Hampshire with her husband and two children.
Use code MILK2022 to get 10% off your copy of King Arthur Baking Co.'s new book, "The King Arthur Baking School: Lessons and Recipes for Every Baker"
Want to give this class as a gift? You can purchase gift cards here.
Bonus: All attendees of this class will receive a one-time 15% off coupon to the Milk Street Store after class.
This event has limited spots, and you must register in advance via Eventbrite. One sign-up covers one device. Closed Captioning is available for this event.
Immediately after registering, you will get a confirmation email that contains the Zoom meeting log-in information. One week prior to class (or within 48 hours of registering, if you sign up less than a week in advance), you will receive an email with the ingredients, equipment and prep you'll need to cook along with us, if you choose.
After class, you will receive a recording of the event, as well as a folder of recipes and resources that we discuss during the event. Class recordings are available to all registered attendees for two weeks following each event.
Payments for Milk Street live stream classes are non-refundable. If you find yourself unable to attend, you may transfer the ticket to someone else, but we are unable to refund fees and all payments are final. Classes are subject to cancellation at any time. In the case of cancellation by the event organizer, all paid tickets will be fully refunded.
Proceeds from live stream cooking classes support Milk Street's non-profit work with The Big Sisters Association of Great Boston, The Boys & Girls Club of Dorchester, and other partners.
If you have any questions about this class, please don't hesitate to get in touch via cookingschool@177milkstreet.com.