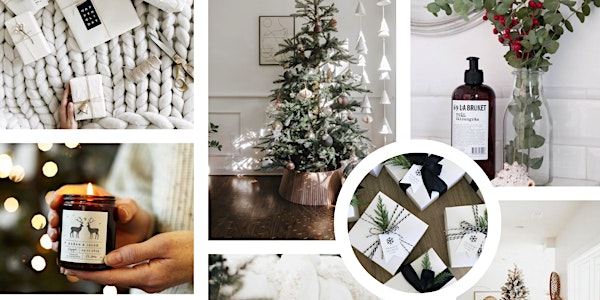 Holiday Content Creation Event
Come create stunning holiday content at Twelve Studio!
When and where
Location
Twelve Studio 9495 Silver King Court Fairfax, VA 22031
About this event
When: Tickets are available the following dates and times (choose a time slot)
SATURDAY NOV.19th
SUNDAY NOV.20th
MONDAY NOV.21st
TUESDAY NOV.22nd
Your ticket is only valid for the 2hr time slot that you purchased.
Where: The new Twelve Studio location - 9495-B Silver King Ct., Fairfax, VA 22031
Overview: There will be 4 different studio set-ups for this event. Photos of the different studios can be found on our website - twelvestudio.co or on Instagram (@twelve.dmv). Each room will contain a basic setup as well as props that you can use to customize it and make it your own.
This event is open house style, meaning that there are no reserved slots in the studios. We ask that you take turns shooting in the different studios. The doors will remain open during the duration of the event in an effort to allow everyone to feel comfortable circulating through the studios. Please keep your outfits and content family friendly as children are allowed at the event. There will be multiple designated dressing areas and clothing racks.
If you are looking to have a more private setting for shooting your content, separate studio rental with the props is an option. Please email erin@twelvestudio.co for more info about that.
EVERY ATTENDEE MUST HAVE A TICKET. In an effort to keep the tickets affordable for those who are just coming to shoot by themselves, we have lowered the ticket price but are requiring that everyone will need a ticket. If you are planning on bringing a photographer, friend, client, etc. they will need a ticket to enter the space. Tickets will be checked at the door.
Tickets are $35 for non-studio members. They are $25 for studio members. To learn more about studio membership, check out our membership page - https://www.twelvestudio.co/memberships
ANNOUNCING: PHOTO SESSION ADD-ON! For $250, you can get an hour time slot ticket and a 30 minute photo session with @erinecruise (owner of Twelve Studio) during that time in the different studio setups. You'll get 25-30 photos with a one week turnaround. To see Erin's portfolio, check out - www.erinecruise.com.
Coffee, tea, water and light refreshments will be provided.
COVID Policy: Masks are optional. Please do whatever you are comfortable with. There is a 5 person limit per hour slot that will be spread out over 4 rooms to keep from having spaces become too crowded. We reserve the right to ask attendees to circulate through the studios if a specific studio becomes too crowded.
This is NOT a styled shoot, meaning that there is no model that will be present. We are only providing the sets and props, whether you want to come shoot products, selfies, or bring a model/friend/client is up to you! Additionally, we will be offering monthly styled shoot opportunities for photographers to grow their portfolios in the coming months!