Holiday concert with the San Francisco Boys Chorus

Sunday, December 10, 2017 from 7:00 PM to 8:30 PM (PST)
Event Details
Date & Time: Sunday December 10, 2017 at  7 pm
Venue: 1750 29th Avenue, San Francisco
Tickets: $20 General, $15 Seniors/Students

Kick off the holiday season with the Concert Chorus, Intermediate Chorus and Men's Chorale. of the acclaimed San Francisco Boys Chorus. A free reception will follow the concert.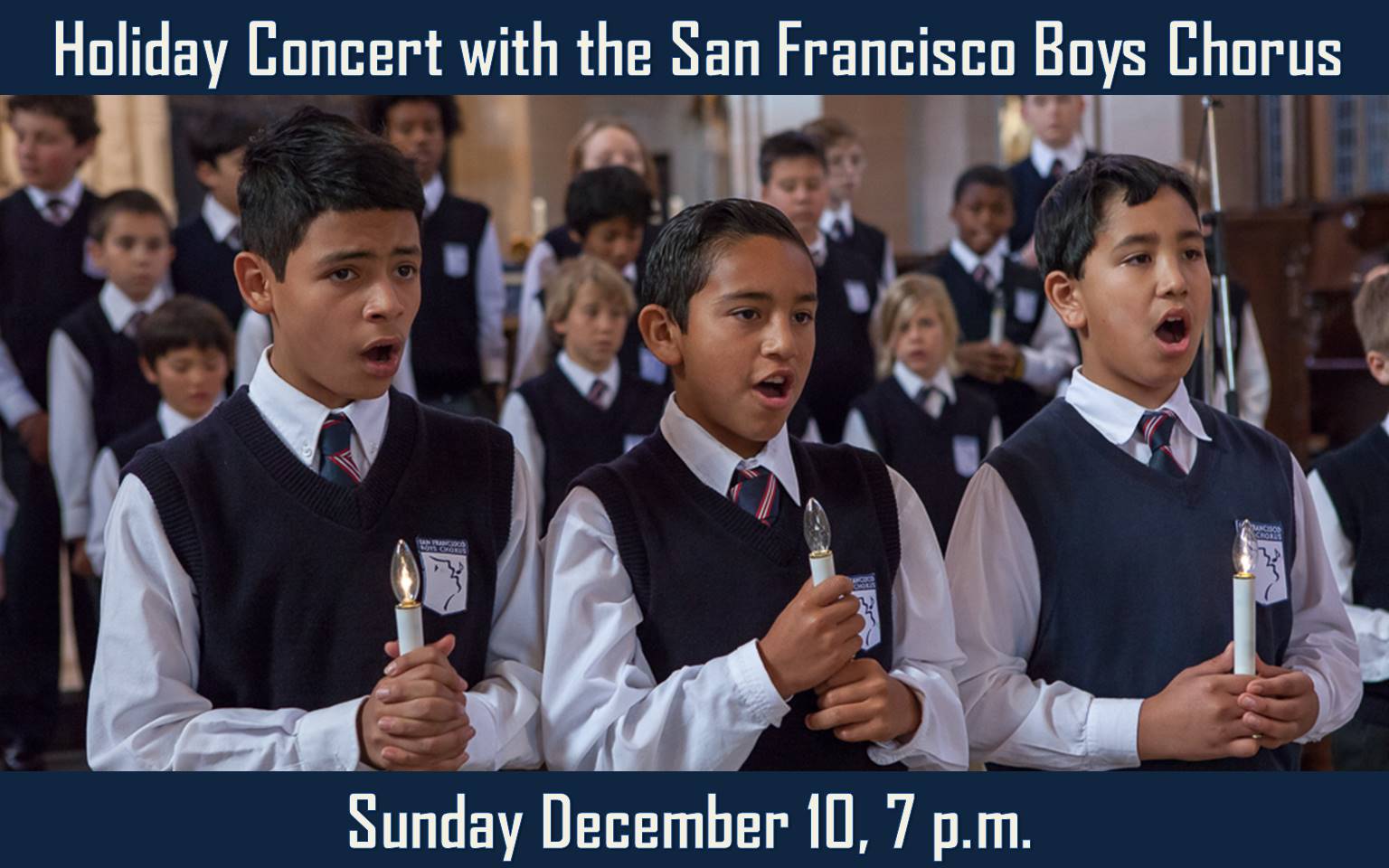 About the San Francisco Boys Chorus
The San Francisco Boys Chorus (SFBC) is comprised of the Grammy award-winning Concert Chorus, the Graduate Chorale, the Hand Bell Program and the four-level Chorus School, which includes the Preparatory Chorus.
The CONCERT CHORUS is the SFBC's premiere performing ensemble and is comprised of choristers who exhibit vocal excellence, performance flair, and exceptional musicianship skills. Led by Artistic Director, Ian Robertson, the committed Concert Chorus members, ages 10 to 13, present a full concert series in the San Francisco Bay Area, tour nationally and internationally, record often and appear annually with renowned artistic partners, such as the San Francisco Opera, the San Francisco Symphony, the San Francisco Ballet, the Robert Moses Kin Dance Company and other Bay Area arts organizations such as George Cleve's Midsummer Mozart Festival and Stanford Live.
The Concert Chorus is the level to which Chorus School singers aspire. Under the guidance of our Associate Artistic Director, the San Francisco Boys Chorus faculty team train youngsters through four CHORUS SCHOOL levels, beginning as early as kindergarten in the Preparatory Chorus (Level I) and up through the Junior (Level II), Apprentice (Level III), and in time to the Intermediate Choruses. (Level IV).
For more information visit https://sunsetarts.wordpress.com/holiday-concert-with-the-san-francisco-boys-chorus/
When & Where

The Episcopal Church of the Incarnation, San Francisco, CA 94122
1750 29th Ave
San Francisco, CA 94122


Sunday, December 10, 2017 from 7:00 PM to 8:30 PM (PST)
Add to my calendar
Organizer
The Episcopal Church of the Incarnation, San Francisco, is a welcoming, inclusive community where people come to be fed from the riches of God's love and grace. We live and share the Good News of Jesus Christ through worship, education, fellowship, pastoral care, and service to the world.
As a covenanted member of Oasis California, we commit ourselves to affirming lesbian, gay, bisexual, and transgender people and welcoming them into this Christian community.
The church is located in San Francisco's Sunset district, and worship services are normally offered in both English and Chinese. Our facility is wheelchair accessible, and assistive listening devices are available upon request.
We are a parish in the Diocese of California in the Episcopal Church, which, in turn, is a province of the worldwide Anglican Communion.
For more information visit http://www.incarnationsf.org/