Description
HAVE FUN but never at another's expense! - Walt Frasier
NEW!!!! This summer we are running NINE weeks of summer camp. This Winter & Spring we have 8-week class programs (Actually 10-12 weeks with bonuses and showcases) but now we have HOLIDAY DAY CAMP!!!! Sign up on Friday 12/27 and/or Monday 12/30.
REGISTRATION includes Lunch, snacks, a professional show, 2 Improv comedy classes and an stand-up open mic session.
$125 ONE DAY, $175 BOTH DAYS
Drop off as early as 8:45. SIgn up for open mic
9:30a-11:30a Morning Session. We play a series of warm-up, technique building and performance Improv games.
11:30-1p Luigi's Pizza Served and Stand-Up Comedy Class/Open Mic (Times vary day to day as per other activities planed). There is a 45-60 minute lunch break.
1p-2:30pm Afternoon Improv Comedy Session
2:30 Snack time
3pm Watch a professional show hosted by the teachers. Interacrive, many students invited on stage. BRING THE WHOLE FAMILY!!!! We will waive the $25 cover for all your guests. Just purchase the one beverage minimum (included for students in day camp tuition)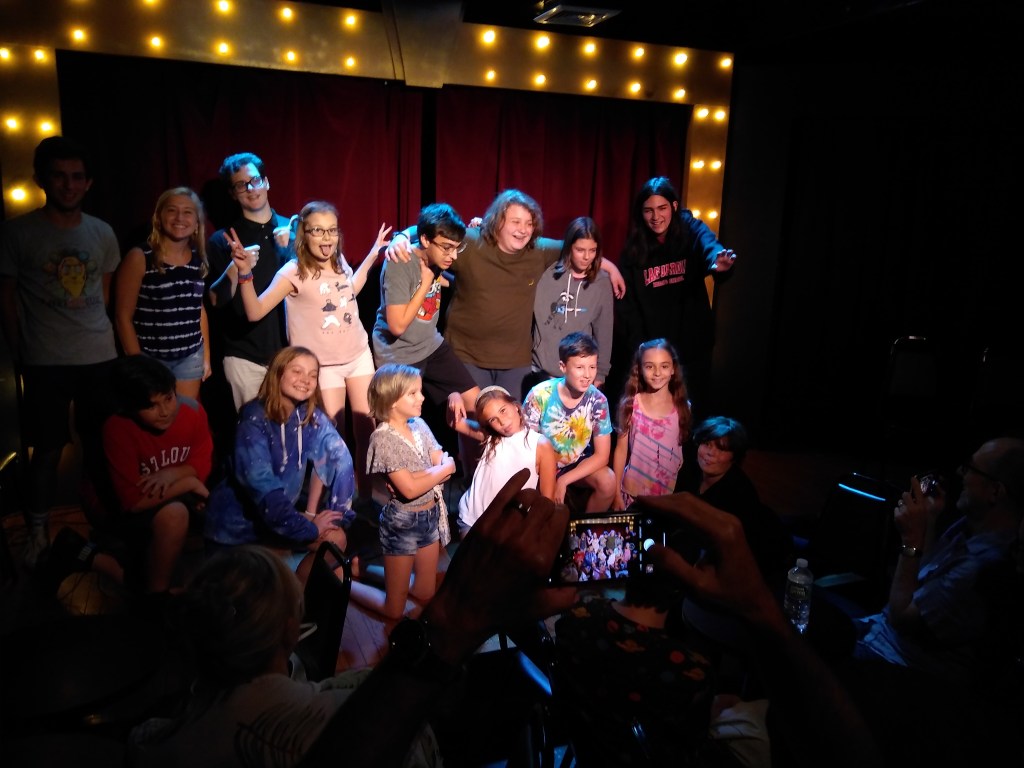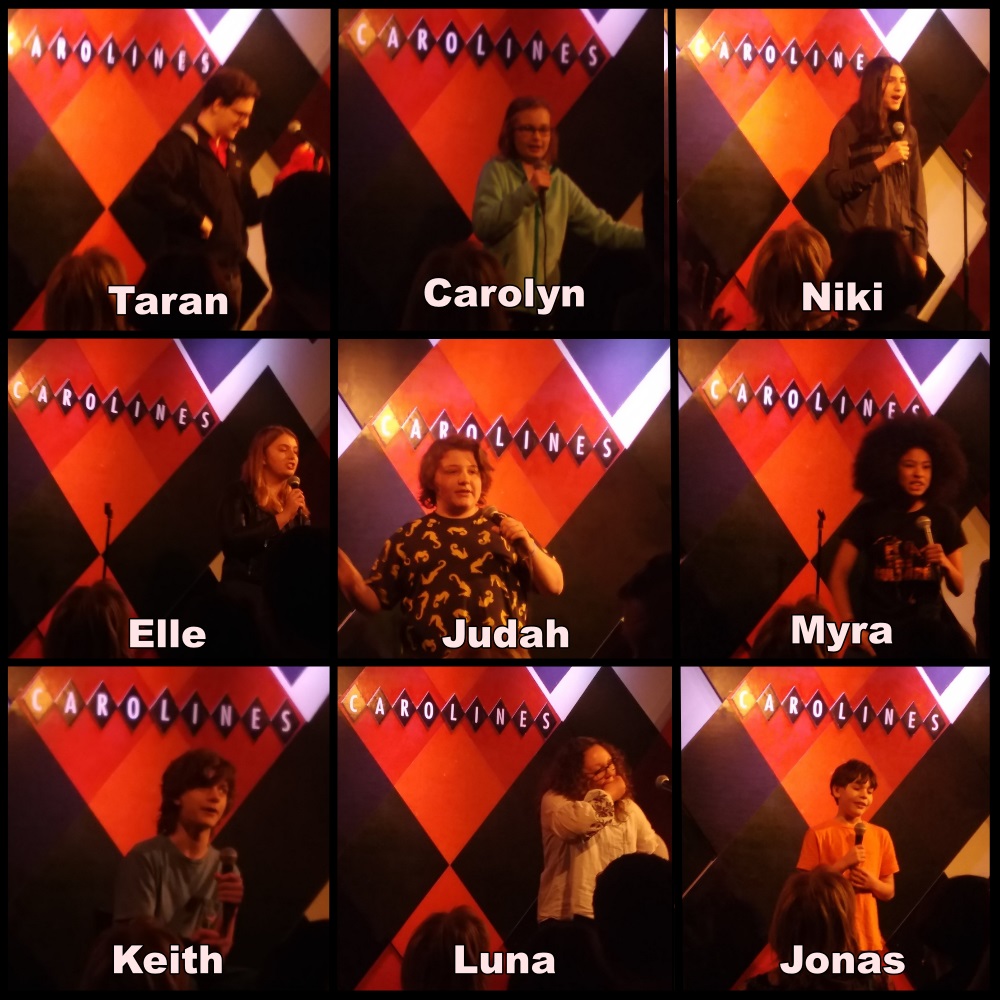 DAILY HOMEWORK
SMILE
Start every day with a smile! Physically smiling makes us feel great. Usually we smile when someone makes us feel good. It works both days. YOu can actually loosen stiff muscles and minor aches inside and out. Also, when you lead with a smile most smile back. Ignore that one judgemental hiding in the corner. They will judge you no matter what you do. If you want most folks to smile at you, LEAD BY EXAMPLE!
EXPERIENCE and OBSERVE YOU WORLD
Every thing you need for comedy is right in front of you. LIVE with wide open eyes and ears. At school & home, on the subway, in the park, at the store etc etc etc things happen to you and to others around you.
RECORD YOUR WORLD
Keep a journal. What every observe and experience, write it down. Also record your process. Describe every Improv game you play in your own words. EVERY time you get off stage, record how that experience happened. Process your world, your anxieties, fears, joys etc. Getting things out of your head, frees you to focus in the moment.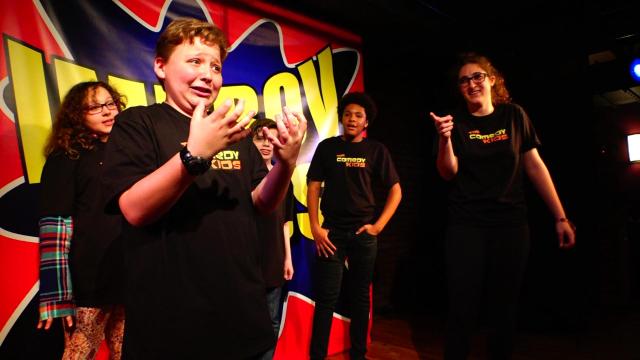 $450/Week includes a five days of classes, weekly showcase, admission to professional shows (all at same location), lunch and snacks.
TWO/THREE REGISTRATIONS - Sign up for two weeks OR Sign up siblings and save. OK to take advantage even if not doing consecutive weeks. Want to do more week, jut $300/week. OR $2400 for all NINE! (Sign up for one and we will prorate the difference)
Health info, emergency contacts and other info - We will contact all for this info at least a week before camp starts. If we do not get responses to these emails, forms are available the first day of camp.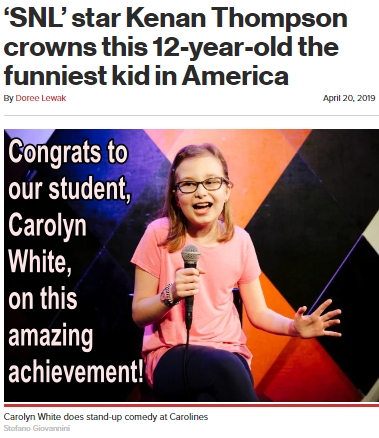 Artistic Director, Walt Frasier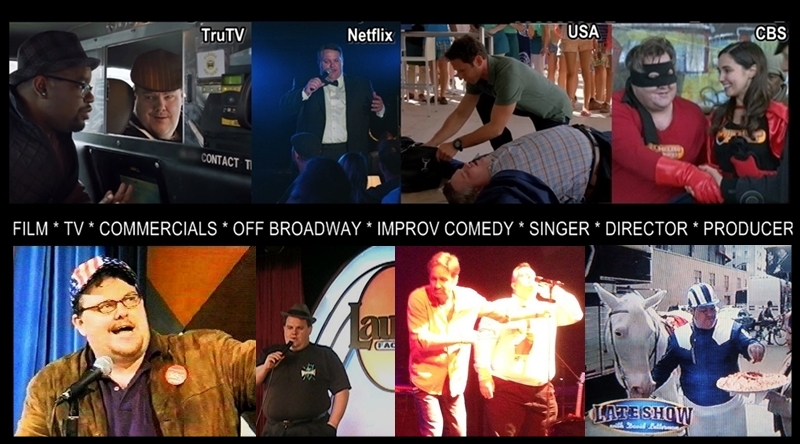 Walt Frasier has been producing comedy shows in New York since 2002. Mostly known for his work in improvisation and corporate comedy, Frasier has hosted 5000+ shows. TV credits include Lilyhammer (NETFLIX), Blue Bloods (CBS), Friends of the People (TruTV), Royal Pains (USA), Naked Brothers Band (NICK), Fat Pants (Dr. Oz Promo), Late Night with David Letterman (9 eps 2006-2007). Also known as Dr. Oz's Fat Pants
Ryan Hudzik
MC, Teachers, Piano, Member since 2018 WEBSITE
Ryan would like to believe you are laughing WITH him, not AT him. Ryan is an actors, singer, dancer, writer, noodle hailing from upstate NY. He is also a recent graduate of NYU Tisch (Experimental Theatre Wing/New Studio on Broadway). Besides working his first ever improv job with Eight is Never Enough, Ryan loves bringing new works to life (so you won't know any of his recent credits until they hit that good good Broadway transfer). Critics have called him a "vocal powerhouse," a "laugh riot," and a "person." Armed with a fast paced walk, and his home made cold brew, he's ready to take the world by storm!
Steven Prestia
MC, Teacher Member since 2017 (Student since 2012, then intern 2016)
Steven was just 13 when he attended our first public comedy class for kids/teens. At age 16/17, Steven served as an Intern often helping with public shows & classes. Now in college Steven regularly performs with the professional comedy and team teaches our Long Island programs. He has appeared in various local plays and musical theater productions in addition to his comedic talents. He can be seen in the indie film "The Great Kevini" and will soon appear on the HonestlyAmelia.com
web series (S2 E4).