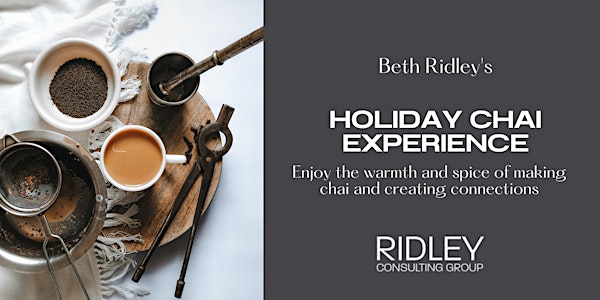 Holiday Chai Experience
Beth Ridley's Virtual Holiday Chai Experience with Bela Suresh Roongta: Enjoy the warmth & spice of making chai & creating connections.
About this event
Join me for a cup of traditional Indian chai! We will spend time with artist, storyteller and chai enthusiast, Bela Suresh Roongta. Bela will show us how to make authentic chai and share stories from her year-long writing residency at The Pfister Hotel during which she hosted "Chai at The Pfister" to catalyze conversation in the community.
I am hosting this 45-minute live virtual experience on Thursday, December 1st at 5pm CT & Thursday, December 8th at Noon CT.
Share the registration link with friends, family and co-workers to join or attend as a team to enjoy a fun and unique DEI experience together plus a chance to win a raffle prize. I hope you'll join me. You're sure to leave inspired to forge new connections by sharing something that is meaningful to you with others this holiday season.
You can watch the livestream here!