Description
Fall & Holiday Season & 2019 Chinese New Year Celebration - Dumpling and Bubble Tea Making in Philly Chinatown
Sponsored by Asian Arts Initiative's Shared Spaces 共享空间 Program
The holiday season is rapidly approaching. Spend the holiday time with family and friends making Chinese dumpling! (bonus: making bubble tea as well)! 2019 Chinese New Year will be on Feb 5, 2019. We just opened a number of dumpling & bubble tea classes on our schedule around Chinese New Year and this upcoming holiday season. Grab your seat before the seats are all gone. Buy a gift ticket for your loved ones or someone you care as a Christmas gift! Making Dumpling is popular so the tickets are sold out quickly. We also accept holiday private dumpling party reservations at our location or your location. Come learn to make your own at the Dumpling Academy, the home of the dumpling queen, in Philly Chinatown!
We cordially invite you, your families, and your friends to attend a fun DIY Dumpling + Bubble Tea party to celebrate Fall and a kickoff the holiday season, including Chinese New Year while enjoying bubble tea, everyone will learn a new cooking skill – making dumplings + Bubble Tea!
2019 Chinese New Year will be on February 5, 2019!
In the dumpling making party, you will enjoy a hands-on adventure - make-your-own dumplings. You'll be guided, taught by Yin, a dumping making expert who will teach you how to fill and shape your own pot stickers and more in an authentic way.
At the event, we may use either pre-made wrappers or make wrappers ourselves. We will also prepare at least two types of dumpling fillings (meat, e.g. kale and ground pork, and vegetables): each person will make at least five of each dumpling type. We can either cook one recipe at a time and pause to eat between batches, or cook them all and eat at the end. Either way, dinner will be delicious!

Dumplings are the singular best food to make for (and with) a crowd: They're easy, fun, beginner-friendly, and cook super quickly. The more hands you we on deck, the quicker the dumplings come together and the faster we can get to eating.

Highlight: Make your own Bubble tea! Everyone can taste at least two flavors of the trendy bubble tea! Did you know bubble tea comes from Taiwan?
Flavors to choose from:
Strawberry
Mango
Thai Tea

Come Join us for a Fall/Holiday Season/2019 Chinese New Year Celebration Chinese Dumping + Bubble Tea Party! It will be a totally fun experience for you and your family!
We are accepting holiday private party reservations now! We come to your facility, private home and any location you designate in the greater Philadelphia area!
The First and Only Unprecedented, Breaking Through Culinary Experience and Innovative Therapeutic Recreational ServicesThrough the Art of Dumpling Making!
While we host dumpling making classes for general public, we are making social impact by primarily offering dumpling making workshops to seniors (nursing homes, assisted living, personal care homes and senior centers), intellectually disabled, people who suffer mental illness, children & families and team building activities for corporates. We are accepting private donations from individual and organizations. We are also accepting volunteer requests. Join us to make this world happier, healthier and more productive.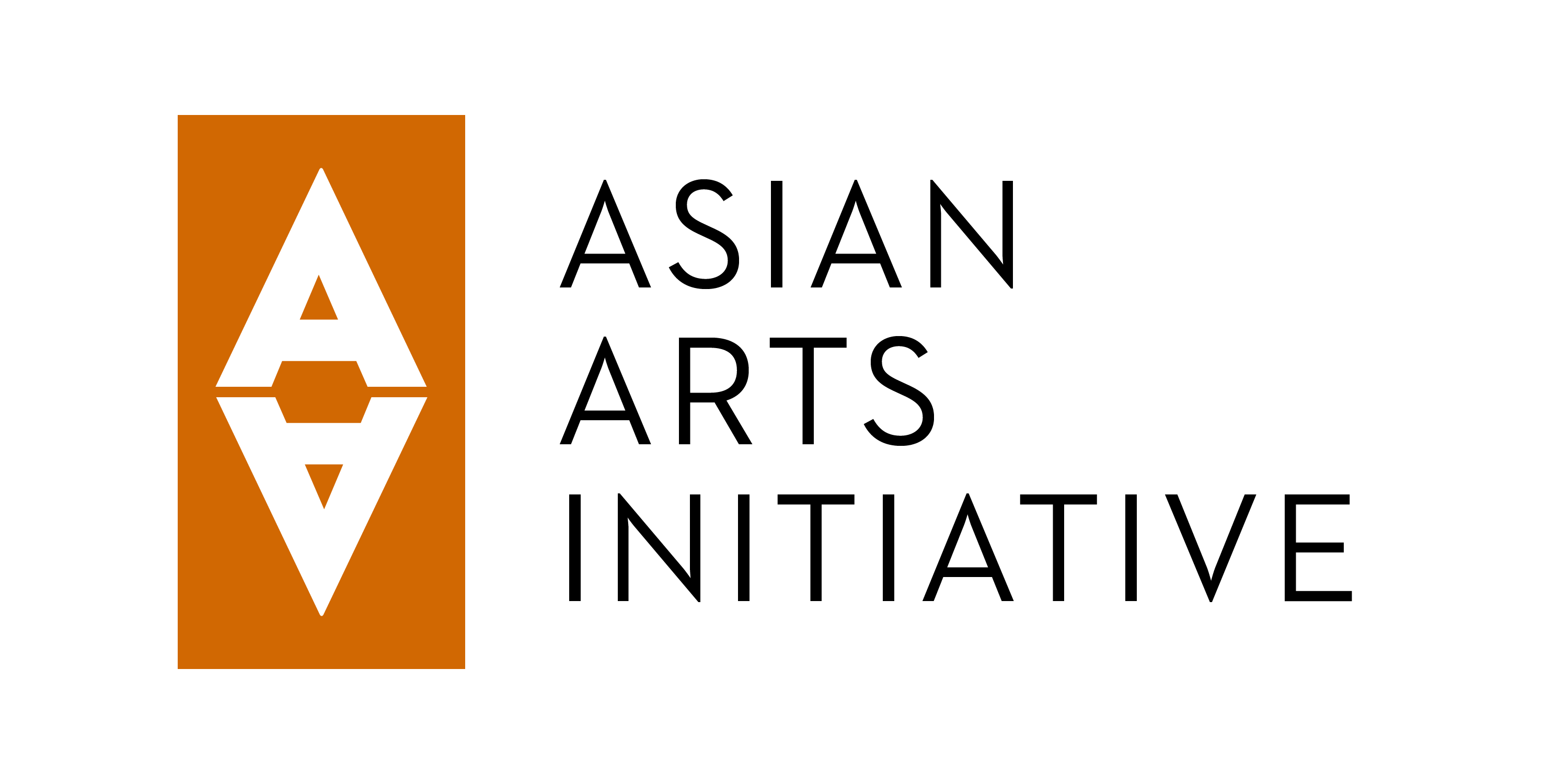 SPONSORSHIP: This event is sponsored by Asian Arts Initiative's Shared Spaces 共享空间 Program. For more info, visit www.asianartsinitiative.org/culturalplan
Asian Arts initiative is a multi-disciplinary community arts center in Philadelphia that engages people of all ages and backgrounds to create and present art that addresses Asian American experience and effects positive change in a broad range of communities and in its immediate neighborhood of Chinatown North.
Dumpling making is a form of Art!
PLACE: For the event on Dec 16, 2018, it will be held at Asian Arts Initiative, 1219 Vine St, Philadelphia, PA 19107. Please note that the location may change from event to event, all in Philly Chinatown. You will receive a confirmation prior to the event. Please feel free to call to confirm.
CONTACT: info@FiveSpicePhilly.com Tel: 215-352-4324, Facebook: Dumpling Academy

WHAT TO BRING: We will provide all dumpling making experience and fun, and Chinese appetizers. You will just need to bring a container to bring leftover dumplings home.

COST: $65/person prepaid. $70/person at door. You can also buy tickets directly from our website https://www.dumplingacademy.com/new-event
Please note that the price may change based on availability.
CANCELLATION POLICY: You will receive a full refund if:
- The event is canceled
- The event is rescheduled

ALLERGIES: If you have food allergy situation, please inform us beforehand.

We also accept Birthday Party reservations throughout the year and can host the Dumpling Making Party at any location for your convenience.
This party is offered by Dumpling Academy,
Dumpling Academy, The Frist and Only Unprecedented, Breaking Through Culinary Experience and Innovative Therapeutic Recreational Service Through the Art of Dumpling Making to empower people to make this world happier, healthier and more productive.
We offer customized products and therapeutic recreational services to seniors in nursing homes, assisted living facilities, home health care & senior community centers, individuals with intellectual disability & seeking mind freedom, children & families, and corporate teams at competitive prices to help individuals and organizations in their performance.
We offer World Class Education, Unforgettable Experience, which offers unprecedented team building activities and leadership workshops to corporate and institutional clients.
Our services:
Dumpling Making

-

seniors in nursing homes, assisted living facilities, home health care & senior community centers

-

individuals with intellectual disability

- individuals seeking mind freedom

- children & families

- Corporate Team Building Workshop

Corporate Event Asian Cuisine, Dim Sum Catering

Public Dumpling Making Parties – Chinese New Year, Mother's Day, Father's Day and other major holiday celebrations

Private Birthday/Other Occasion Parties. Please contact us for your priviate party needs, birthday party, school groups etc.

Fund Raising Dumpling Making Event
About Yin
Yin operates the "Five Spice Tour of Philly's Chinatown" - cultural walking tour with dim sum tastings, and restaurant hopping tours to Philly Chinatown. As a dumpling expert, she hosts classes and competitions based on the iconic food. She has worked in City Kitchen for the dumpling making show at the Reading Terminal Market as its guest for Chinese New Year. Yin was also interviewed by "What's Cooking" on 1060 by Hadas Kuznits, of the Philadelphia (CBS) KYW radio station about Chinese New Year. In early 2017, she was invited by the show, Travel & Adventure, to host a dumpling making show in the PA Convention Center.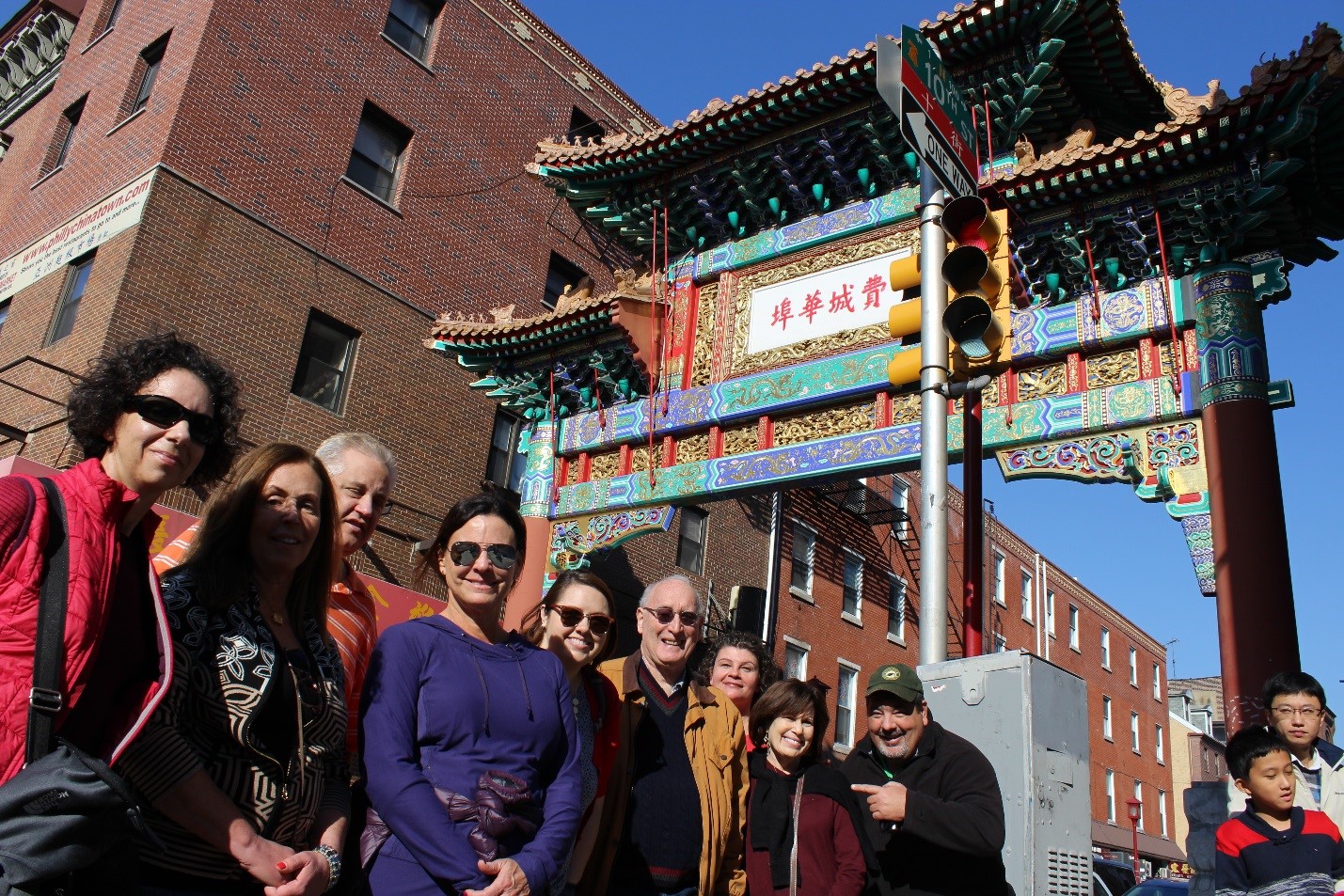 Photo Taken During One of Five-Spice Tours of Philly Chinatown/Dim Sum Tasting
"Yin did such a wonderful job during our Chinese New Year celebration and was so engaging. After the fun and exciting dumpling demo for the Chinese New Year, we all thought Yin would be great person to have back for this event." - From Reading Terminal Market.
Photo Taken During Dumpling Making Show for the Chinese New Year Celebration at Reading Terminal Market on Feb 4th, 2017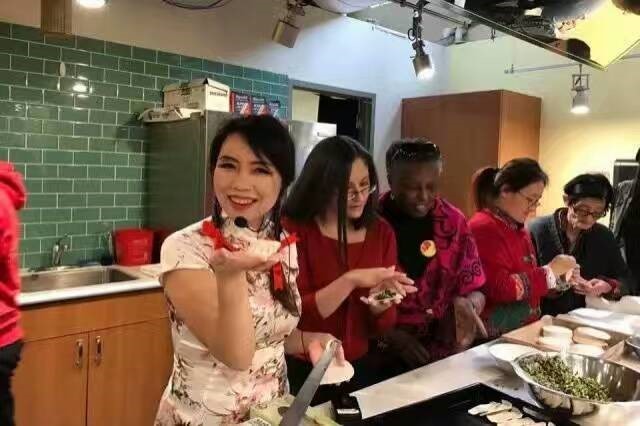 In summer, 2017, Yin was invited by the Reading Terminal Market to participate in an important community project - The Breaking Bred, Breaking Barriers dinner project. Yin represented the Chinese community to present Chinese iconic food to other ethnical groups. More specifically, she performed a dumpling making demonstration and brought the most popular street food in China, the Chinese Crepe, to the Philly market for the first time ever.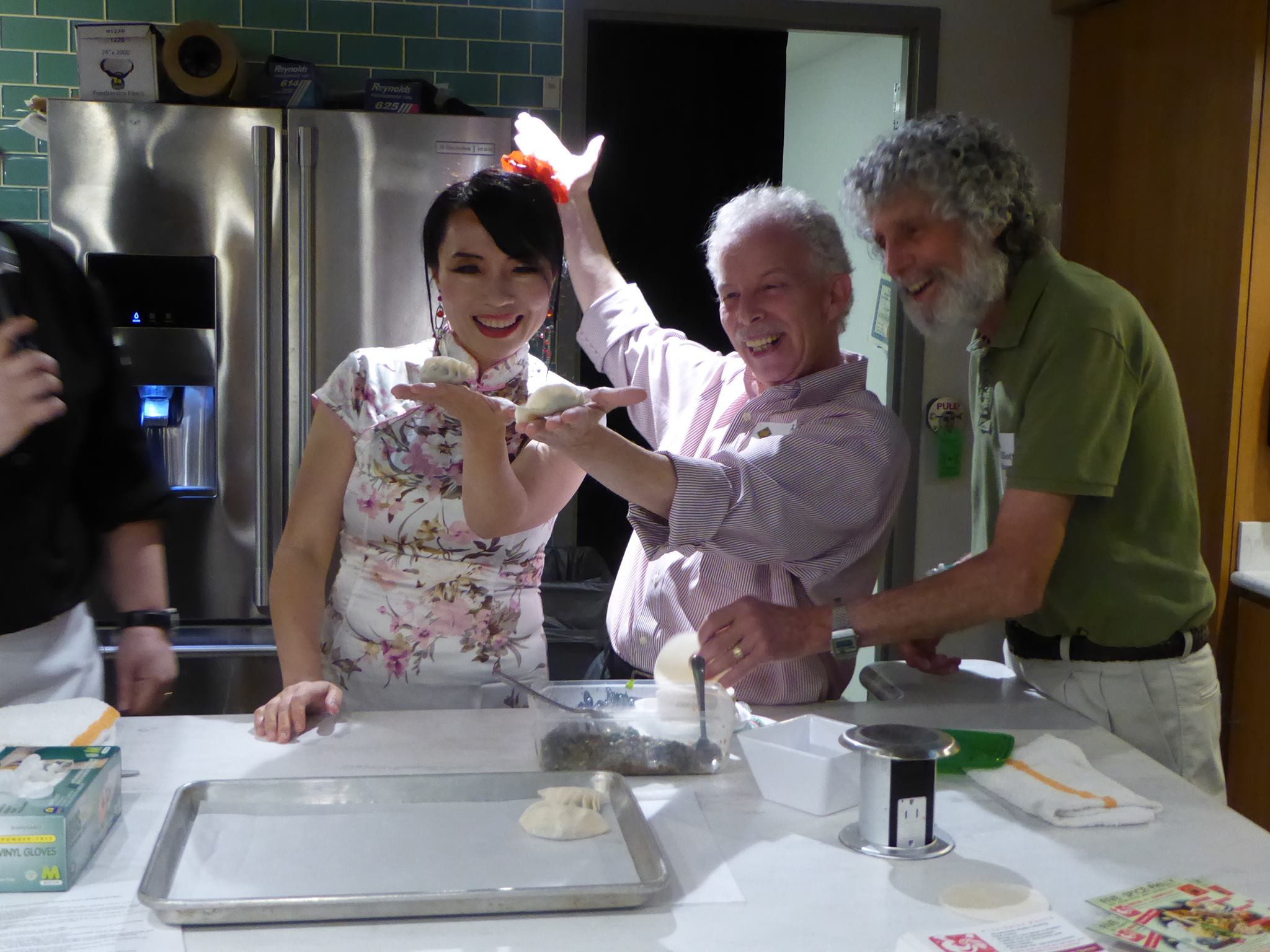 Photo with our guests during the dumpling making demonstration at City Kitchen, Reading Terminal Market on June 5th, 2017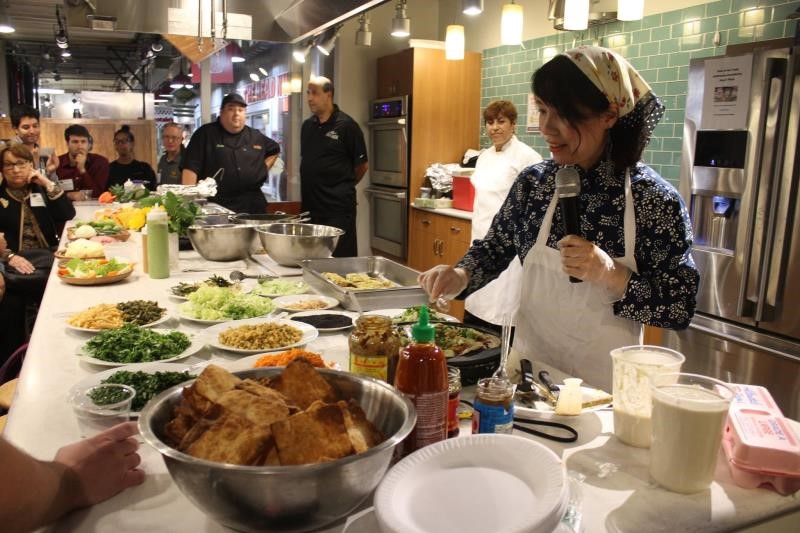 Yin was doing the demo for Chinese Crepe, the most popular street food in China on September 13, 2017 at City Kitchen, Reading Terminal Market
The Breaking Bread, Breaking Barriers dinner project, funded by Knight Foundation, brings together individuals from different cultures to sample each other's cuisines and learn more about each other, to see what they might have in common. The project parties include the Reading Terminal Market, HIAS-PA, Philadelphia's Human Relations Commission and the UPENN Project for Civic Engagement.
On June 5th, Reading Terminal invited three communities – the Chinese, the Mexican, and the Mummers, to get to know one another better through this forum, by learning about each other's culture through food. We were honored to be invited to represent the Chinese community. Each community, through a guest chef, provided an interactive cooking demonstration of one to two dishes that can be used to highlight one's culture, history, and communal stories. They then sat down to have dinner to engage in a dialogue facilitated by the Human Relations Commission. The idea is that the participants walk away from the session with a foundational understanding of one another's culture and history.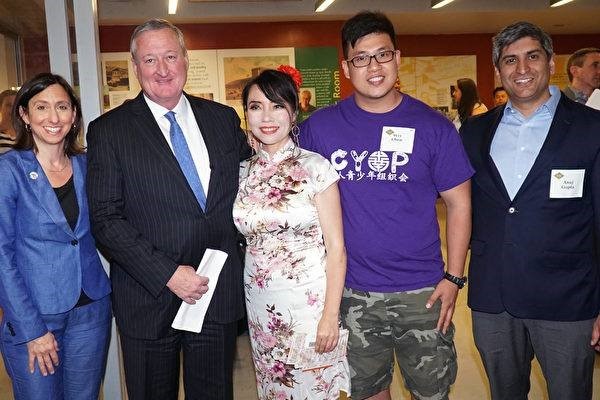 Photo with Mayor Jim Kearny, General Manager from Reading Terminal Market, Anuj Gupton, and community leaders from the event on June 5th, 2017
On September 14, 2017, Yin assisted Master Chef Joseph Poon from Chef Joseph Poon Creations and Events during 2nd Annual PAAFF (Philadelphia Asian Arts Film Festival) Asian Chef Experience highlighting the top Asian culinary talents in Philadelphia.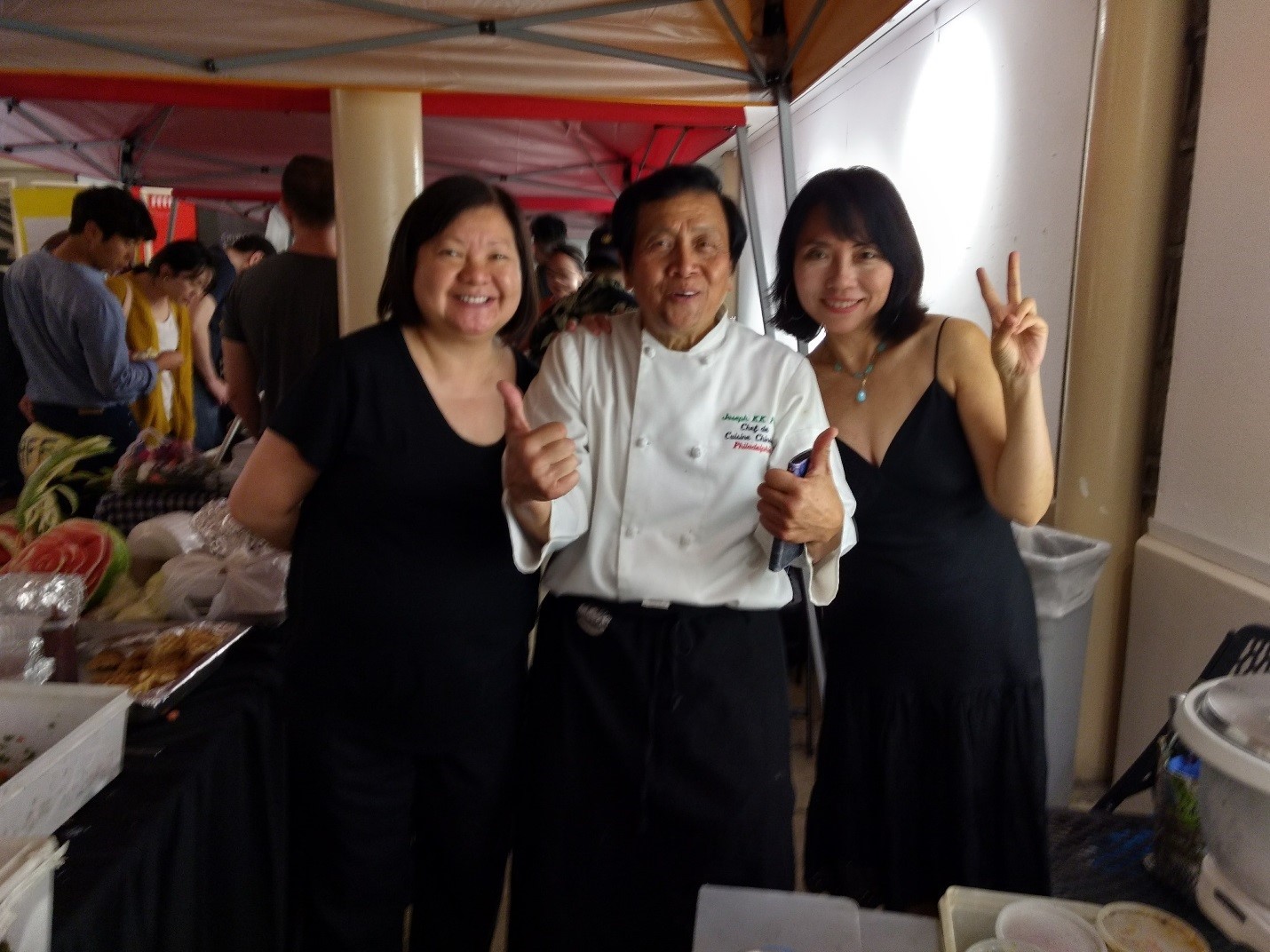 This was a special Chef tasting event with 14 of Philadelphia's most prominent Asian American & Pacific Islander Chefs preparing tasting sized portions of their best dishes.

This event serves as an important fundraising tool for 2017 Philadelphia Asian Arts Film Festival while also highlighting the incredible talent and diversity of cuisine within the local community of culinary artists.

Yin founded Five-Spice Philly and Dumpling Academy. Five-Spice Philly is an organization dedicated to the service of showcasing Philadelphia's thriving Asian food scene. It seeks to bring Philadelphia residents and all incoming visitors the latest in Philadelphia's cuisine and entertainment.
www.DumplingAcademy.com