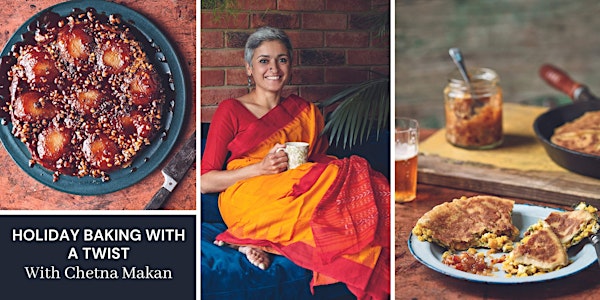 Holiday Baking with a Twist with Chetna Makan
Make your holiday baking extra special with spices like star anise and coriander!
Refund Policy
Contact the organizer to request a refund.
About this event
NOTE: iphone and ipad users, CLICK HERE to register for class.
What's on the Menu:
Pear and Chocolate Tarte Tatin
Chana Dal-Stuffed Yogurt Breads
Coriander Chutney
We aren't scared to say it: a lot of age-old holiday baking recipes could use a little more pizzazz. In the kitchen, there's no better way to give favorite dishes new life than with the smart use of spices. Chetna Makan agrees. Her new book, "Chetna's Easy Baking: With A Twist of Spice," is all about giving family favorites just a little twist. You'll see how as Chetna takes a pear tarte tatin—the ever-intimidating, upside-down French dessert—and gives it more complexity with the addition of star anise, plus chopped hazelnuts and high-quality dark chocolate. The result is a dessert that tastes as good as it looks—and with Chetna's guidance, you'll be sure that it looks exceptionally good. Along the way, you'll learn how to achieve a perfectly flaky pastry base and a beautiful amber-colored caramel. While the tarte tatin is in the oven, we'll turn to a quick savory treat that you'll want to feature on all your holiday appetizer trays. We start with an un-yeasted yogurt dough inspired by bhatura, a deep-fried bread from northern Indian. The dough gets stuffed with a luscious filling of chana dal (yellow lentils) cooked with turmeric, chilies, and feta cheese. The result is a snack-sized pocket just waiting to be dunked into the flavorful coriander chutney that you'll make a batch of. Thickened with lentils and built on a foundation of fried garlic, ginger, shallot and chilies, this is guaranteed to land on your Indian chutney shortlist.
About Chetna: Chetna Makan was born in Jabalpur, an ancient city in central India. She has a degree in fashion and worked in Mumbai as a fashion designer before moving to the UK in 2003. Chetna reached the semi-final of The Great British Bake Off in 2014, and her first book, The Cardamom Trail, is a celebration of baking with Indian flavors. She has a very popular YouTube channel, "Food with Chetna," where she shares her creative flair for food. Her books include "Chai, Chaat & Chutney," "Chetna's Healthy Indian," "Chetna's Healthy Indian Vegetarian," and "Chetna's 30 Minute Indian." Her most recent book is "Chetna's Easy Baking: With A Twist of Spice."
Order yourself a copy of Chetna's new book, "Chetna's Easy Baking: with a twist of spice"! Use promo code MILK2022 for 10% off your order
Want to give this class as a gift? You can purchase gift cards here.
Bonus: All attendees of this class will receive a one-time 15% off coupon to the Milk Street Store after class.
This event has limited spots, and you must register in advance via Eventbrite. One sign-up covers one device. Closed Captioning is available for this event.
Immediately after registering, you will get a confirmation email that contains the Zoom meeting log-in information. One week prior to class (or within 48 hours of registering, if you sign up less than a week in advance), you will receive an email with the ingredients, equipment and prep you'll need to cook along with us, if you choose.
After class, you will receive a recording of the event, as well as a folder of recipes and resources that we discuss during the event. Class recordings are available to all registered attendees for two weeks following each event.
Payments for Milk Street live stream classes are non-refundable. If you find yourself unable to attend, you may transfer the ticket to someone else, but we are unable to refund fees and all payments are final. Classes are subject to cancellation at any time. In the case of cancellation by the event organizer, all paid tickets will be fully refunded.
Proceeds from live stream cooking classes support Milk Street's non-profit work with The Big Sisters Association of Great Boston, The Boys & Girls Club of Dorchester, and other partners.
If you have any questions about this class, please don't hesitate to get in touch via cookingschool@177milkstreet.com.