Description
Join Assembly Row for the first-ever Holiday Arts & Eats Festival on Friday, Saturday, and Sunday, December 6th, 7th and 8th. This will be the largest holiday event in greater Boston, with inspiration from traditional European Chriskindl markets, with 25 of New England's best food trucks, and a large holiday market featuring 60 Etsy artists. We are thrilled to support the efforts of the Globe Santa organization who will be on site all weekend. Please support the cause with a donation when you purchase your tickets.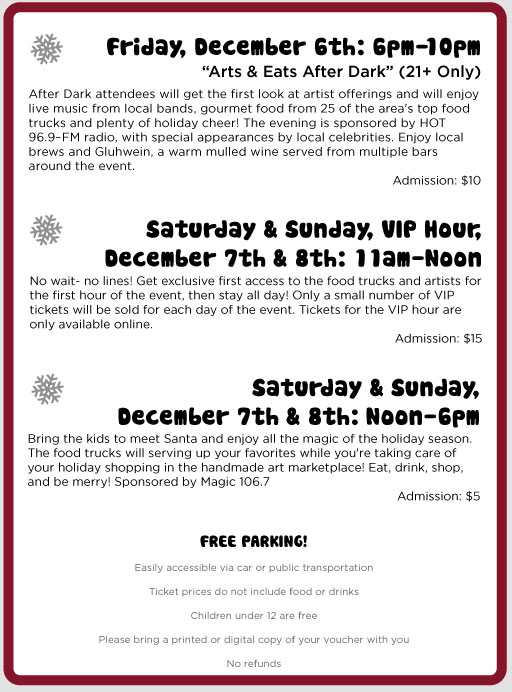 Truck List:
Away Cafe
The Bacon Truck
Bon Me
Frozen Hoagies
Fugu
Kickass Cupcakes
The Latin Spoon
Mei Mei Street Kitchen
Munchies
Paris Creperie's "La Tour Eiffel"
The Pasta Pot
Rhythm N' Wraps
Baja Taco Truck
Green Bean Mobile Cafe
Trolley Dogs
Boston's Baddest Burger
Kefi's Kitchen
Captain Mardens Cod Squad
The Dining Car
Pennypackers
The Whoo(pie) Wagon

Holiday Arts & Eats @ Assembly Row has partnered with Uber to help get you to or from our event easily and in style! Simply enter promo code: BosHAE13 to redeem your first ride FREE (up to $20)!

Haven't heard of Uber? No problem! Uber is a mobile app that connects you with a driver for immediate transportation. Request a ride with the tap of a button and have a driver curbside in minutes. You can choose to be driven in a black car or SUV. Payment is seamless and cashless – billed to your card on file with no need to tip.

Already an Uber pro? We've got you covered! Simply enter code BosHAEext to receive 20% off your ride to or from the event!