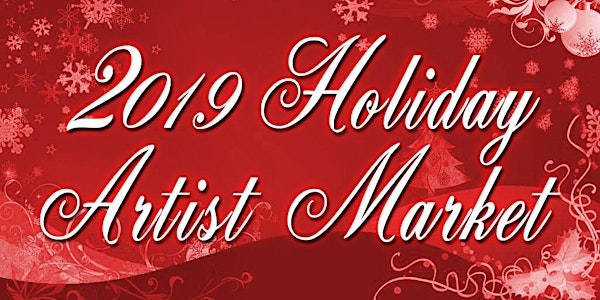 Holiday Artist Market - Free Admission - Dec 15 2019
When and where
Location
Ford Community & Performing Arts Center 15801 Michigan Ave Dearborn, MI 48126
Description
On Sunday December 15th 2019 comes the 2019 HOLIDAY ARTIST MARKET featuring locally created art, handicrafts and merchandise! Hosted at newly restored Hubbard Ballroom of the Ford Community & Performing Arts Center in Dearborn, this event will feature 50+ local artists, crafters and creatives of all types selling original merchandise for your holiday gift shopping needs. All artists keep 100% of their commissions.
FREE ADMISSION and ALL AGES are welcome! This all indoor event is open from 12 noon until 5pm with plenty of free parking.
The artist roster is listed further below (also see below for info on participating).
And if you are on Facebook, help us spread the word by inviting a few friends to our event page there:
https://www.facebook.com/events/747278592335946/
So stop in and shop local...and don't forget to invite your friends!
2019 Holiday Artist Market - Give Local Art for the Holidays!
Sunday December 15 2019 - 12p to 5p - Free Admission
Ford Community & Performing Arts Center
15801 Michigan Ave, Dearborn, MI 48126
http://holidayartistmarket2019.eventbrite.com
---
---
---
We are proud to present the 64 artists and artisans of the 2019 Holiday Artist Market!
• Alma Art Gallery - Original handmade acrylic canvas paintings
• Annelise Nearon Art - Handmade jewelry
• Aurora Paints - Mixed media paintings that are out of this world!
• Benson's Adventures - Children's books
• Black Dog Jewelry - Rings, bracelets, pins, pendants, necklaces and earrings
• Blackenedruby Jewelry - Handmade jewelry with a vintage flare
• Blue Desert Rose - Sterling silver and copper wirewrapped jewelry, and polymer clay charms
• Brian "Weirdartist" Lewandowski - Handmade masks
• ClayWood Pottery - Functional and decorative wheel thrown and hand built pottery, as well as masks and ceramic vessels with faces
• Colleen Wilson Studio - Fine silver, bronze and copper handmade jewelry
• d.Rose Art Studio - Abstract art
• DA.Neely Art - Paintings, coasters, magnets, jewelry and beard balm
• Debbie Malyn, Encore Designs - Urban photography, mostly Detroit with a few surprises, with prints, magnets, framed, metal and canvas
• Designs By Emily - Home goods, jewelry, serving trays, paintings, coasters, notebooks
• Detroit Fordite - Fordite jewelry
• Divine Pine Studios Ceramics - One of a kind, artisan ceramics featuring hand painted and carved functional pottery
• Dragon Fly Diarys - Mixed media polymer clay on mostly up cycled glass wish bottles, fairy houses, drinking glasses and jewelry
• E.G. Bowen Photography - Puzzles & Prints - Jigsaw puzzles from my original photography along with original framed and unframed prints
• Eagle's Dream - Dream catchers and knitted towels
• Earthing Works - Jewelry and reclaimed wood home goods
• Epic Legendary Cleaning Products - Bio degradable eco friendly all purpose cleaner/degreaser made in Detroit!
• Ethereal Acorns - Handcrafted pendants, earrings and gifts inspired by nature, as well as blown glass and leather work
• Fabric Creations by Henrietta Mac - Handmade wallets "no two alike"
• Gordon Woodwork - Reclaimed barnwood and household decorations including ornaments, bird houses, coat racks, lamps
• Gypsy Soul Gifts - Repurposed and upcycled decor, one of a kind gifts for every one
• Harper North Designs - Handwoven bohemian leather wrap bracelets, semi precious stone jewelry, hand cut charm necklaces, druzy pendants
• HiMyNameIsJes - Prints, paintings, stickers, magnets, pins
• I-Wear by Raqui - Eyewear and clothes
• Irina's Studio - Holiday decor and gifts
• Jane Alice in July - Original photography combined with embroidery to create mixed media pieces
• JPK Creations - Decorated name tag badge clips and lanyards
• Julie Fournier - Ornaments, prints, jewelry
• Kamajomi - Hand drawn and hand burned wood pieces for the home.
• Katharina Eltringham - Small framed whimsical watercolor pencil/acrylic paintings
• Leather Lew - Locally made leatherworks!
• Lightning Bug Beads - Jewelry, solar mobiles, crochet items, body balms butters
• Linda Buck - Clay tile and sculpture
• Lunacy Art and Jewelry - Paintings (acrylic, watercolor), jewelry, magnets prints, mugs
• Madetofit - Hand sewn clothing items
• Marc VandenBerg - Handmade blown glass
• Mary Eldridge - Hand-painted notecards and small acrylic paintings.
• Matt Feazell - Books, comics, DVDs starring the Amazing Cynicalman, America's laid off superhero
• Michael Devine - Art and a book I authored
• Miwoodlandcreations - Ornaments, candle holders, hand made soaps, hand made deodorants, knick knacks
• Monica Manning Photography - Photos of abandoned locations and alcohol ink magnets
• #MonesArt - Paintings, hats & tees
• Olive + Birch - Knitwear
• Park Visuals - Original artwork,prints and magnets
• Pipperillo Studios - Laser etched wood wares
• Posh and Stone - Artisan jewelry composed of vibrant semi-precious stones, fair trade beads from across the globe, and precious metals
• Reika Jewelry - Wire-wrapped jewelry, including pendants, rings, earrings, necklaces, bracelets and handmade beads
• Sarah Koch Illustration & Design - Art prints, cards, stickers
• Sculpted Roots - Metal sculptures
• Sister Bees - Several fun flavors of lip balm and a skin care line for everyone in the family including the family pet!
• Sunday's Creepy Dolls - Dolls, jewelry, paintings
• Surakotaga - High end wooden products
• Suzy Adra - Paintings, postcards, stickers, ceramics
• The Age of Asparagus - An eco boutique of up-cycled home and body decor
• The Comfort Wear-Jewelry - Gemstone jewelry
• The Water Closet Werks - Photography by Winnie Chrzanowski - Prints, magnets, coasters, etc
• The Woven Good - Handwoven home goods and accessories
• Tony Shopinski - Constructions, paper coil containers, pottery, small paintings
• Trash Fairy's Den - Jewelry made from recycled leather, ethically sourced bones, and vintage hardware
• Zachariah Messiah's Morbid Curiosities - Octopus, snakes, and tarantulas taxidermied
We all look forward to seeing you there and don't forget to invite your friends!
---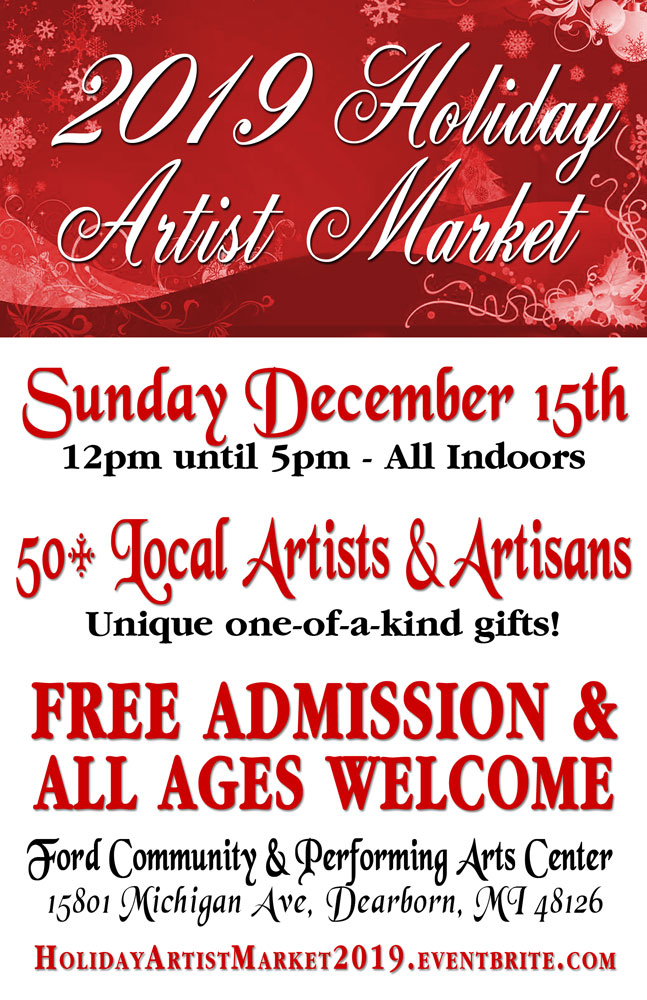 ---
INTERESTED IN SELLING YOUR ART? Further information and application can be found at:
https://form.jotform.com/dvsdetroitevents/ham2019app
NOTE: This is for LOCAL ART AND HANDICRAFTS ONLY of your own creation and NOT for retail/commercial/MLM items or related services. If you are unsure if your items are acceptable, please contact us before registering a space.