Description
The 100 mile dinner is a farm to table fundraiser that directly supports Boone Street Market, operated by Jonesborough Locally Grown, a 501(c)3 non profit organization. A guest chef donates his or her time and creates a series of locally sourced dishes all provided by farmers within 100 miles of Jonesborough, TN.
To learn more about our organization visit our website: https://www.jonesboroughlocallygrown.org/
This holiday season we are asking that you consider buying a farmer a ticket, as an opportunity to give back to those who work so hard to produce local foods to this community. If interested please contact us at boonestmarket@gmail.com or 423-753-4722 and speak to Ashley.
The Spread: Prepared by Chef James J. Allen
1st Course
Roasted Butternut Squash Soup with No Evil Meats Chorizo, Scallion Oil and Toasted Butternut Squash Seeds
2nd Course
Smoked North Carolina Sunburst Trout over a Sweet Potato and Bacon Hash with a Creole Mustard Cream Sauce
3rd Course
Ground Lamb and Anson Mills Gold Rice Stuffed Collard Green with Smoked Tomato Coulis and Rosemary Bread "Dust"
4th Course
Filet of Beef Au Poivre with Local Peppercorns, Vidalia Onion and Whisky Pan Sauce served over Loads of Local Root Veggies
5th Course
Apple Crostada with Sorghum Ice Cream
Meet the Chef : Executive Chef James Allen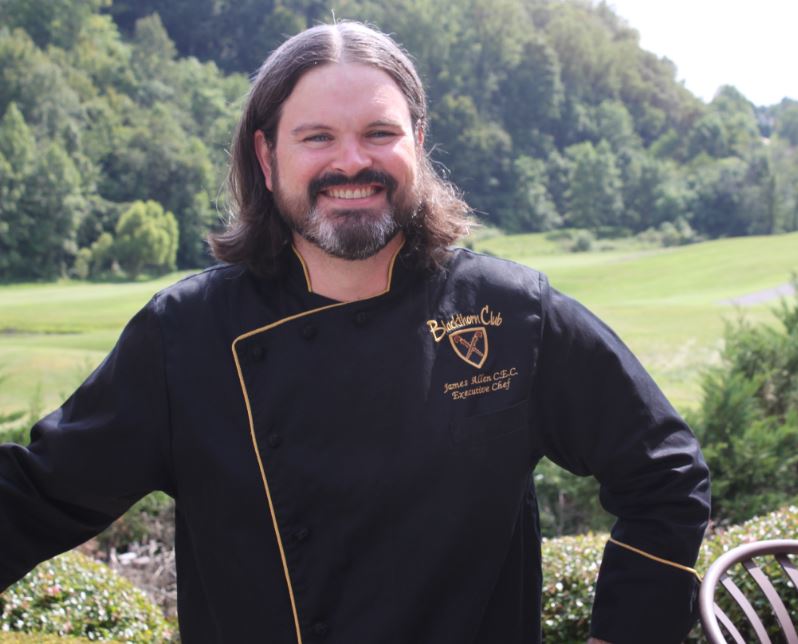 James graduated top of his class from Le Cordon Bleu in Minneapolis, Minnesota and continued his training at a Top 100 restaurant in Cashel, Ireland. While in Ireland he learned the importance of supporting local farmers and the impact it has on his menu. James continues this "local" approach at Blackthorn by incorporating area farms like Ziegenwald Dairies, JEM Farms, R&D Farms, Serenity Knoll Farms and The River house Farms. Chef James followed up his international training by cheffing in Birmingham, Alabama. The time spent in his hometown of Birmingham allowed him to hone his skills and move up the ladder in some of the city's finest kitchens. While he was the Sous Chef at Restaurant G in Birmingham; Bo Jackson, Charles Barkley and L.L. Cool J requested James cook for them on a regular basis. After serving as the Executive Chef of Tupelo Country Club, he moved to Johnson City six years ago to become the Executive Chef of Blackthorn Club at The Ridges. Since that time, Chef James has achieved the designation of Certified Executive Chef by the American Culinary Federation making him the only C.E.C. in the Tri-Cities area.
Chef James welcomes the challenges and enjoys the rewards of being the Chef at Blackthorn Club. The cultivation of relationships with members and their families is one of the things he likes best about having a limited audience. The challenge of constantly offering creative and exciting dishes is another aspect he loves about being a chef. Come out to Blackthorn Club and experience the best cuisine in the area. Call today and ask about our Dining Membership. Chef James says it's the best kept secret in the Tri-Cities.
Happy Holidays and Thank you for Supporting Local Farms!