Location
Topaz Farm
17100 Northwest Sauvie Island Road
Portland, OR 97231
DJ Anjali & The Incredible Kid and Topaz Farm present a HOLI Spring Festival, a celebration of color on Sauvie Island - a second date added!
About this event
SECOND DATE ADDED!
Join us as we celebrate the second date of two Holi spring harvest festivals of color!
Winter and spring on the island are long seasons on the farm; the planting of cover crops, waiting for the rain to let up, working the soil, crop planting, cultivating... and finally the berries, vegetables and flowers come to life! We want to celebrate spring with the South Asian festival of Holi, an ancient festival celebrated across religions that marks the arrival of spring and the end of winter.
Traditionally, Holi festivals are in March, but due to Oregon's typical cold, wet weather then, we're waiting until May to celebrate at the farm's season opening weekend.
Leading the celebration will be DJ Anjali & The Incredible Kid, who will host a Bollywood and Bhangra dance party in the grass!
This event is Portland's first to feature only-organic powder, direct from India, made from flowers, seeds and vegetables. Each paid entrance includes a packet of colors (while supplies last) and a portion of the festival proceeds will benefit farmers in India.
Everyone is welcome at this all-ages event, which in addition to farm stand food and drinks, will feature food from:
Expect to get messy as Holi is celebrated by throwing bright colored powder on each other. Wearing white or old clothes is recommended. No outside colors are allowed.
Farm Entrance/Ticket Pricing For Holi Festival for this date only
Adults: $20
Seniors 55+: $15
and Kids 6-16: $10
Kids 5 and under: Free
If you want tickets for the first date on Saturday, May 28th, click here.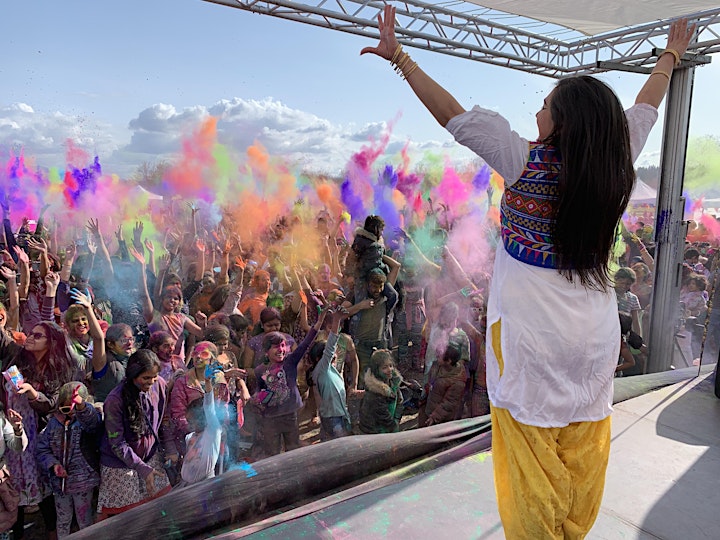 ABOUT DJ ANJALI & THE INCREDIBLE KID
DJ Anjali and The Incredible Kid have spent twenty years igniting dance floors with cutting edge music not limited by borders or language. They are most known for incinerating dance floors with the heavy dance floor artillery of South Asia, but the duo scour the globe for any hard-hitting music that combines local music traditions with window-rattling production.
ABOUT TOPAZ FARM
Topaz Farm is a working 130-acre family farm for every family, featuring u-pick berries u-cut flowers, a farm stand store, food, beverages and special events. In addition to weekly farm-to-plate dinners and live music harvest festivals in summer, in fall there is also a pumpkin patch, corn maze, hay rides and fall harvest festivals.
While you're here, visit the animals and farm stand, walk the farm or have a drink at the farm bar - or choose from fresh and prepared food from the farm stand.
Food, beer, cider, wine and non-alcoholic beverages will be available.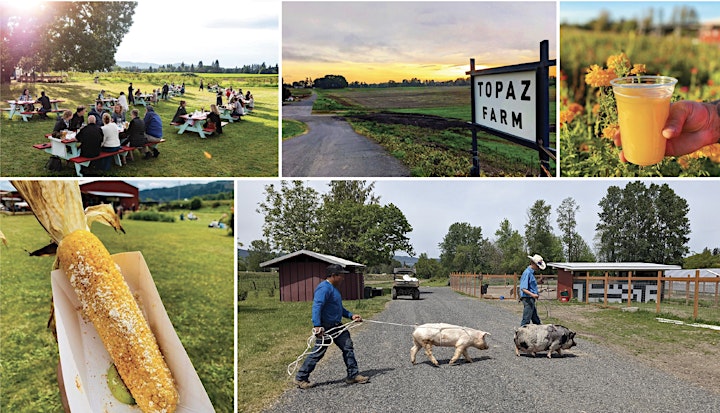 THE FINE PRINT:
Tickets required for farm entrance and include the festival, parking and for paid tickets, colors (powder).
Outside food and beverages, except water, are not permitted and no smoking of any kind is allowed.
No animals are allowed (including emotional support animals).
No outside colors (powder) are allowed.
The farm and gates close at 9:00 pm and no overnight parking is allowed.
Event attendees must comply with any Oregon Health Authority and Multnomah County rules, including mask wearing and social distancing, in place at the time of the event.