Description
Join Take Her Back to celebrate Holi:
The Festival of Colors!
---
The day will include music, food, and festivities!
Enjoy this colorful family event and at the same time raise money for Take Her Back. Bring your family and kids to experience this wonderful festival.
Tickets are FREE, but you must RSVP!
Photo booth graciously sponsored by Phame PB!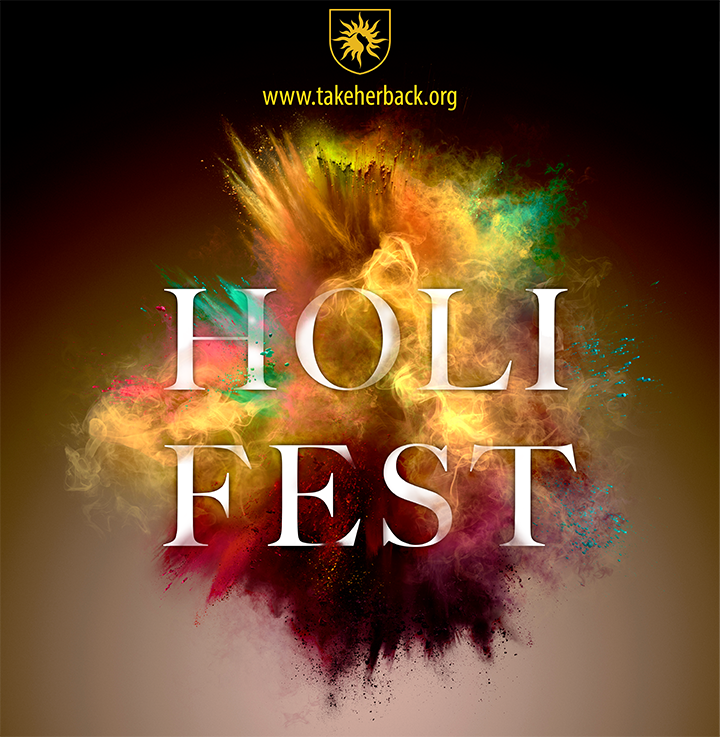 HIGHLIGHTS:
★ Free Admission
★ Free Colors
★ Music
★ Water Guns
★ Food from a renowned local restaurant
★ Photo Booth
★ Bounce House
★ Benefitting a Non-Profit
WHERE? Menlo Park. Flood Park, Pine Group Picnic Area.
WHEN? March 31st (Saturday) from 11-3PM.
CHECK IN: Begins at 10:30AM.
DRY COLORS ONLY. Colors will be provided and you dont need to bring your own. Colors are Non-Toxic and environmentally safe.
FAQs
How much are tickets?

FREE. For everyone.
Is the powder safe?
Yes. The powder is all natural, and made from cornstarch and food dye. We ask that people refrain from throwing powder into people's eyes or mouth, but accidents do happen. If this worries you, you should consider wearing sunglasses and/or a bandana.
What to wear?
Please wear clothing that you don't mind getting colorful. You will more than likely not leave the venue untouched from the flying colors everywhere. Actually, it is almost guaranteed! The colors should come out in the wash, but we recommend erring on the side of caution. We recommend wearing all white.
Do I have to bring my printed ticket to the event?
Either the mobile application can be opened to display the ticket or the printed ticket can be brought. As a last resort, your government ID can be presented and we will look you up in the list.

---
All proceeds benefit Take Her Back, a 501(c)(3) nonprofit organization that combats child sex trafficking in India. Visit www.takeherback.org and sponsor the rescue of a child in need.
Tickets are free, but RSVP is required. Reserve your spot today!