Event Details
The Icon and Holga Inspire are please to present a 3 week workshop using Holga cameras, in conjunction with the Holga Inspire exhibition at the Icon Gallery, March 5 - April 1, 2011.
Co-taught by Heather Rasmussen (MFA, CalArts 2007) and Nina T. Becker (MFA, UCIrvine 2010)
This workshop is intended to expand your photographic knowledge. It will include a shooting assignment and a group critique of final prints.
Class limited to 15 people.
Workshop schedule:
Pick up Holga camera and Film Saturday March 5, anytime between 4-5:30pm
First workshop, Saturday March 12, 12-1pm
Second workshop, Saturday March 26, 12-2pm
The $55 Registration fee includes:*
1 HOLGA camera, loaned from Holga for the duration of the workshop
2 Rolls of 120 film (Kodak Portra 400 and Tri-X)
Processing and Proof sheets at the Icon for 2 rolls of 120 film
2 60MB Imacon scans at the Icon
2 11x14 Machine prints on Kodak paper from sized files
*Please make any cancellations 72 hours before the first workshop, March 5, so your spot can be filled by anyone on the waiting list. Please email heather@iconla.com if this event is full and you would like to be put on the waiting list.
*Special Offer*
For additional film shot for the duration of the workshop (March 5 - 26), you will receive 50% off the Icon services:
Processing and conventional proofs for 120 film
Imacon scans from 120 film
Machine prints from sized files
This offer is only valid until March 26, 2011
About the Workshop teachers:
Heather Rasmussen is a Southern California native, and the Fine Art Specialist and Production Coordinator in the Fine Art Department at the ICON. She has gained knowledge in the field of photography through her BA in studio art from UC Irvine, and an MFA in Photo and Media from CalArts and freelancing as a photographer for many Contemporary Art Galleries. Heather has worked closely with Artists such as Allan Sekula, Catherine Opie, D.V. Vincentis, Lisa Eisner and Catherine Money. As a fine Artist herself, she has been in group exhibitions throughout the country, and has had two Solo exhibitions in Los Angeles in recent years. Heather has also co-curated an exhibition that traveled from Seattle in 2009 to the Brand Library in Glendale early 2011. Her work was also featured in a book from late 2009 titled "Unfolded" alongside artists such as Olafur Eliason, Frank Gehry and Thomas Demand. Heather is excited to be a part of the Fine Art Team, and enjoys combining art and photography with technology every day at the ICON. www.heatherrasmussen.com
Born in the "Wild, Wonderful" state of West Virginia, Nina Becker currently lives and works in Los Angeles, CA. Becker's photographs and video installations reflect a collision of myths: tall tales about a site, stories about death, and myths about photography. Her recent work is part of an ongoing effort to visually represent what can be felt but not seen.  She holds an MFA in Studio Art: Photography with an emphasis in Visual Studies at the University of California, Irvine and a BA in Architecture from Smith College.  Her work has been exhibited internationally, most recently at LAXART, Monongelia Art Museum, UAG Gallery and was selected for a juried exhibition curated by Charlotte Cotton.
Becker is dedicated to making rigorous visual education accessible and instructs photography to both youth and university-level students, most recently at the University of California, Irvine. Her forthcoming project involves using a van-turned-pinhole camera to instructing photography to youth in neighborhoods across Los Angeles. Nina has been awarded with numerous grants and fellowships including the Center for Global Peace Studies project grant, Medici Scholars fellowship, and the Claire Trevor departmental travel award. www.beckerprojects.com
THANK YOU TO KODAK FOR THEIR GENEROUS DONATION OF KODAK PORTRA 400, TRI-X, AND PAPER!

THANK YOU TO OUR SPONSORS AT HOLGA! www.holgainspire.com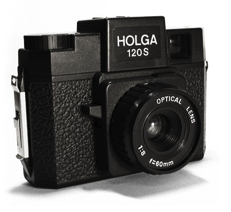 Where

The Icon
5450 Wilshire Blvd
Los Angeles, CA 90036


Organizer
THE ICON
The Icon is a full-service traditional photo lab and digital lab, integrating color/B&W processing, custom printing, digital capture, digital imaging, scanning, retouching, archival museum-quality digital printing, and archival long-term storage services under one roof.  We cater to top notch photographers and creative professionals in Los Angeles and throughout the West Coast.
We cater to clients who demand the utmost in quality. Our in-house experts bridge the gap between traditional and digital realms, and are available for consultation and hands-on attention to your individual project, every step of the way.