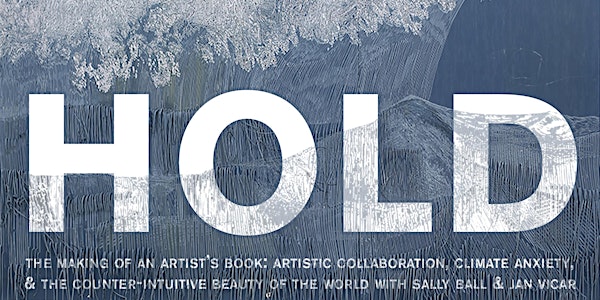 HOLD: The Making of an Artist's Book with Sally Ball and Jan Vičar
When and where
Location
Phoenix Art Museum 1625 N Central Ave Phoenix, AZ 85004
Description
Join U.S. poet Sally Ball and Czech artist Jan Vičar for an exhibition of HOLD, a collaborative artist's book exploring the effects of climate change in both micro- and macro-scopic ways, Sunday, November 11, 2018 from 1:00 to 2:00 p.m. in the Library at the Phoenix Art Museum (1625 N Central Ave, Phoenix, AZ 85004).
In addition to an artist talk and readings from the text, guests will have the opportunity to interact directly with the completed book and purchase limited-edition prints. This event is open to the public and free.
Presented by the Phoenix Art Museum, the Virginia G. Piper Center for Creative Writing, and the Institute for Humanities Research at Arizona State University.
For more information visit http://piper.asu.edu/events/hold.
About the Exhibition
HOLD is a limited-edition, hand-sewn collaborative artist book and poem measuring 24" x 18" and 60 pages long. HOLD ranges over many topics: climate anxiety, corporate doublespeak, international migration, nuclear energy, and the counter-intuitive beauty of the world. The writing departs from an idea explored in Roy Scranton's ecological lament Learning to Die in the Anthropocene: namely, that our obsession with thriving (from a Norwegian root word that means grasp or hold) is intensifying our environmental crisis. While the prints and text have been exhibited in Austria, France, Germany, Spain, and Tokyo, this month marks the first time the book will be displayed as an assembled whole. The collaboration began in Fall 2015.
HOLD was supported by a Faculty Fellowship from the Virginia G. Piper Center for Creative Writing in 2016, with additional support from the Institute for Humanities Research at Arizona State University.

About the Artists
Sally Ball is the author of Hold Sway (forthcoming 2019), Wreck Me (2013), and Annus Mirabilis (2005), all from Barrow Street. She is an associate professor of English at Arizona State University and an associate director of Four Way Books. Her work has appeared in The American Poetry Review, Boston Review, Harvard Review, Scoundrel Time, Tin House, and elsewhere. She lives in Phoenix.

Jan Vičar studied at the Academy of Fine Arts in Prague. He has exhibited his work around the world—across Europe, in Japan, the United States, and South Africa; and it is held in collections including the National Gallery in Washington, DC. He has twice won Prague's Print of the Year in the experimental category. He is the recipient of the 2018 Prix de Gravure Mario Avati from the Académie des Beaux Arts in Paris. He lives outside of Telč in the Czech Republic.