Description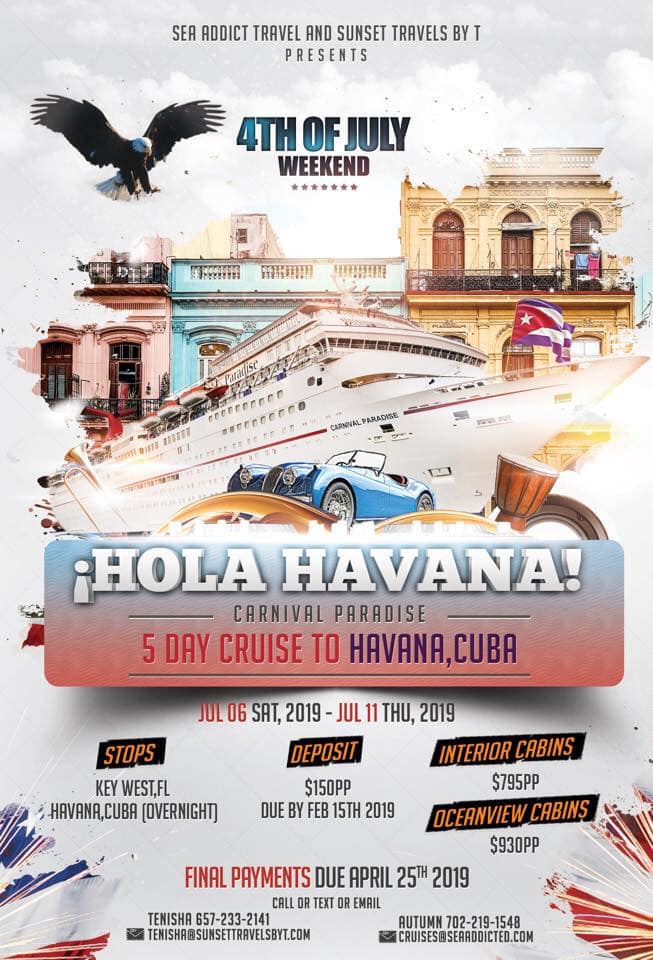 CARNIVAL PARADISE

JUL 06, 2019 - JUL 11, 2019
SAT - THU

5 DAY cruise to HAVANA,CUBA

Stops:
Key West,FL
Havana,Cuba (Overnight)
JUL 06, 2019 - JUL 11, 2019
SAT - THU

Ports from (Leaving from) Tampa,FL

Let us share this exciting opportunity to admire the beauty of Havana's abundant colonial architecture, sample the delectable cuisine, and experience the personal warmth of the Cuban people and its vibrant culture in this island paradise where time has stood still. We're looking forward to welcoming you aboard Carnival Paradise for a FUN and memorable cruise vacation


Deposit is $150pp Due by Feb 15th 2019
Remaining balance Due by April 25th

You are encouraged to make payments anytime before due dates

Interior Staterooms $795pp

Ocean View Staterooms $930pp

*Balcony Staterooms upon request and availability*

Rates are based on double occupancy. 3rd and 4th guests typically get a discount when staying in same cabin. Contact me for a quote if you want more than 2 people in one cabin. Solo travelers welcome.
We'll do our best to find you an acceptable cabin mate if you don't want to pay the single supplement.


All rates are based on double occupancy and are subject to change without notice.
Rates do not include excursions, transportation to and from the port, hotel, flight, or anything not specifically stated in this description.

We are full-service travel agents and will be happy to help you arrange transportation, flights,pre-cruise and post cruise hotel accommodations,excursions, and more.

LEAVING FROM TAMPA (TRANSPORTATION TO AND FROM TAMPA NOT INCLUDED)

**ITINERARY**
Day 1: Depart Carnival Tampa Bay Port FL 4pm
Day 2: Key West FL 12 pm-6pm
Day 3: Havana Cuba 7 am
Day 4: Havana Cuba 6 am
Day 4: Fun Day At Sea
Day 5: Fun Day At Sea
Day 6: Return Carnival Tampa Bay Port FL 4pm

REFUNDS*REFUNDS*REFUNDS

Initial deposits are non-refundable. All payments after initial deposits are refundable. Amount of refunds depend on timing. Carnival will keep $50 for administrative fees.


The great thing about cruises is you can pay for your vacation over time. You can always pay more than the scheduled amount. If full balance is not paid by the final payment date shown above, a $50 fee will be deducted from any amount paid to cover administrative

*****************IMPORTANT****************************************************************

All guests are required to obtain a visa in order tourist card) visa. Guests will be able to purchase the "Tarjeta Turistica" from Carnival at a cost of $75 per person. This fee will be added to your onboard account. Carnival will distribute this visa during embarkation and guests will be responsible for providing their visa to the Cuban authorities upon arrival and departure from Cuba. If a guest loses their visa, they will be able to purchase a new visa onboard at an additional cost of $75. Visas are valid per visit so guests on back-to-back cruises will need to purchase a visa for each visit.

Guests who were born in Cuba or are traveling for specific reasons, such as journalists, will need to obtain non-tourist card visas.
FAQs
What are my transportation/parking options for getting to and from the event?
Transportation can be arranged to and from the port if needed,but is not inlcuded
How can I contact the organizer with any questions?
cruises@seaaddicted.com
What's the refund policy?
Initial deposits are non-refundable. All payments after initial deposits are refundable. Amount of refunds depend on timing. Carnival will keep $50 for administrative fee