Join us for our 4th Annual Harry Potter - themed fundraiser this year with a good ole 2020 twist.
About this Event
Gastrochurch is pleased to inform you that you have been accepted to the Hogwarts School of Witchcraft and Wizardry! Join us on the evenings of December 10th, 11th, & 12th, as we drink Butterbeer, play Harry Potter trivia, and raise money for a good cause. Once you enter Diagon Alley, you'll be given your Car Pass which will unlock the rest of the wizarding world for you and those you choose to share the magic with in your vehicle. You'll find all your favorite stops along the way as you drive thru our Hogwarts Christmas Village. You'll compete for the coveted House Cup through a series of tests and trials meant to separate the magical from the muggles. You'll have a chance to get your sugar fix at Honeyduke's, finish your Christmas shopping at Flourish and Blott's, AND be sorted into your House over the radio for all to hear! Best costumes win extra points for their house, so dust off your dress robes, grab your wand (and a vial of Felix Felicis!) and join us as we celebrate all things Potter.
Remember to get your raffle tickets for a chance to win our Remarkable Creatures and Where to Discover Them, South African Safari trip for two! https://go.rallyup.com/safariraffle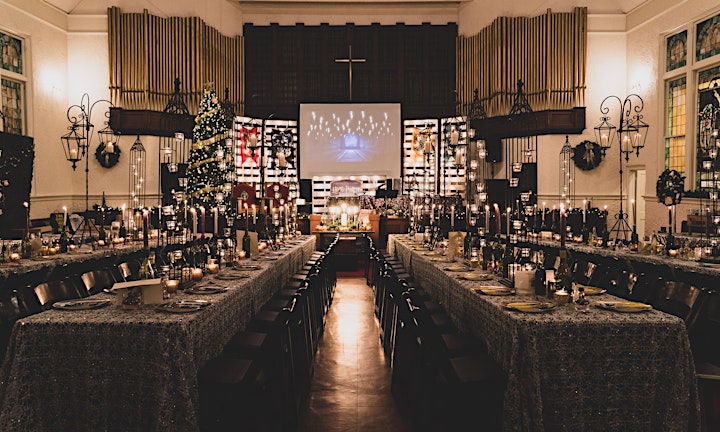 The Great Hall circa 2019 down at Galveston Central.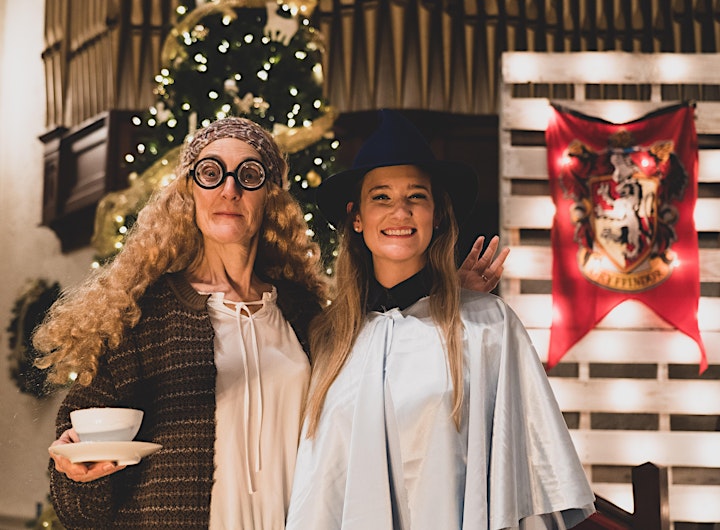 Professor Trelawny and Fleur circa 2018 at Galveston Central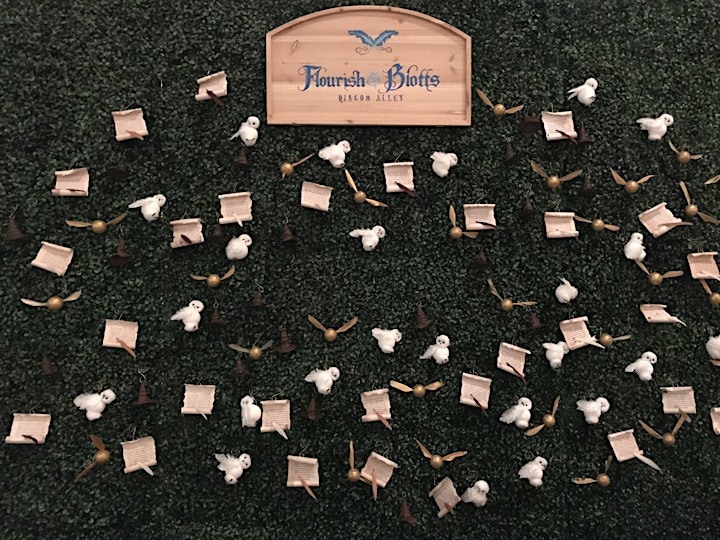 Homemade Ornaments from NewRoad Designs circa 2018 at Galveston Central
FAQs
Can I just get a ticket the day of the event? In order to ensure that everyone has a good experience, we are limiting the number of cars that can be in the parking lot at any one time. Tickets are available in half-hour increments, and each ticket is good for an hour. However, tickets are limited. We highly encourage you to get a ticket ahead of time to guarantee your time preference.
How long will it last? Your ticket is good for an hour, so you can drive through the village as many times as you would like to in that time frame.
How many people can come in my car? Your ticket is good for everyone who fits in your car, so pack 'em in. (Looking at you, Weasley.)
Is this kid-friendly? Absolutely. We love our wizards in training. They'll probably help you win at trivia.
Is this adult-friendly? ABSOLUTELY. Bring all your friends!
Are there going to be adult beverages? Sadly, no. We're happy to provide you with some great recipes for your own adult butterbeer, but we promise you'll hardly miss it because our nonalcoholic butterbeer is that good. That. Good.
What if I love dressing up and pretending like I'm in Harry Potter for hours at a time? Well then YOU sound like a VOLUNTEER. Seriously, guys, volunteering is basically twice as much fun as attending. Our slots are filling, but we still have a few volunteer slots left. If you want to help make the magic, email haley@gastrochurch.org.