HOEDOWN VI - SATURDAY, September 27th

Saturday, September 27, 2014 from 4:00 PM to 9:30 PM (EDT)
Event Details
Join us for Licks, Picks & Plenty O'Kicks
A Nashville themed Opryland Hoedown to support the kids at Lovelane

Featuring the Legendary Southern Rock Stars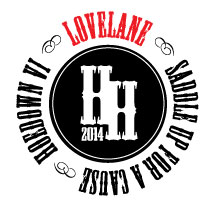 .38 Special
And Local Boys
French Lick

Enjoy award-winning flavors from the nation's most talented culinary maestros.
Chris Coombs of dbar, Deuxave & Boston Chops
Peter D'Antoinio of Westin Waltham Boston
Peter Davis of Henrietta's Table
Dante de Magistis of Restauant dante & il Casale
Courtney Forrester of Sweet
Andy Husbands of Tremont 647
Geoff Janowski of Blue Ribbon BAR-B-Q
Phyllis Kaplowitz of Bakers' Best Catering
William Kovel of Catalyst
Israel Medina at BOKX 109
Rodney Murillo/Steve DiFillippo of Davio's & Avila
David Nevins of Biltmore Bar & Grill
Brendan Pelley of Zebra's Bistro and Wine Bar
Seth and Angela Raynor of Corazon Del Mar, Boarding House & The Pearl
Robert Sisca of Bistro du Midi
Joshua Smith of Moody's Delicatessen & New England Charcuterie
Roadside Libations provided by:
 Bully Boy Distillery (providing an American Whiskey tasting)
Goelet Wine Estates
The Harpoon Brewery 
Sam Adams
Deep Eddy Vodka
Clown Shoes Beer

*EncoreTicket:The Encore ticket allows you to gain access to additional Nashville-attractions. Put on your poker face and play a hand or two in the OprylandCcasino. Our professional dealers will welcome you to craps, roulette and blackjack. Look your country finest with a compliementay boot shine and bedazzle your custom Hoedown bandana (or go 'Full Elvis' and upgrade you outfit to join the ranks of the gliterati). Sip Tennessee libations in the swanky Hive Airstream bar area and spin the guitar to strum your way to some fabulous prizes.  The Encore Ticket CANNOT BE PURCHASED ALONE.  It is NOT a ticket to the event.  It is an Add-on ticket to access additional activities!
 Luxury Raffle tickets on sale at the Hoedown!  
 Stay tuned for more information about raffle prizes.
Hoedown VI-Horse sponsorship paddle raise hosted by
WBZ Anchor David Wade
 21 Years and older only!
Rain or Shine!
When & Where
59 Lincoln Road
Wayland, MA


Saturday, September 27, 2014 from 4:00 PM to 9:30 PM (EDT)
Add to my calendar
Organizer
Lovelane Special Needs Horseback Riding Program
At Lovelane, we believe in every child's ability to be an athlete, to confidently achieve their goals and feel pride in their accomplishments.
Ticket to Ride at Lovelane
$25,000 Funds 2 part-time instructors
$10,000 Trains a therapy horse
$5,000 Full year scholarship for 1 child
$2,000 One year hay/grain for 1 horse
$500 Five lessons for one child
HOEDOWN VI - SATURDAY, September 27th