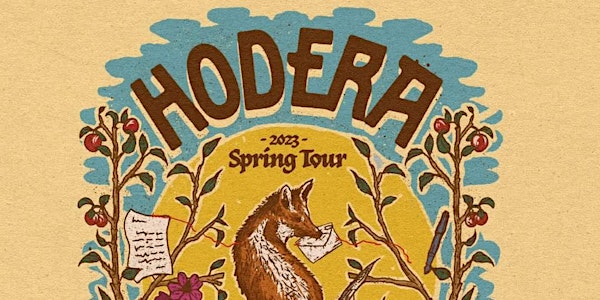 Hodera at State House
4.21.23
Date and time
Starts on Friday, April 21 · 7pm EDT
Location
The State House 310 State Street New Haven, CT 06510
Refund Policy
Contact the organizer to request a refund.
Eventbrite's fee is nonrefundable.
About this event
Tiny Box Booking presents:
Hodera
"I know you're stronger than you think / just keep on moving," Matthew Smith croons
over simple strums on the chorus of "And Again," the second track off Hodera's
upcoming third LP Dear Friend. Who he's talking to is unclear, but it might as well be
himself. The indie rockers have been quiet over the past couple years, but all that ends
soon, and it's like he rasps right after that line, "it's worth the waiting."
Hodera's become something of a cult favorite in Jersey, 2017's First Things First held
as a subtle masterpiece for its effortless blend of heart-on-sleeve emo and Americana
twang. Subsequent releases, the EPs Besides and You're Worth It in 2018 and 2020,
honed their sensibilities, Smith's lyrics growing more confessional, his melodies
increasingly stickier, and their riffs even crunchier. Dear Friend is the obvious next step
for the band, who's never sounded this full-bodied, this powerful, this confident.
Likely the most classic Hodera song on the record is "Slowdown," which mixes alt-
country balladry with Third Eye Blind-sized alt rock–it'd fit perfectly on First Things First,
but it'd likely be the best song on there. It's sandwiched between "Romanic Depressive"
and "Mason Dixon," which are doubtless the heaviest songs Hodera's ever released,
the former blooming to a shrieked bridge and wailing solo, the latter a grungy tromp
through a harsh northeastern winter. The record's bookends, too, deserve particular
note. The intimate, heartbreaking closer "Mother's Wine" builds and builds to a coda
that feels like a victory march, and lead single "Waiting" sounds like Mansions by way of
The Gaslight Anthem, like the barnburning opener Smith was born to write.
Perhaps it's no coincidence that Smith also turns in his most uplifting lyricism on the
band's most self-assured record. "This time I'll rise above it," he chants on the chorus of
the triumphant "Closer," and "Trying" finds him convincing a friend–or himself–of the
reasons to keep on living in the midst of depression. Smith says that, "I realized that I
have been writing about mental illness for years but I had held back from talking about
death. I had also never let myself write about my battle with drug addiction…I tried to
push myself to not hide anything on this album." There's no question Dear Friend is the
most honest Hodera album to date, but it's also the best. On the sparkling side A closer
"Little Falls" Smith repeats, over and over, "I'm still around," and that might as well be
the thesis statement of Dear Friend. Everything he's been through–hell, everything
we've all been through over the past two years–it hasn't taken him out yet.
https://hodera.bandcamp.com/
The State House | 310 State Street | New Haven, CT
7 PM DOORS | $12 ADV / $15 DOS | All Ages
Accessibility: Staircase to front door. Entry ramp on side of building. All bathrooms ground floor & gender-neutral.