Description
Join Midwest Photo for this unique and interactive hockey photo workshop with the Columbus Blue Jackets!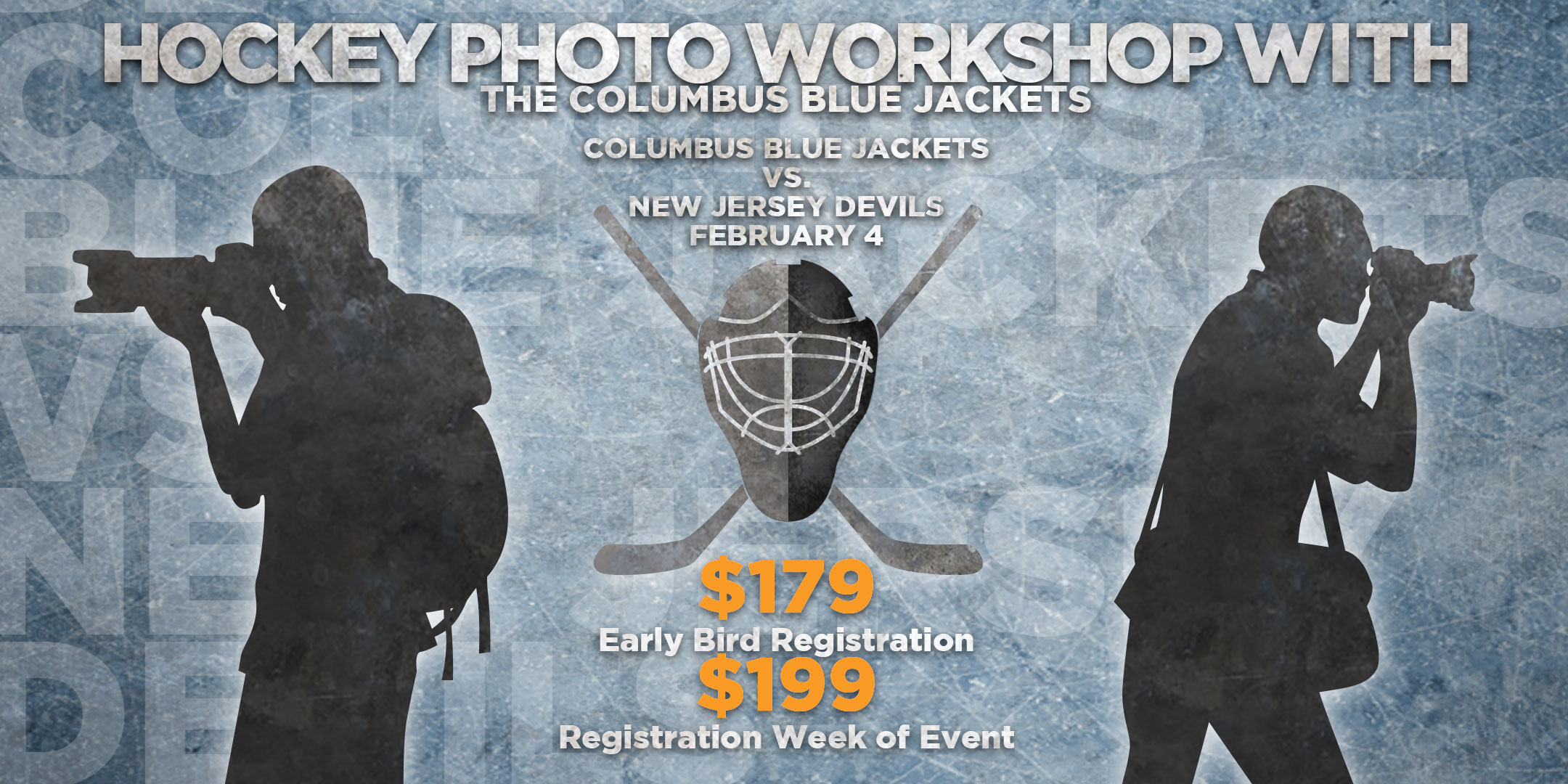 We'll get attendees prepared for shooting the big game! We'll have instruction, tips and tricks for shooting hockey from our instructor Tim Neumann and Columbus Dispatch pro Kyle Robertson. We'll also have the chance to practice our skills by shooting a non-pro hockey game at the arena before the Columbus Blue Jackets game!
We'll learn the history behind the beloved Columbus Blue Jackets cannon, the NHL's most attention-getting sound machine as well as tour behind the scenes of Nationwide Arena, dubbed by ESPN The Magazine as "the No. 2 stadium experience in professional sports" Finally, we'll move to shooting the big NHL game!
Ticket includes Executive Suite ticket admission to Saturday Feb 4th Columbus Blue Jackets vs. New Jersey Devils game at 7pm EST and shooting from our suite seats during the game in the arena.
Workshop Timeline (Subject to Change)
Hockey and Sports instruction from Tim Neumann 11:00am-1:00pm
Lunch (Attendees are on on their own for lunch and are welcome to leave arena) 1:00pm-2:15pm
2:15pm-3:30pm Shoot Pub Game (Staff of Windsor Pub playing)
3:45pm-5:00pm Inspiration from Columbus Dispatch Photojournalist, Kyle Robertson
5:00pm-6:00pm Cannon and Arena Tour
6:00pm-Seating in our Executive Suite as well as setting up other shooting vantage points around the arena for the game!
7:00pm-Game Time!!
Class Instruction will include:
— Introduction to Sports Photography
— Necessary Knowledge
— Exposure Modes
◦ Controlling both Exposure, and Action
— Exposure Considerations
◦ Indoors
◦ Outdoors
◦ Time of Day
◦ Type of Light
— Low Light Shooting
— Access and Location
— Composition and Anticipation
— Luck and Making Luck
— Sports Photography Gear
◦ Preferred Lenses
◦ Monopods / Tripods
◦ Bags, Belts, and Being Ready
— Q&A Session
Nationwide Arena Photography Rules:
Cameras/Video
Blue Jackets:
All camera types, including professional cameras with detachable lenses are permitted
http://www.nationwidearena.com/arena/guestservices.php
Group will enter Nationwide Arena at Big Lots Box Office Entrance!