About this Event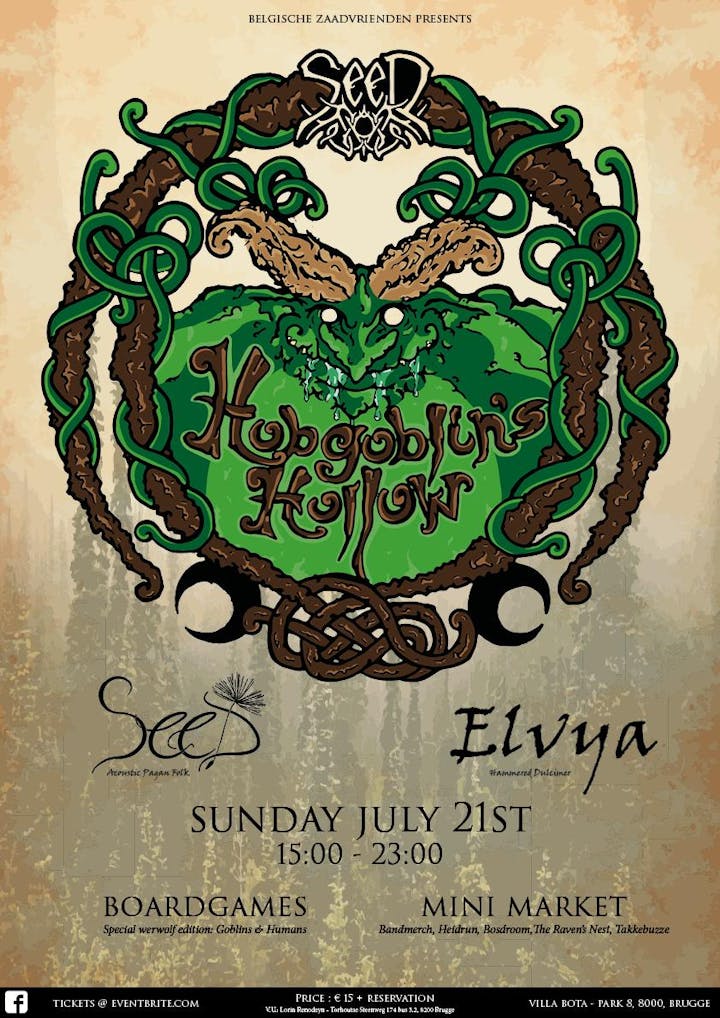 ~~ EN below ~~
Belgische ZaaDvrienden & SeeD Pagan Folk presenteren:
Hobgoblin's Hollow
Naast het goblin portaal dat soms opduikt in Nederland is een tweede portaal naar de andere wereld verschenen in België! Een portaal naar een magische wereld vol allerhande spellen, kraampjes en betoverende muziek.
Het portaal opent 's namiddags met allerhande spellen (boardgames, cardgames en roleplaying) gevolgd door twee volledig accoustische folk optredens van Elvya en SeeD. Daarna sluiten we af met een jam voor iedereen die wil meedoen, dus breng je eigen instrument mee als je wil!
15u - het portaal opent: start bordspelen en mini markt
19u - Elvya
20u - SeeD
22u - jam
23u - het portaal sluit
Tickets: € 15 + reservatiekosten
~~ ENGLISH ~~
Belgische ZaaDvrienden & SeeD Pagan Folk present:
Hobgoblin's Hollow
Besides the goblin portal that occasionally appears in The Netherlands, a second portal has appeared in Belgium. A dortal to a magical world filled with all kinds of games, a mini market and magical music.
The portal will open in the afernoon with all kinds of games (boardgames, cardgames, roleplaying), followed by two fully accoustic folk performances headlined by SeeD. A free for all jam will close out the night, so bring your own instrument if you like to play!
15h - the portal opens: start boardgames and mini markett
19h - Elvya
20h - SeeD
22h - jam
23h - the portal closes
Tickets: € 15 + reservation fee