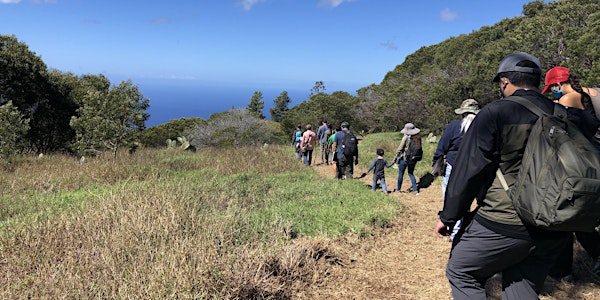 Hoa'āina Stewardship Day: Ahupua'a 'o Kawaihae
Deepen pilina with the landscapes of Ahupua'a 'o Kawaihae and share in mālama 'āina (care for the land) in this moku we call home.
When and where
Location
Keawewai Kohala Mountain Rd Waimea, HI 96743
About this event
Community members of all ages are invited to join in our 2022 Hoa'āina Stewardship Experiences! These guided, half-day learning journeys are designed to deepen our pilina (relationships) with Kohala's natural and cultural landscape, create space for meaningful exchanges between place and people, and share in mālama 'āina (care for the land) in this moku we call home.
Our Hoa'āina Stewardship Days in the Ahupua'a 'o Kawaihae take place at Keawewai, 'āina stewarded by The Kohala Center in Kawaihae Uka. With the help of the community, we are propagating native seedlings to restore Kohala's dryland and mesic forests and riparian corridors. Join us as we plant native forest species, kilo (observe and monitor) our restoration trial plots, and learn together, strengthening our connections to ʻāina and to each other as an ahupuaʻa-stewarded community.
Space is limited to no more than 20 participants. Details on where to meet and what to bring will be provided the afternoon before the event. For more information, please contact Kaimana Chock at kchock@kohalacenter.org or 808-887-6411.
The Kohala Center is an equal opportunity provider, employer, and lender.