HMHB of Broward Young Ambassadors Mixer
Summer Wines Tasting Experience: A Night of Pour Decisions
About this event
HMHB of Broward's Young Ambassadors Mixer
Date: Wednesday, August 25, 2021
Time: 6:30 p.m. - 8:00 p.m.
Location: Small Wine Shop
410 N. Andrews Avenue
Fort Lauderdale, Florida 33301
Cost: $35.00 per person
You are invited to a Young Ambassadors Mixer for Healthy Mothers, Healthy Babies Coalition of Broward County (HMHB of Broward). Come enjoy a fun and engaging evening of networking, making new friends, and learning about our mission at HMHB of Broward.
A Wine Connoisseur will guide your "Summer Wines Tasting " while you indulge in every drop of your experience. Every guest will have an individual sized charcuterie board to enjoy with the wine tasting.
**Includes: Six wine tastings that are 3 oz pours for each glass and a charcuterie board
Face masks are encouraged to be worn unless eating or drinking.
Parking will be available. Register early to secure your seat! Seating is limited.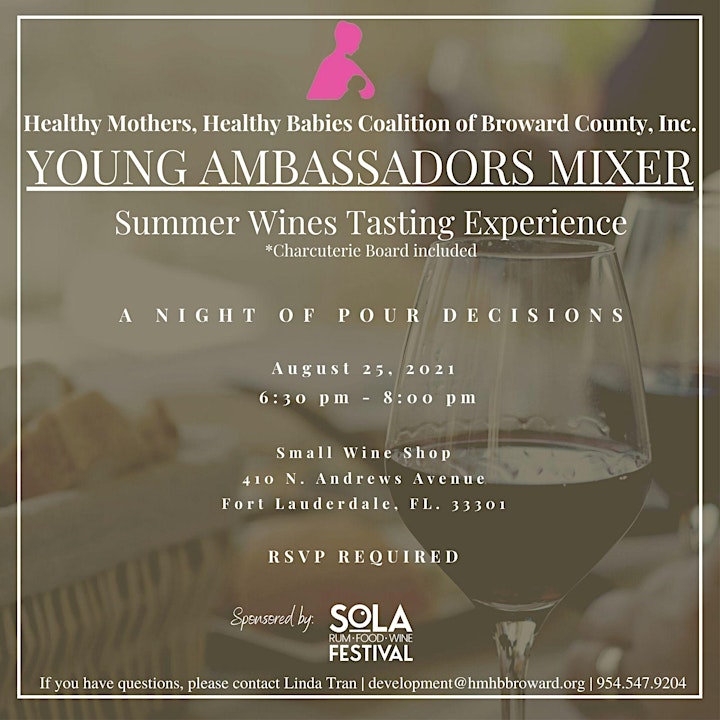 Organizer of HMHB of Broward Young Ambassadors Mixer