About this Event
DINNER THEATRE AND SHOW-ONLY TICKETS AVAILABLE NOW.
We recommend that you use your PC or Mac to purchase tickets using the Seat Map. If purchasing tickets on mobile you may not be able to select specific seats but will be given Best Available seats in your chosen section.
--------------------------------------
Our semi-formal gala evening promises to be the highlight of our school year as we come together to celebrate and enjoy a wonderful musical production from our HLCS students and raise funds for Christian Education.
For those who would "Be Our Guest" for the dinner theatre, your ticket includes a welcome reception, door prize tickets, a full course buffet dinner and table seating at the orchestra level.
Tickets are also available beginning March 16th for the musical production "Show-Only" in the Belle, Gaston and Lumiere sections and include a welcome reception with light dessert refreshments and door prize tickets.
Based on the exciting response from our community during the initial hours of our dinner ticket release, we have made additional "Be Our Guest" tables available.
See the updated auditorium seating chart below.
Our program for the evening:
5:15 PM – Welcome reception in the atrium for dinner guests
6:00 PM – Gala Dinner in the auditorium
6:45 PM – Welcome reception in the atrium for show-only guests
7:30 PM – Welcome, introduction and ACT ONE begins
8:15 PM – Giving presentation and intermission
8:50 PM – ACT TWO
9:20 PM – Thanks and acknowledgements
9:30 PM – Closing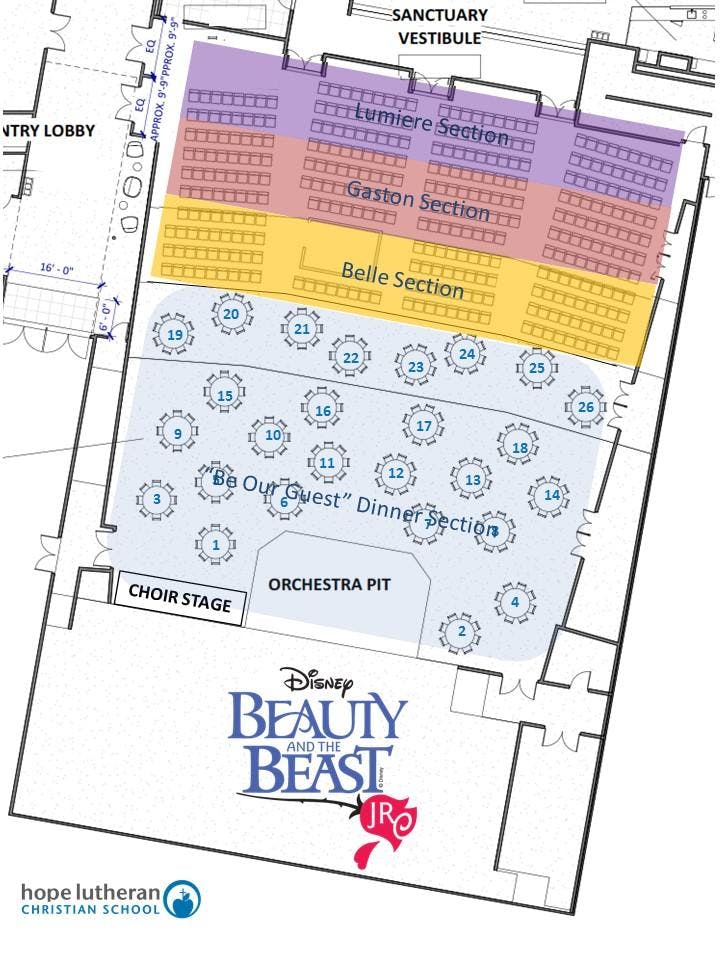 Frequently Asked Questions (FAQs)
Who is invited?
All past, present and future HLCS family as well extended family, friends and supporters of our school - along with supporters of Christian Education.
How should we dress?
For our big night the dress is semi-formal. Use the "you look really nice" test.
What about children?
Children are welcome, however, we will be providing a full dress rehearsal matinee showing at no charge for all HLCS students on the previous day. This allows more seating for us to invite our extended family and friends to the gala and ensures that all Hope students will be able to see the show.
Will cast members be able to join their parents for the dinner?
During dinner, cast members will be backstage in the "green room" prior to the production where food will be provided for them as they prepare their costumes, make-up, etc.
What about children 3 and under?
Children 3 and under are free provided they do not take up a seat.
Are there door prizes?
Yes we are actively working and looking for sponsors to provide awesome door prizes for our guests. If you have ideas or want to provide a prize, let us know.
Are ticket prices part of the fundraiser?
Ticket prices will help cover the costs of the production, facility use and the gala event.
How will funding be raised?
Funding will be raised through our donations and key matching sponsors. During intermission, we will announce the total pledges given by key supporters and we will be given an opportunity to give as a community. Our giving will then be matched by our sponsors. For example, if we raise X amount collectively, it will be matched by our sponsors to double the total amount we raise.
What will our giving support?
Our giving will support our school's building and facilities goals to bring our two campuses closer together and provide permanence, sustainability and "a sure foundation" for our student's futures.
Should we come for the dinner or just the show?
Both options are available and will make for a great evening. We all must have dinner somewhere on that evening so to come and "Be Our Guest" is a great idea and will make the evening very special and memorable.
Is seating reserved?
Yes. Our dinner guests will have seats reserved at a specific table number. For show-only seats, your tickets will have a row and seat number. Refer to the seating chart on this site.
Can we group together to buy an entire table?
Yes. Just have one person from your group purchase the tickets online and the others in your group can reimburse them. When purchasing multiple tickets or a full table of 8 tickets, just be prepared to provide the first and last names and email addresses for all adult guests you are purchasing for.
Can we buy tickets at the school?
Tickets are available online only through Eventbrite.
How do we buy the tickets online?
Just click the green Tickets button at the top of this page and then click Buy On Map to find the exact ticket you wish to purchase. Tickets can be purchased using credit card or PayPal.
Remind me - when do ticket sales begin?
Ticket sales for the "Be Our Guest" dinner theatre begin Saturday, March 9th at 11:00AM. "Show-Only" ticket sales begin the following Saturday, March 16th at 11:00AM. We will send out reminders as we approach the release times.
Why are we releasing "Be Our Guest" tickets earlier?
We are releasing dinner tickets one week early to see what the demand is for the dinner portion. Based on ticket sales during the first week we will either add more tables to accommodate more dinner guests or we will add more theatre seats for show-only tickets.
Will you keep us updated?
Yes. Please stay tuned for more announcements and updates as we get closer to the show.
Who can we contact for additional information?
Call the school or email kdobsin@hopelcs.ca.