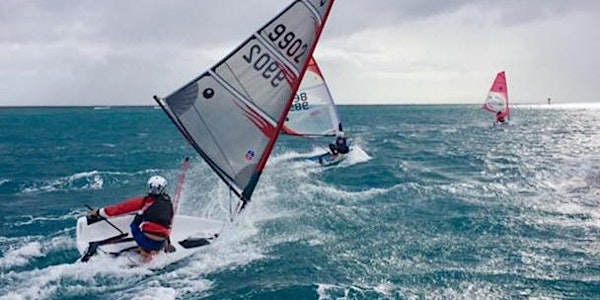 HKBC Sailing Regatta: February 24, 2019 - 12:00 PM
Date and time
February 24, 2019 · 12pm - February 25, 2019 · 4:30pm HST
Location
Hawaii Kai Boat Club 377 Keahole Street Honolulu, HI 96825
Refund Policy
Contact the organizer to request a refund.
Description
HAWAII KAI BOAT CLUB
Honolulu, Hawaii
NOTICE OF RACE
Race, Sail Pass, & BBQ
February 24, 2019 - 12:00 PM- 5:00 PM
RULES:
This event will be governed by the 2017-2020 Racing Rules of Sailing (RRS) with US SAILING prescriptions, however good seamanship and common sense are the order of the day. Protests will be heard only in the case of a collision resulting in serious injury or damage, modifying rule 60. Class rules will not apply.
ELIGIBILITY & ENTRY:
This event is open to all O'pen Skiff, RS Feva, Techno, 29er and Laser divisions.

Gold Fleet is for Level 4-6 sailors

Silver Fleet is for Level 3 sailors

Race Class age is determined by the age of the sailor on December 31, 2019.
Classes:
O'pen Skiff Gold - U17

O'pen Skiff Gold - U13 (For sailors born in 2007 or later)

O'pen Skiff Silver - U17
O'pen Skiff Silver - U13 (For sailors born in 2007 or later)
RS Feva - Open

Techno - Open

29er - Open

Laser - Open
Eligible owners or skippers Levels 3 and above may enter by registering online.
All sailors must be registered by Saturday, February 23rd 10:00PM.
Entry Fee: $10.00

SCHEDULE OF EVENTS:
On Sunday, Feb 24:
12:45 PM Skippers Meeting

1:00 PM Warning Signal for First Race

3:30 PM Last possible Start

4:00 PM Sailpast

BBQ to Follow
Refreshments and awards at HKBC after regatta and boats are put away.
SAILING INSTRUCTIONS:
5 or less races (weather permitting). Observe the revised 2011 Standing Sailing Instructions with the additional provision that beginner sailors will be placed as crew and may not have a chance to commandeer a boat in this event. SI will be available at the Skipper's Meeting.
VENUE AND COURSE:
The venue will be in the Hawaii Kai Marina or Maunalua Bay - to be announced at Skipper's meeting. The course from the starting line in the center of the bay to the buoys specified on the day of the race at skipper's meeting. SI's with a map will be available at the skipper's meeting to show where it is safe to sail.
SCORING:
Individual scoring for each race; Low point scoring system (1 point for 1st, 2 points for 2nd, etc). Points from each regatta will be counted into yearly season's points.
PRIZES:
Winners will be announced at the end of the regatta. Take home prizes may be awarded at the end of the regatta.
FURTHER INFORMATION: Sailing Director Shealin Johnson 808-321-2953
Hawaii Kai Boat Club 377 Keahole St # C2
Email: hkbcsailingdirector@gmail.com
www.hawaiikaiboatclub.com
About the organizer
Please visit http://www.hawaiikaiboatclub.com for more information.