Event Details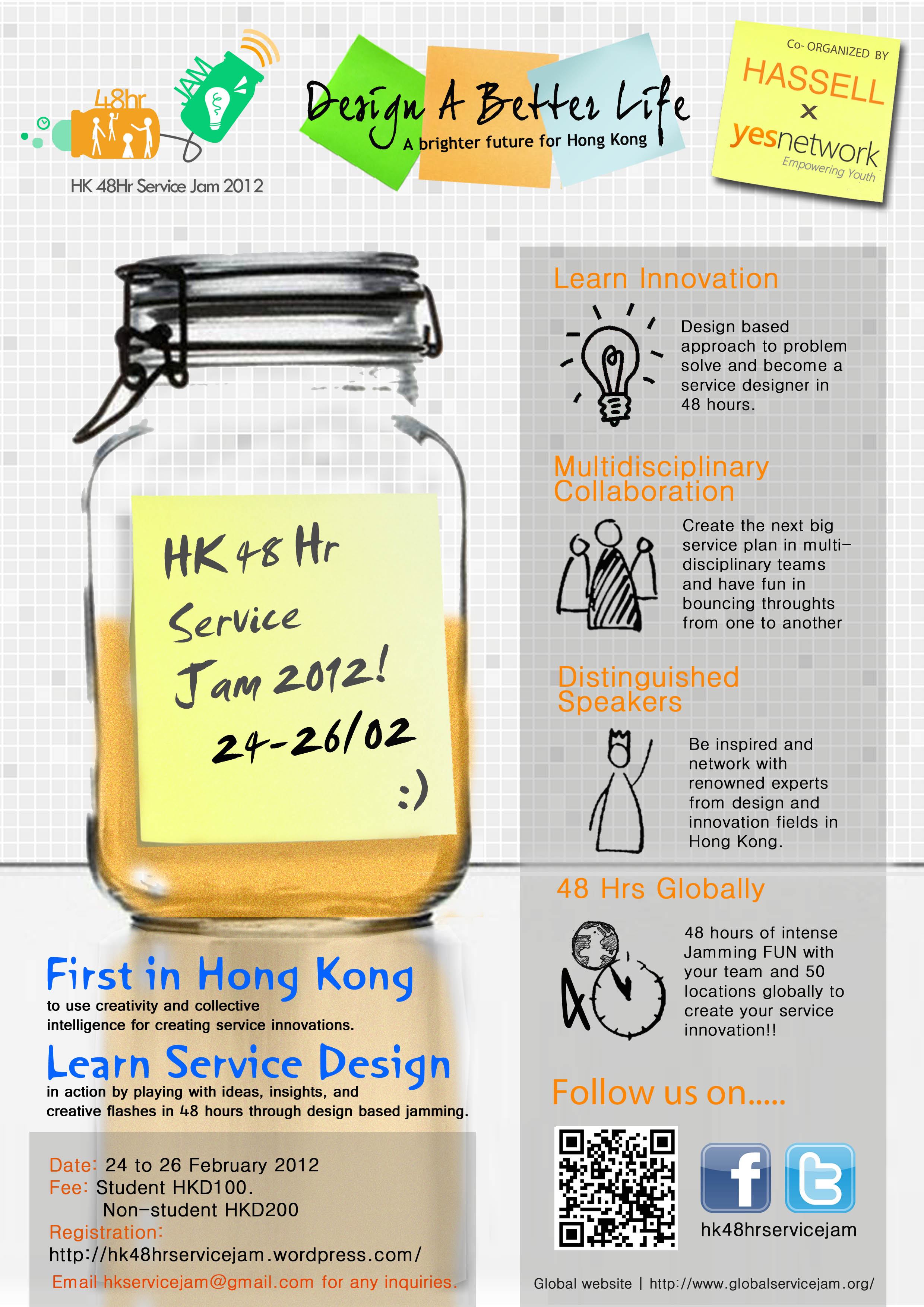 What is HK 48Hr Service Jam 2012??
The first in Hong Kong cooperative gathering of people to use creativity and collective intelligence to create service innovations.
Global Service Jam 2012 from Service Jam Berlin 2012 on Vimeo.
Why HK 48Hr Service Jam 2012??
Learn what design thinking means in action by playing with ideas, insights, and creative flashes.
Have fun in bouncing thoughts from one to another by JAMMING.
They will be students designers. customers, professionals business
people, authors, mums and everything in between working together to think and accomplish in teams.
Join this diverse group of people to design a brand new service and present it to the rest of the world!
You Will…
1) Become a service designer in 48 hours to design a brighter future for Hong Kong.
2) Jam live with 50 locations globally
3) Network and create a service plan with some of the world's most passionate and talented people in the world
4) Learn Innovation, Design based approach to problem solve
5) Create the next BIG service idea with your multi-disciplinary team
6) 48 hrs of intense Jamming FUN!!
Take part in the Global Service Jam in Hong Kong and build something which none of you could have built alone.
Join Us Now, 48 hours of idea, energy and fun!!!
Jamming fees
Students payment - 100HKD
Professional payment - 200HKD
For any further inquiries, please contact hkservicejam@gmail.com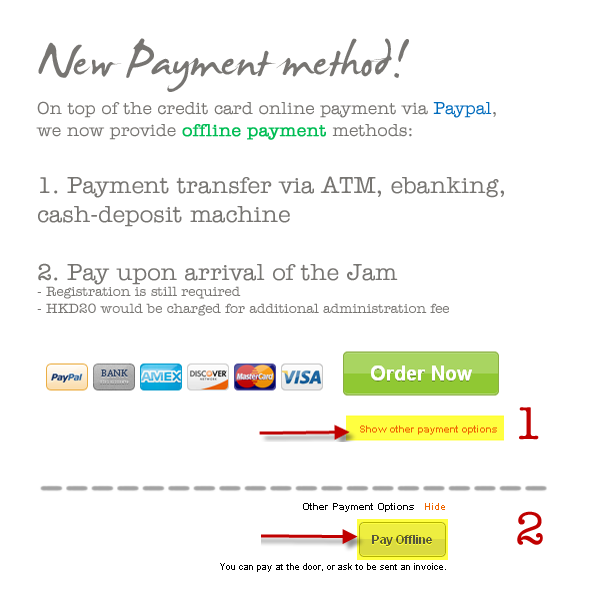 Program Details
Friday          

24th Feb

 Pre Jam Workshop
6:30pm
Arrival & Registration
 
Opening Ceremony


Introduction to HK 48Hr Service Jam 2012
 
Keynote Speakers Series- Innovative Design Thinking Process
By Mr. Christopher Mok – Founder of Spectrum Design & Associates (Asia)
- Community Inspired Innovations
By Scott Frank – Founder of One Earth Designs
 9:00pm
 Theme Announcement
 
 Grouping and Design Process Training
Saturday  

25th Feb

 Intensive Jamming Day 1
10:00am
- What is Service Design?
By Ms. Rachel Chan – Founder of Innofoco Design Consultancy


Concept Thinking / Problem finding (with consultation)


Concept Review
Afternoon
Fun Break


Keynote Speakers Series
- Innovation Technology to Daily Life
By Mr. Ken Chan – Senior Architect of Hassell


Concept / design development (with consultation)
8:00pm
Presentation & Publication
Sunday

26th Feb

 Intensive Jamming Day 2
10:00am
Keynote Speakers Series-Philo Alto


Final Design (with consultation)
Afternoon
Publication to GSJ website


Fun Break
 
Final Presentation & Exhibition


Judging Session & Public Voting


Conclusion on Design Thinking / Process and Innovation


Prize Presentation
 7:00pm
Closing Ceremony & Networking
Speakers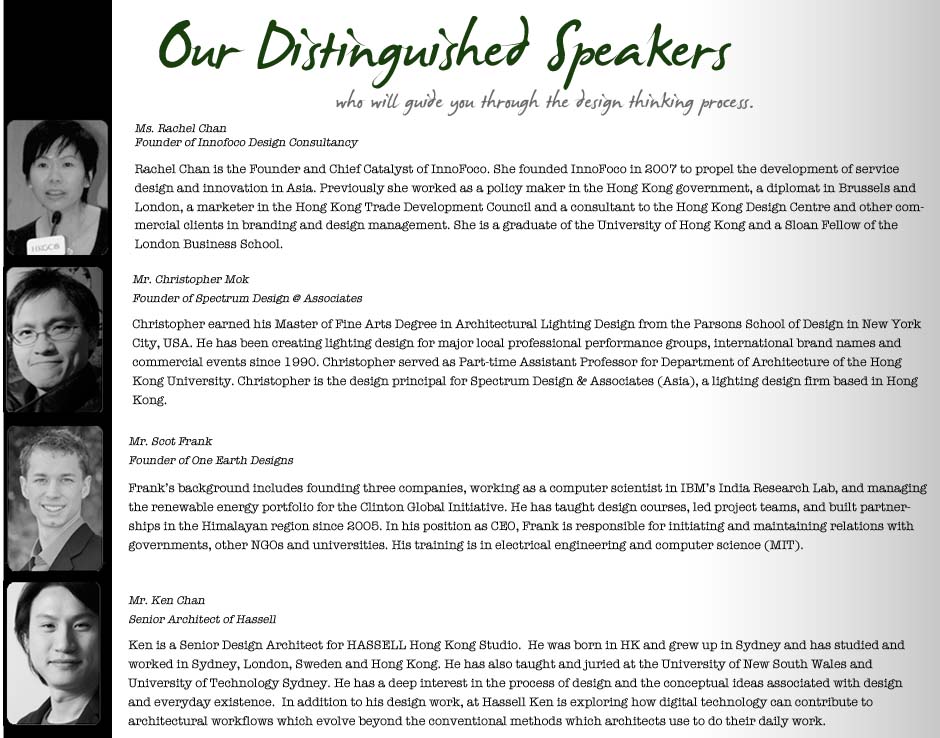 Where

Flag Out Creativity Centre | 飛遨藝展
Flag Out Creativity Centre 1/F,Grand Business Plaza, 153 Wai Yip St.,Kwun Tong,Kowloon
Hong Kong
China

Organizer
YES Network x HASSEL
Young Entrepreneurs for Society Network (YES Network) is a joint-university platform aiming at nurturing long term social enterprise projects and young social entrepreneurs. YES Network links up inspired students with social enterprise resources and experts, and is an open community for all students to join.
http://www.yesnetwork.org/
HASSELL is an international design practice with 14 studios in Australia, China, South East Asia and the United Kingdom. With more than 900 people and a track record spanning 70 years, we work globally across a diverse range of markets.
http://www.hassellstudio.com