Description
The HIVE Summer Face-to-Face Meeting & Training Retreat (Wednesday, June 26, 2019) will be held in conjunction with the Structural Biology Related to HIV/AIDS Meeting (NIGMS) (June 27-28, 2019) in Bethesda, MD.
Meeting Sign-up: Please confirm attendance by May 31, 2019.
Hotel Reservation deadline is May 31, 2019: Please use the dedicated hotel link below to make your reservations and utilize our group rate.
Hyatt Regency Bethesda, MD
Link to HIVE group reservations: https://www.hyatt.com/en-US/group-booking/BETHE/G-HVE1
Group Room Rate: $251.00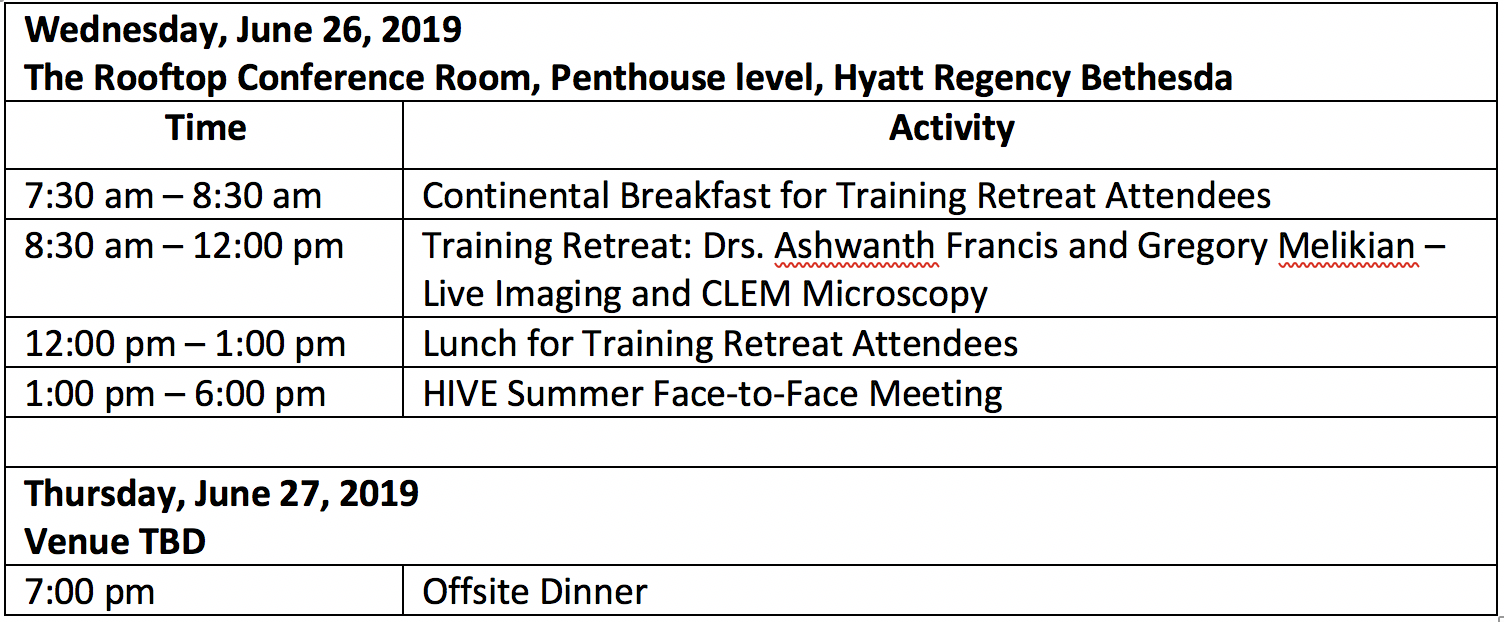 Training Retreat: Each HIVE PI may designate 1 postdoc or graduate student to attend the morning Training Retreat. The HIVE Center Admin Core will pay a reasonable airfare and one night's hotel for the designated trainee. Breakfast and lunch will also be included that day. Hotel room for the night of June 25th will be comp'ed prior to check out. The airfare will be reimbursed after the meeting. Please save all airfare receipts/documentation for proper reimbursement.
Airline Travel Guidelines: Domestic carriers must be used, less than first class travel must be used when available, the price differential between coach or economy and first class is to be paid out of pocket, this includes first class upgrade coupons.
Face-to-Face Meeting: Graduate students/postdocs/CDP awardees will be allotted a 15-minute total time slot (10 minutes presentation with 3-5 minutes of questions and time limit should be strictly followed). Please submit the name of your presenter, project title and abstract.