HITLAB Women's Health Tech Challenge
About this event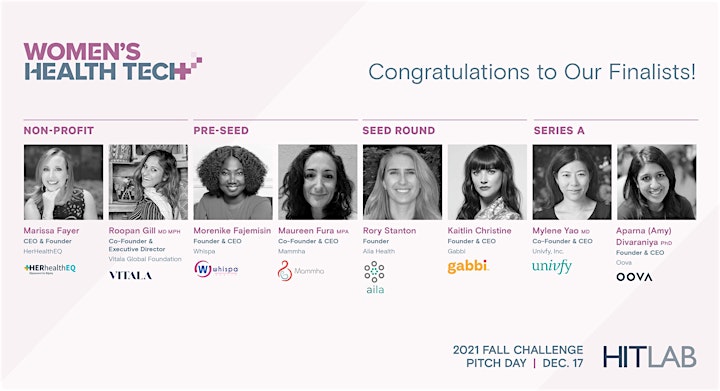 The fourth annual HITLAB Women's Health Tech Initiative Challenge will be taking place on December 17th, 2021 where FemTech innovators will pitch their disruptive healthcare solutions virtually.
The HITLAB Women's Health Tech Challenge began in 2018, focusing on emerging technology applications and systems that improve medical care and the provision of healthcare among women worldwide, an industry slated to reach $50B by 2025.
We have our 8 finalists for the pitch day competition!
Join us at Pitch Day to see the selected finalists pitch live, and network with industry leads representing the entire digital health ecosystem. The event will feature Panel Discussions, Breakout Groups, Innovator Pitches, and a surprise Keynote Speaker!
December 17th, 2021 - 1pm-5pm EST
Topline Event Day Agenda (4 hours)
Master of Ceremonies:
Susan Solinsky
Co-Founder & Chief Growth Officer, Ellipsis Health
Founding LP, How Women Invest
Nicole Anderson
Lead coordinator, Women's Health Tech Initiative, HITLAB
Featured Speakers Include:
Dr. Brittany Barreto, Founder, FemTech Focus
Marija Butkovic, Founder and CEO, Women of Wearables
Stefanie Beasley, Partner, Silicon Valley Women's Leadership, Beasley + McCusker Communications
Amii Barnard-Bahn, Managing Principal, Barnard-Bahn Coaching & Consulting
Rika Nakazawa, Founding Partner LP, How Women Invest
Erika Cramer, Managing Member & General Partner, How Women Invest
Carolyn McCusker, Partner, Beasley + McCusker Communications
Polina Hanin, Principal, Aequitas Partners
Delphine O'Rourke, Partner, Goodwin
Elizabeth Gazda, CEO, Embr Labs
Jessica Karr, Managing Partner, Coyote Ventures
Shelly Kapoor-Collins, Founding Partner, Shatterfund, Partner, Sway Ventures
Zsia Rosmarin, Partner, Withum
Ella Seitz, Partner, Esplanade HealthTech Ventures
Perry Clarkson, Partner, SJF Ventures
Buffy Allegra, Managing Partner, SteelSky Ventures
Casey Santiago, Venture Partner, SteelSky Ventures
Becca Shmukler, Venture Capital Investor, Laerdal Million Lives
Michelle Colucci, Founding Managing Partner, Digital Dx Ventures
Abbie Strabala, Investment Analyst, Rhia Venture
Lily Wound, Partner, Goodwin
Marija Butkovic, Founder, Women of Wearables
Aliya Aaran, Founder & Executive Director, NIHUB
Kathrin Folkendt, Founder & CEO, Femtech Insider
Kris Brown, Partner, Goodwin
Finalist Bootcamp
The five companies that are selected to pitch on Challenge Day - December 17th, 2021 - are expected to participate in a special training program, or "Virtual Bootcamp," for 1-2 hours daily the week before the pitch. The mentorship-driven Virtual Bootcamp creates an ecosystem for Finalists of the Women's Health Tech Challenge to receive expert guidance and support from industry leaders and VCs. Designed as a blend of workshops and one-on-one office hours, Finalists will collaborate with mentors to perfect their pitches and expand their entrepreneurial expertise.
Interested in other HITLAB Events? Subscribe to our Events Newsletter
*Media Disclosure
HITLAB reserves the right to use any photograph/video taken at any event sponsored by HITLAB, without the expressed written permission of those included within the photograph/video. HITLAB may use the photograph/video in publications or other media material produced, used or contracted by HITLAB including but not limited to: brochures, invitations, books, newspapers, magazines, television, websites, etc. You are agreeing the media policy upon entering the event; further details are available at the event or at hitlab.org/media-disclosure.
Date and time
Location
Refund policy
Organizer of HITLAB Women's Health Tech Challenge