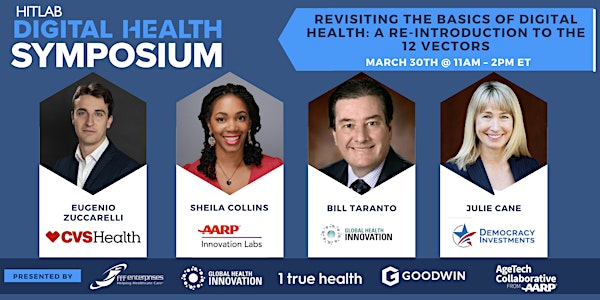 HITLAB March 2023 Symposium: Revisiting the Basics of Digital Health
HITLAB March 2023 Symposium: Revisiting the Basics of Digital Health: The 12 Vectors of Digital Health
Date and time
Thursday, March 30 · 8 - 11am PDT
About this event
Join us for our monthly Symposium. Hear from experts in the field about the latest in digital health tech innovation, and how it is leveling the playing field of health equity around the globe.
HITLAB presents an assortment of digital health experts from a range of industries and backgrounds!
You will be treated to a rapid fire of panel discussions, interviews, and keynote speakers from leaders and innovators in the digital health space, which will leave you armed with insights and learnings from the frontlines of health and human rights.
This three-hour digital health conference is perfect for anyone interested in healthtech startups, pharmaceuticals, medical and humanitarian development, health equity, public health, or students from sustainable development, medical fields, or tech/engineering backgrounds.
Attendees will also have opportunities to network and interact with dozens of professionals from across the healthcare ecosystem during the event and in supplemental breakout rooms following the symposium! All registrants will be given the zoom link to log in to the post symposium meeting via email and the link will be made available to attendees throughout the event.
VIP Benefits Include:
Exclusive VIP Networking Opportunity
Priority Access to Event Recordings
Transcription of the Proceedings
*Media Disclosure
HITLAB reserves the right to use any photograph/video taken at any event sponsored by HITLAB, without the expressed written permission of those included within the photograph/video. HITLAB may use the photograph/video in publications or other media material produced, used or contracted by HITLAB including but not limited to: brochures, invitations, bookas, newspapers, magazines, television, websites, etc. You are agreeing the media policy upon entering the event; further details are available at the event or at hitlab.org/media-disclosure.
About the organizer
At HITLAB, we believe technology and health can work together to improve the quality of health delivery and healthcare worldwide.