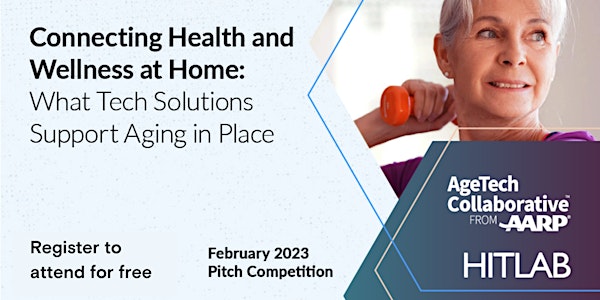 HITLAB | AgeTech Collaborative by AARP Pitch Challenge Day
HITLAB | AgeTech Collaborative by AARP Pitch Challenge Day
About this event
Watch live as innovators pitch their Tech Solutions that Support Aging in Place! The Judges will deliberate and decide who is most deserving of the coveted Grand Prize.
For this pitch day, HITLAB and the AgeTech Collaborative by AARP have challenged innovators to build solutions for an aging population.
People want to remain in their homes. As their health needs change, the opportunities to set up capabilities for greater care and connection will increase. Share your tech solutions that support aging in place for a home environment.
8 finalists will be selected to pitch to a panel of judges on Februrary 16th for their chance to win runner-up prizes of $5,000 and $10,0000 HITLAB sponsorships. The grand prize winner will win the grand prize of $10,000 provided by the AgeTech Collaborative by AARP .
Tune in on February 16th at 4pm EST
*Media Disclosure
HITLAB reserves the right to use any photograph/video taken at any event sponsored by HITLAB, without the expressed written permission of those included within the photograph/video. HITLAB may use the photograph/video in publications or other media material produced, used or contracted by HITLAB including but not limited to: brochures, invitations, books, newspapers, magazines, television, websites, etc. You are agreeing the media policy upon entering the event; further details are available at the event or at hitlab.org/media-disclosure.