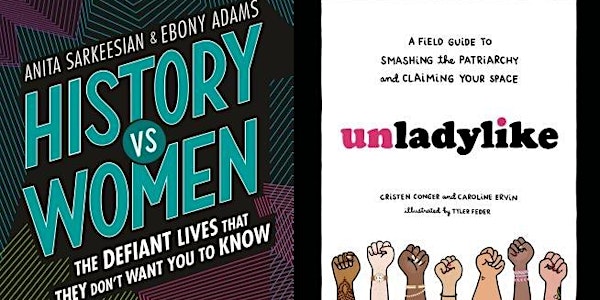 History Vs. Women + Unladylike: A Field Guide to Smashing the Patriarchy
Event Information
Location
Presser Hall Bldg
141 E. College Ave
Decatur, GA 30030
Description
Join Charis and Agnes Scott College for an action packed evening celebrating the release of History vs Women: The Defiant Lives that They Don't Want You to Know by Feminist Frequency founder Anita Sarkeesian and co-author Ebony Adams AND Unladylike: A Field Guide to Smashing the Patriarchy and Claiming Your Space by hometown heroes and hosts of our favorite feminist podcast, Unladylike, Cristen Conger and Caroline Ervin.
Anita, Ebony, Cristen, and Caroline invite you to a live "Unladylike" podcast conversation about the history of some of the unremembered women Anita and Ebony profile in History Vs. Women and discuss how to practice the "practical hell-raising" that Caroline and Cristen advocate in their book, Unladylike: A Field Guide to Smashing the Patriarchy and Claiming Your Space.
This is will be a rowdy, unruly and definitely unladylike conversation for feminists of all genders and all ages who want to learn more of our unwritten histories and more about how to be the kind of person who changes history in small and powerful ways each and every day.
This is event takes place at Gaines Chapel at Agnes Scott College. To guarantee a seat/admission you must purchase a ticket/book bundle with either a copy of History Vs. Women or Unladylike via this Eventbrite link. (Please don't simply buy a book from our website and think you have a ticket, we need you to go through the eventbrite page to make sure we have reserved your seat!). One ticket gets you a copy of the book you selected and a seat in the reserved seating area upon arrival to the venue. Both books will be available for purchase in the lobby at the event should you wish to buy multiple copies. You do not have to buy a ticket to attend the event but it is likely to sell out and we cannot guarantee seating without a ticket. Agnes Scott Students are especially encouraged to attend. Both books will *also* be available for purchase in the lobby. Books bought with ticket will be available for pick up at the event and Books not picked up will be held for week at store (1189 Euclid Ave. NE Atlanta, GA 30307) following the event.
All authors will sign books immediately following the reading.
Free parking is available in the parking deck across the street from Gaines Chapel. The venue is wheelchair accessible. ASL interpretation available upon request. Please email info@chariscircle.org to request.
This is a Charis Circle Founding the Future of Feminism Event and we will pass the hat for a suggested donation for our non-profit, Charis Circle of $10, but no one will be turned away for lack of funds.
About History Vs. Women: The Defiant Lives That They Don't Want You to Know
Rebels, rulers, scientists, artists, warriors and villains
Women are, and have always been, all these things and more.
Looking through the ages and across the globe, Anita Sarkeesian, founder of Feminist Frequency, along with Ebony Adams PHD, have reclaimed the stories of twenty-five remarkable women who dared to defy history and change the world around them. From Mongolian wrestlers to Chinese pirates, Native American ballerinas to Egyptian scientists, Japanese novelists to British Prime Ministers, History vs Women will reframe the history that you thought you knew.
Featuring beautiful full-color illustrations of each woman and a bold graphic design, this standout nonfiction title is the perfect read for teens (or adults!) who want the true stories of phenomenal women from around the world and insight into how their lives and accomplishments impacted both their societies and our own.
Anita Sarkeesian is an award-winning media critic and the creator and executive director of Feminist Frequency, an educational nonprofit that explores the representations of women in pop culture narratives. Best known as the creator and host of Feminist Frequency's highly influential series Tropes vs. Women in Video Games, Anita lectures at universities, conferences and game development studios around the world. Anita dreams of owning a life-size replica of Buffy's scythe. She is the coauthor of History vs Women.

Ebony Adams, PhD, is an author, activist, and former college educator whose work highlights the lives and work of black women in the diaspora. She lives in Los Angeles with a steadily increasing collection of Doctor Who memorabilia. She writes widely on film criticism, social justice, and pop culture, and is the coauthor of History vs Women.
Born under the Brixton sun in London, England, artist T. S. Abe is a graduate of Central Saint Martins University of the Arts. Her drawings have been featured on album covers, in exhibitions, on a London bus, and in History vs. Women: The Defiant Lives That They Don't Want You to Know.
About: Unladylike: A Field Guide to Smashing the Patriarchy and Claiming Your Space
A funny, fact-driven, and illustrated field guide to how to live a feminist life in today's world, from the hosts of the hit Unladylike podcast.

Get ready to get unladylike with this field guide to the what's, why's, and how's of intersectional feminism and practical hell-raising. Through essential, inclusive, and illustrated explorations of what patriarchy looks like in the real world, authors and podcast hosts Cristen Conger and Caroline Ervin blend wild histories, astounding stats, social justice principles, and self-help advice to connect where the personal meets political in our bodies, brains, booty calls, bank accounts, and other confounding facets of modern woman-ing and nonbinary-ing. By laying out the uneven terrain of double-standards, head games, and handouts patriarchy has manspread across society for ages, Unladylike is here to unpack our gender baggage and map out the space that's ours to claim.
Cristen Conger is a former senior staff writer and host for HowStuffWorks.com and co-creator of the hit podcast Stuff Mom Never Told You. She is a contributing writer for Refinery29, and her writing has appeared on Jezebel, Huffington Post Women, MSNBC, and ABC News.
Caroline Ervin is a podcast host and former editor at HowStuffWorks.com. She has a journalism background and researches and speaks on issues of sexuality, health, history, and pop culture--all through the lens of feminism and gender. Their new podcast, Unladylike, launched in Janaury 2018 as part of Midroll Media's Earwolf network.
Tyler Feder is an illustrator and comedy writer. She has illustrated for Netflix, Comedy Central, and ESPN, and her work has been featured in Glamour and Brigitte magazines.
Date and time
Location
Presser Hall Bldg
141 E. College Ave
Decatur, GA 30030
Refund policy