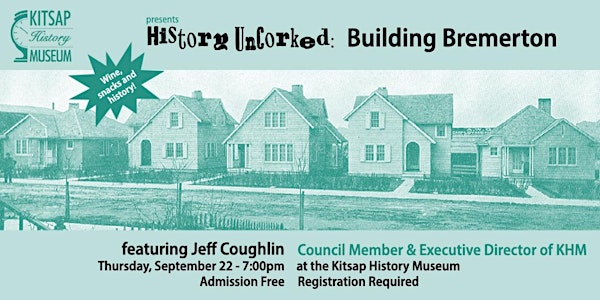 History Uncorked: Building Bremerton
Join us for a fun evening - we'll uncork a few bottles of wine and share a bite of history!
When and where
Location
Kitsap History Museum 280 4th St Bremerton, WA 98337
About this event
Join Council Member and Executive Director of the Kitsap History Museum for a deep dive into the 1918 Bremerton housing boom. Due to a shortage in housing for shipyard workers and other war industry workers during World War I, the United States Government embarked upon an unprecedented experiment - the planning and construction of neighborhoods and housing for American workers and their families. Within a period of two years over 83 new housing projects in 26 States were designed, planned and had commenced construction - Bremerton being one of them. Join us for some wine and snacks and find out more about this project that helped shape the development of Bremerton.