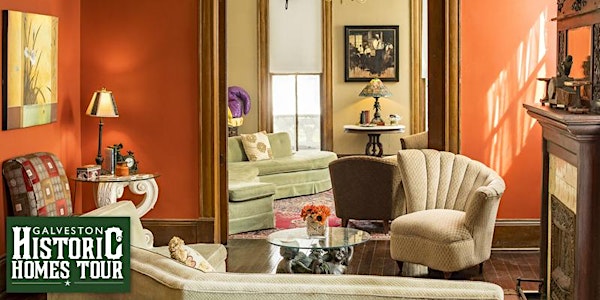 History on Tap Dinner (1st Weekend) : Galveston Historic Homes Tour
Event Information
Location
Galveston
2113 Ball
Galveston, TX 77553
Description
Great food has graced these tables before, but never quite like this as Galveston Historical Foundation's 45th annual Galveston Historic Homes Tour offers select seats to a special Friday evening History on Tap dinner. Enjoy a specially created dinner, cooked by an award-winning chef, in a Homes Tour home. Tour homeowners will lead you on a special tour of the property while you enjoy a one of a kind evening in historic Galveston! Reservation comes with a complimentary Homes Tour ticket.
MENU:
Welcome Drink: Nonie's Pinkies
Opening Bites: Sweet Potatoes 3 ways (Menu Thanksgiving, 1889)
Appetizer: Filet + Fresh Mushrooms (United Fruit Company, S.S. Santa Marta - At sea: December 8, 1941)
Salad: Cucumber + Onions (Menu for Today: The Buccaneer Hotel Coffee Shop - Thursday, March 27, 1952)
Main Course: Baked Filet of Flounder, Twirled Potatoes, Radishes (Tremont House, Thanksgiving circa 1910)
Dessert: Bananas Sauté Bread Pudding + Custard Sauce (United Fruit Company, S.S. Santa Marta - At sea: December 3, 1941)
About the James and Amelia Byrnes House, built c.1881
In 1883, paving and roofing contractor James Byrnes purchased this lot with an existing building. Byrnes "improved" the house in 1884, 1885, 1886 and 1895. Located adjacent to Galveston's business district, the Byrnes House was used as an example of urban decay in 1969 during a city referendum on urban renewal. The current owners purchased the house in 2013 and began rehabilitation of the property.
About Chef Mary Bass
Chef Mary Bass is a born and raised 5th generation Galvestonian, graduating from Galveston College with high honors from the Associates of Applied Sciences program in Culinary Arts and Hospitality Management. In 2009 she began teaching at Alvin Community College in the culinary arts program under Chef Leslie Bartosh teaching American Regional Cuisine, and eventually added Garde Manger and Saucier to her class lineup.
She accepted a job with Haak Vineyards and Winery in 2013 as their executive chef and completely rewrote their wedding and private events menu packages introducing fresh and from scratch recipes to the collection. In 2015 she joined the crew as Executive Sous Chef for the opening of a new seafood restaurant in Galveston, BLVD Seafood. Chef Bass assisted in developing the menus and recipes, specializing in the dessert menu. In addition, she is one of the lead instructors at the Kitchen Chick, the finest boutique kitchen retail store on the Gulf Coast.
She has been featured in numerous television, print and online publications such as the Great Day Houston, Fox 26 news, Galveston Daily News, Houston Press, Houstonia Magazine, KPRC Channel 2, Coast Magazine, and the Alvin Sun. She recently came in as runner up on Food Network's Cutthroat Kitchen. She holds membership with the Chaine des Rotisseurs and recently was awarded by Galveston.com as "Best Chef Galveston, 2015".
SELECTED CHEF WILL BE ANNOUNCED IN MARCH.
Date and time
Location
Galveston
2113 Ball
Galveston, TX 77553