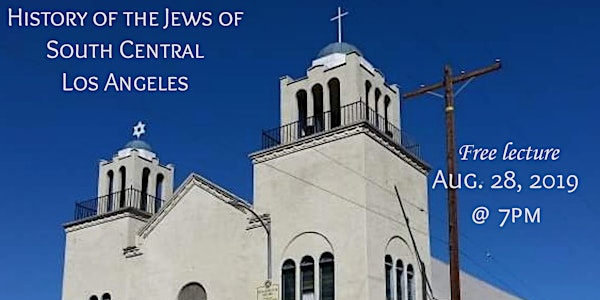 History of the Jews of South Central Los Angeles
When and where
Location
Boyle Heights History Tours 2026 E. 1st Street Los Angeles, CA 90033
Description
Join Jewish historian and inner-city community organizer Shmuel Gonzales the Barrio Boychik on an eye-opening talk and visual presentation of the former synagogues of the old Jewish communities of historic South Central Los Angeles.

In this discussion he will reveal the hidden Jewish sparks of old Los Angeles as we will discuss how in the early 20th century Jewish working class people migrated down Central Avenue and into lovely neighborhoods south of downtown. And here they made their homes, business and even grand synagogues.
We are going to talk a few of these former synagogues, many of which are still identifiable and former Jewish houses of worship; even though today they serve the needs of the current residents as churches:
Congregation Agudath Achim - Anshe Sephard – Arriving in the area mostly as garment workers and industrial laborers, and eventually becoming well respected shop owners as well, many Jewish people migrated down Central Avenue. We will talk about the history of this very interesting Orthodox synagogue, which was founded around 1908 and built in Moorish-Byzantine style. Here we will talk about the early history of Haredi Jewish synagogues in Los Angeles. This was a vibrant community, right in the middle of the jazz music scene being steps away from the Lincoln Theater – called the west coast Apollo, the Moorish Revival building that was the mecca of African American music from the 1920s to the 1950s. Here in this neighborhood we will talk about the history of Moorish Revival architecture in Los Angeles. We will also discuss how this synagogue also built another Moorish styled building in the West Adams District.
Congregation Tiferes Jacob – Talmud Torah – Growing out of the downtown garment district and migrating down Broadway Ave. into South Central, this congregation has roots dating back to the late 1880s renting ballrooms for High Holy Day. The congregation formally established themselves in the southern part of the city in 1922 with just 50 families. In 1925 they purchased a building near 59th Street, and within just two years replaced it with a beautiful new synagogue built to serve 1,500 families; making it one of the largest Jewish communities in Los Angeles history. In 1952 the building became the celebrated African American church known as Evening Star Missionary Baptist Church which, which still proudly displays a Star of David on one of their bell towers to this day.
On this vitual-tour we will also for the first time delve deep into the modern Sephardic Jewish history of Los Angeles. We will discuss and visit the sites of:
Sephardic Hebrew Center – founded by Turkish Jews mostly from the Isle of Rhodes, who had migrated to the United States in the first couple decades of the 20th century. These Ladino (Judeo-Spanish) speaking Jews first met as the Sociedad Pas y Progresso in a cafe in downtown and working in "skid row" as produce and flower vendors. This community would migrate to a vibrant and diverse south Los Angeles, settling near 55th and Hoover where they built a synagogue. We will talk about the heartwarming work done in recent years to remember this special Juderia of South Central LA.
Kahel Kadosh Tiferet Israel (Sephardic Tiferet Israel) – founded by members mostly from the Turkish mainland in 1920, they formed the Sephardic Community of Los Angeles otherwise known as La Communidad. We will learn visit this gorgeous site known as the Santa Barbara Ave Temple (the avenue today known Martin Luther King Blvd); built in 1932, this ornate house of worship would serve the largest Sephardic community of Los Angeles until 1959. It was later sold and re-purposed as a Baptist church serving a thriving African American community of the area; though today it is also rents space to house the current growing demographic in this part of the inner-city, Central American evangelical families living in South Los Angeles. You will be in awe of just how well preserved this house of prayer is after all these years, serving and being cared for by people of various nationalities!
As time permits we are also going to briefly discuss these additional congregations:
Rodef-Shalom – Hebrew Brotherhood – this beautiful arched building off Jefferson Blvd., which is currently being restored.
Congregation Etz-Chaim – the McKinley Ave shul is a loverly art deco building in historic South Central LA, which today the home of small African-American church called the Washington Memorial Baptist Church.
Congregation Ezra-V'emunah – once located near the historic Crouch Memorial Baptist Church.
Knesset Israel – a good size church that was once a synagogue, near Vernon and Western.
Congregation Mogen David – a gorgeous site, which is now "The Church of Divine Guidance." Arlington Heights. The congregation relocated to Beverly Hills, near YULA.
Bnai Yeshurun – near 55th an Western, a shul which has been entirely demolished
Congregation Ahavoth Shalom – 58th and Loma Vista, in Maywood.
We are also going to briefly mention the Jewish communities of Compton, Huntington Park and Westchester.
In this talk we are we are going to briefly touch on the history of a diverse Jewish community which once called South Central Los Angeles their home, and consider the reasons why this history has been generally overlooked and even avoided by historians. Why is this history cautiously suppressed by the only historical book on Jewish Los Angeles written by Vospan and Gartner?
We will discuss the reasons why Jews first migrated to this area in the early part of the 20th century, and why many of them eventually moved away in the 1950s and 1960s. We will talk about the history of segregation and red-lining; and also the battle to end racial segregation in Los Angeles.
We will also have a frank discussion about the Watts Riots of 1965 and how these tragic events for the African American community also ultimately impacted the Jewish communities of South Central Los Angeles; an already shrinking Jewish community which found themselves in the wake of this social upheaval, and even unsuspecting targets of this rage as shop owners and landlord. We will have an honest discussion about a chapter of history that is still largely left untold by the establishment, out of discomfort. And from this reclaimed history we will be able to glean clues to how to deal with our recent and current social issues in Los Angeles.

The Watt's Riots of 1965 and the Rodney King Riots of 1992 both have striking parallels, as well as social and economic catalysts, which are once again present in the inner-city today; namely police brutality and housing disparity, which leads to people feeling threatened both physically and economically in their communities. And it is these challenges which currently have many inner-city communities on the brink of social unrest.
So how have Jewish people and People of Color historically addressed these social and racial challenges together? What has been the Jewish contribution to civil rights awareness in these areas? Well, that is what this tour is going to delve right into.
We will revisit this history, in order to face both the historic and the current challenges faced by Jewish people living in the midst of the inner-city. We will attempt to learn from our history in order to make a better today and future.
And all along the way we are going redeem this history, through the magic of heartwarming, cross-cultural storytelling; while also adhering to the Jewish principles of pursuing justice and loving your neighbor as yourself.
LOCATION: BOYLE HEIGHTS HISTORY TOURS // the STUDIO, 2026 E. 1st Street, Los Angeles, CA 90033; at the corner of St. Louis Street.
PARKING: The best parking is on Cummings Street, up against the freeway there are parking stalls.
PUBLIC TRANSIT: We are conveniently located with sight of both Mariachi Plaza and Soto Street Stations.
*** THIS EVENT IS FREE AND OPEN TO THE PUBLIC; THOUGH DONATIONS ARE GREATLY APPRECIATED TO HELP US MAINTAIN THIS CULTURAL SPACE ***

NOTE: We will also be visiting some of these sites in November on our "Synagogues of South Central L.A." tour, and expounding upon this history we will be discussing in the brief lecture.