HISTORY OF FREESTYLE MUSIC
When and where
Location
Congress Theater 2135 N Milwaukee Ave Chicago, IL 60647
Description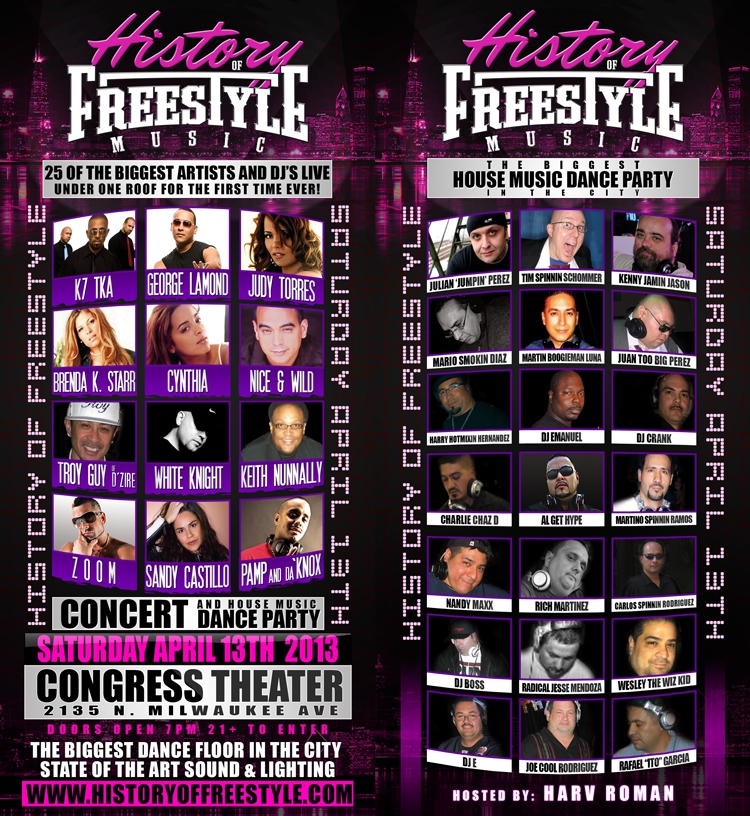 HISTORY OF FREESTYLE CONCERT & HOUSE MUSIC DANCE PARTY
SATURDAY, APRIL 13, 2013 AT THE CONGRESS THEATER
21+ TO ENTER - DRESS TO party YOUR BODY ALL NIGHT LONG!
LIVE PERFOMANCES BY:
K7/TKA
"COME BABY COME" - "ZUNGA ZENG" - "SCARES OF LOVE" - "LOUDER THAN LOVE" - "MARIA"
GEORGE LAMOND
"BAD OF THE HEART" - "WITHOUT YOU" - "LOOK INTO MY EYES" - "QUE TU TE VAS""
CYNTHIA
"CHANGE ON ME" - "ENDLESS LOVE" - "THIEF OF HEARTS" - "LOVE ME TONIGHT "-"DREAM BOY/DREAM GIRL"
BRENDA K. STARR
"HERIDA" - " I STILL BELIEVE" - " NO MATTER WHAT" - 'POR ESE HOMBRE"
JUDY TORRES
"COME INTO MY ARMS" - " NO REASON TO CRY" - "LOVE STORY" - "PLEASE STAY TONIGHT"
NICE & WILD
"DIAMOND GIRL" - "AIN'T NO SUNSHINE" & MORE
WHITE KNIGHT
"YO BABY YO" - "GET CRAZY" - "BOOMIN SYSTEM" - "KEEP IT MOVING" & MORE
KEITH NUNNALLY OF J.M. SILK "I CANT TURN AROUND" - "MUSIC IS THE KEY"
"SHADOWS OF YOUR LOVE" & MORE
TROY GUY OF D'ZIRE "FOREVER AMORE" "GAMES OF LOVE"
HOSTED BY: MIKEY O AND HARV ROMAN
FEATURING THE CITYS BIGGEST HOUSE MUSIC DANCE PARTY
JULIAN "JUMPIN" PEREZ
KENNY "JAMIN" JASON of the HOT MIX 5
TIM "SPINNIN" SCHOMMER
MARIO "SMOKIN" DIAZ of the HOT MIX 5
DJ MARTIN "BOOGIEMAN" LUNA
JUAN TOO BIG PEREZ
DJ CRANK
RAFAEL "ITO" GARCIA
HARRY HOTMIX HERNANDEZ
JOE "COOL" RODRIGUEZ
MARTINO "SPINNIN" RAMOS
NANDY MAX
CHARLEY CHAZ D
RADICAL JESS MENDOZA
WESLEY THE WIZ KID
Doors open 7:00 Pm
Parking is Available
General Admission includes access to the Dance floor
21 + to enter – No refunds or exchanges – line up is subject to change without notice.