Join our Job Fair and Student Scholarship Night!
About this event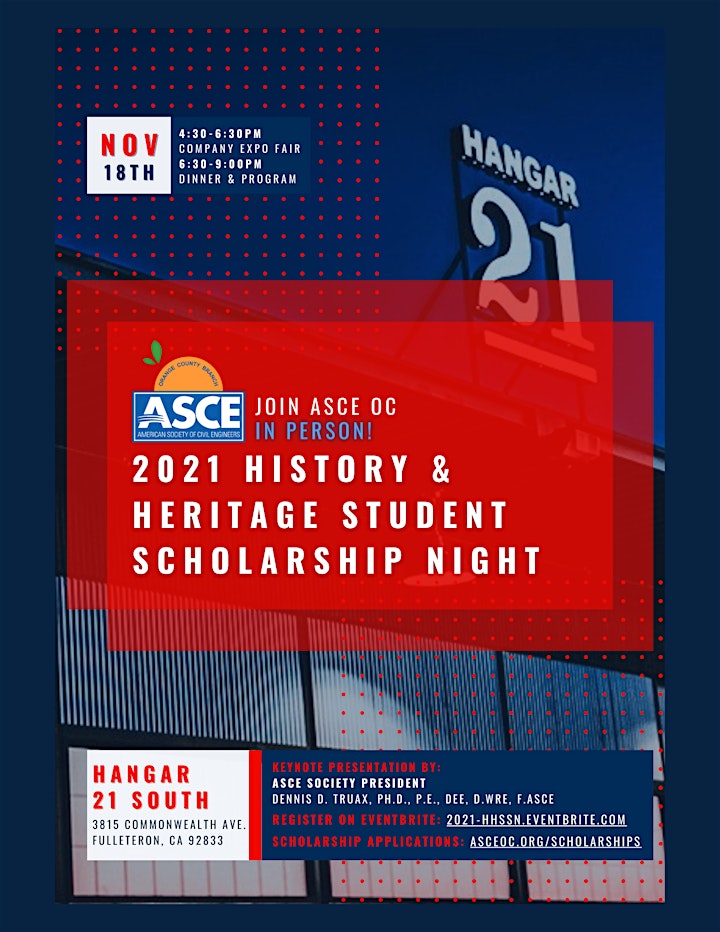 It is with great pleasure that we invite you to participate in the ASCE Orange County's 2021 History & Heritage/Student Scholarship Night, hosted by ASCE Orange County Branch and ASCE Orange County Younger Member Forum (YMF).
The History & Heritage/Student Scholarship Night is an annual event for the local civil engineering community that brings together college students, young professionals, and accomplished industry professionals from private firms and public agencies across Orange County.
This year, the History & Heritage/Student Scholarship Night will be held on Thursday, November 18, 2021, at the Hanger 21 South in Fullerton, CA.
4:30p-6:30p Career Fair/Networking
6:30p-9:00p Dinner Presentation
The dinner program will take place from 6:30 pm to 9:00 pm, which will include the distribution of awards and scholarships, student chapter presentations, and raffles prizes. Bring a toy to participate in our Annual Toy Drive and receive a raffle ticket per toy! All donations will be going to S.O.N.R.I.E(Support of Orphanages in Need through Resources, Innovation)!