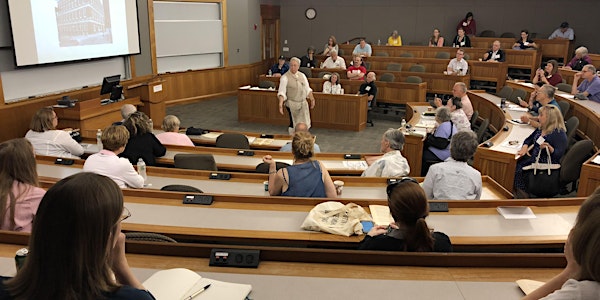 When and where
Location
Suffolk University Law School 120 Tremont Street Boston, MA 02108
Refund Policy
Refunds up to 7 days before event
Description
↣ For complete information, including the current list of sessions, see the History Camp Boston 2019 page.
History Camp Boston 2018 was our largest ever. Register now to secure your spot for History Camp Boston 2019.
Registration fees and covering our costs: History Camp remains an all-volunteer effort that's designed just to break even. Our projections are based on everyone, including presenters, volunteers, and everyone else who pitches in and helps throughout the day, pays at least the basic registration fee. If that happens, we'll cover our costs. (If the base registration fee would pose a financial hardship that would keep you from attending, please contact me.)
And after you register, please post to social media using the hashtags #historycamp and #historycampboston and encourage others to learn more about History Camp Boston by including a link to HistoryCamp.org/boston.
**Please note, you do NOT need to sign up for individual sessions. You will receive a schedule a few days ahead as well as a finalized one at the event and you'll choose which sessions to attend that day.**
Lunch: If you want lunch at Suffolk, order it now; separate lunch tickets won't be sold at History Camp. The hot buffet lunch at History Camp Boston 2018 was a hit. We'll do something very similar at History Camp Boston 2019.
If you have special dietary needs, consider bringing a lunch or picking one up from the many restaurants nearby. We'll have some vegetarian choices, but I'm not sure beyond that.
T-shirt: The only way to be sure that you'll get a shirt in your size, is to order it on or before 10 pm (Eastern) on March 1. We will have some to sell at History Camp, but they will be $5 – $10 more expensive and there's no guarantee that we'll have one in your size. The shirts will be the same super-soft shirt we've used the last couple of years. At History Camp Boston 2018 we had a few situations where we ran out of a shirt in size that someone ordered in advance. That won't happen in 2019.
Saturday evening performance: "The House of Hancock: A Hamilton Inspired Musical," an immersive living history performance by Judith Kalaora and the History At Play Ensemble, will be performed immediately after History Camp wraps up. It requires a separate ticket, which will appear as an "Add On" once you've selected your ticket type and begun to check out. The tickets are $25 in advance. Purchasing your tickets now guarantees your best price. If tickets are available that day, they will be more expensive.
Badges: This year you'll have a field to add information that will appear on your badge. This might be a particular interest you have, the title of your book or blog, an organization you're affiliated with, social media information, or anything else. (You can always grab a colored marker and add more, too.)

Sharing contact information: You will have an opportunity to opt in to have your contact information shared with others who also wish to have their contact information made available.
Photographing and videotaping throughout the day: One of our goals is to share as much of History Camp with others as possible. If for whatever reason you don't want to appear in photographs or video that may be streamed live or posted online, shared on social media, or used in any other way, please don't attend. This is the disclosure. Attending represents consent. (Instead, enjoy History Camp Boston from the social media posts throughout the day and the videos and slides that will be posted after the event.)
Ongoing discussion: Join our closed Facebook group just for History Camp Boston. (Lightly used at this point, though your involvement and that of others can make this more useful.)
On social media: Please post to social media using the hashtags #historycamp and #historycampboston and encourage others to learn more about History Camp Boston by including a link in your post to HistoryCamp.org/boston.
— Lee Wright | Founder | The History List | History Camp