Description
Information on all upcoming History Camps is at HistoryCamp.org.
---
Spend Saturday with some of the most interesting people in History.
History Camp 2015 is an unparalleled opportunity to connect with other history enthusiasts throughout New England and beyond who are passionate and engaged with history.
Last year was the first History Camp anywhere and it was a hit. Here's one of the many comments we got, "I hoped it would be good . . . and it was great!"
History Camp 2015 takes place in Boston at the Harriet Tubman House, which is 5 minutes from the Mass Ave T stop and 10 minutes from covered parking. (See "Getting to History Camp" at the bottom for suggestions and an annotated map.)
If you love history, don't miss History Camp. The sessions are listed below. Register now to secure your spot. You'll be right at home.
Note: If you're looking for the HistoryCamp.org wiki, we had some hosting problems and, for now, are directing people here. If you need to add or modify a session, or have questions, contact me.
---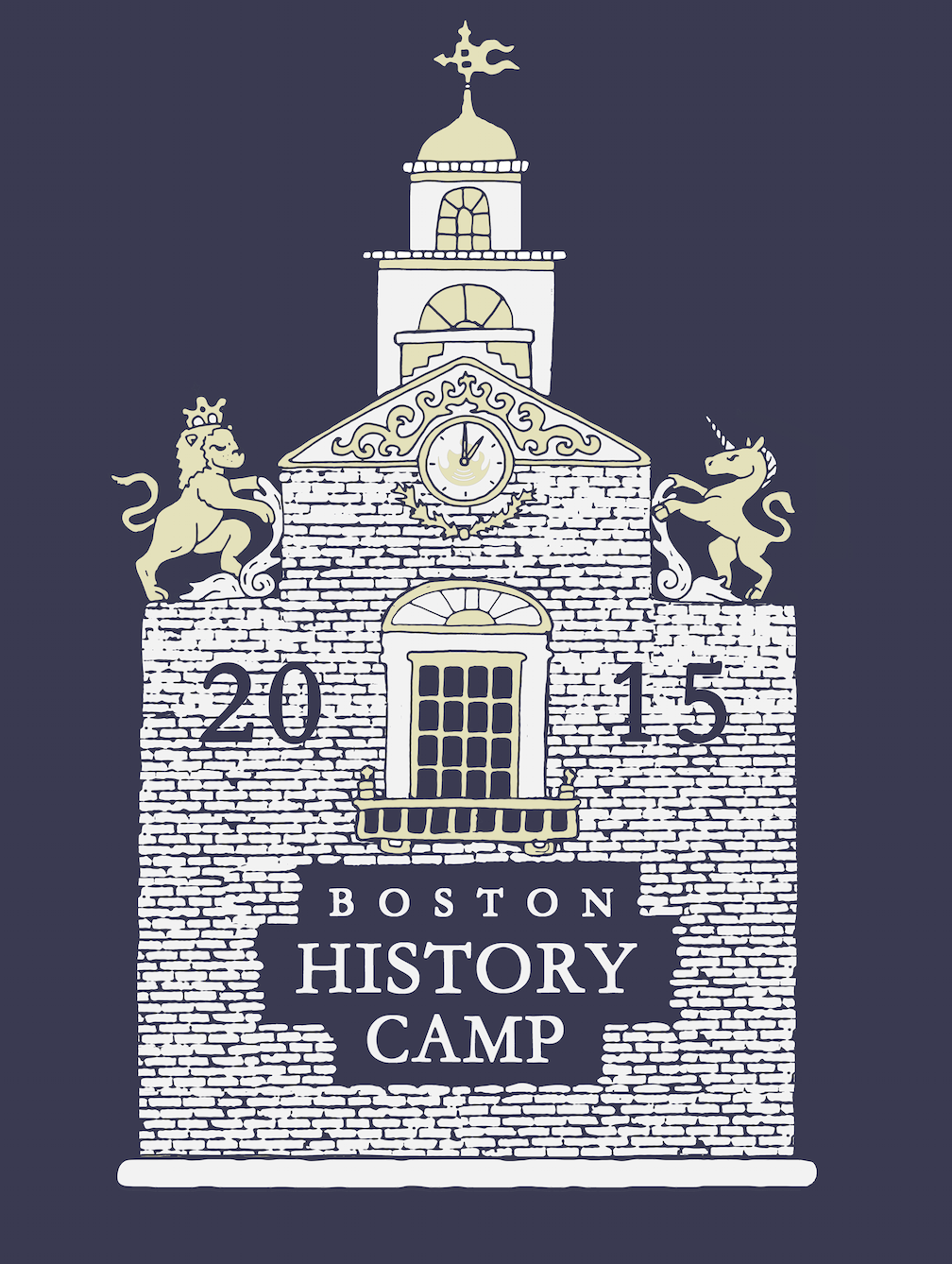 This year's sessions--so far
"Roman Legionary"

from

Andy Volpe: Art & History

. The ancient Roman Legionary soldier, including a brief history of the evolution of the soldier, aspects of his daily life, and details on his arms and armor utilizing replicas of archaeological artifacts. Andy has presented on the Romans since 2002 through the former Higgins Armory Museum, which closed in 2013 and whose arms & armor collection and programs moved to Worcester Art Museum.

"

Pushing the Envelope: A brief history of the U.S. Postal system by viewing postage stamps"

from Henry Lukas, Education Director at the

Spellman Museum of Stamps & Postal History

at Regis College. This session is for both

stamp collectors and non-collectors. Learn about the history of the U.S. postal system from colonial times to the present by viewing stamps issued over the years starting in 1847. Hear about the many ways mail has been delivered, including using the Boston Post Road (America's First Information Highway), the Santa Fe Trail, and the Pony Express. Discover how mail was carried by trains, planes, ships, catapults, rockets, and even camels. Also learn about unusual items transported by the Postal Service over the years, including eggs, baby chicks, bees, pumpkins, war helmets, the Hope Diamond, bricks that were used to build a bank, and even a little girl who mailed herself to her grandmother in Idaho. View the stamp that helped start a war and another that helped build the Panama Canal. Find out the most popular stamps ever issued as well famous people on stamps who have been Postal workers, including Abraham Lincoln and Walt Disney, plus famous stamp collectors including King George V and President FDR. Get a preview of all the latest U.S. stamps and some million dollar stamp sales. Share your personal stories about unusual letters and packages you have received. Remember: "You can learn a lot from the corner of an envelope."

"In Defense of Material Culture" from Erik R. Bauer, Archivist, Peabody Institute Library, Peabody, MA (@hipster818 & @PeaLibArchives).

The term "material culture" typically brings to mind images of objects behind glass in galleries, archives and museums. However, what defines material culture – and it's role –stretches beyond these boundaries. This session looks at ways to connect the public, especially students, with the wider world of material culture.

"Were the Early Suffragists Racist? A Look Into The Early Movement prior to The Emancipation Proclamation" from Colleen Janz, Executive Director, Susan B Anthony Birthplace Museum. This session will examine the suffrage movement and the role race played in the political posturing during this crucial time of women's history by examining various figures, quotes and events.
"This Side of Paradise: The tragedy and triumph of a small town in MetroWest" from Peter Golden.

From its primordial origins as a Native American fishing camp to the present,

Natick, Massachusetts has experienced a series of

astonishing events and extraordinary transformations. Join

us as we explore the genesis of this unique community

and the lessons it has for all.

"Don't let History Get STEAMrolled: Practical approaches to getting kids engaged with history" - Participating Panelists:

Patricia Violette, Executive Director of the

Shirley-Eustis House;

Paul Wexler, a h

istory teacher at Needham High School who has been using National History Day as a way to engage students; Kyle Jenks, who

wrote, produced and directed a play about Colonial history in the Mohawk Valley of upstate NY for middle school children; Rayshauna Gray, a Cambridge-based blogger from Chicago and volunteer with Boston's Museum of African American History; Jason Rodriguez, writer and editor, and creator of "Colonial Comics." Moderator: Lee Wright, The History List and History Camp.

Proposed Panel Looking for Panelists: "Sharing Your Passion for History: Blogs, Podcasts, Books, and More" --The goal of this panel is to inspire others about how they can share their passion for history using traditional and new media, including

blogs, podcasts, and digital apps

. Liz Covart

, Early American Historian, Blogger, and Host of "

Ben Franklin's World: A Podcast About Early American History

," (

@lizcovart

).

"Soldiers in Our Homes: The French and Indian War & Quartering in Albany, New York, 1756-1763" from Elizabeth M. Covart, Ph.D., Independent Scholar, (@lizcovart). E

xplores how the French and Indian War and the act of military quartering caused the people of Albany, New York to confront the British Empire in close, intimate terms. This talk will reveal the lasting implications of this confrontation and how it helped the people of Albany decide whether they would become Patriots, Loyalists, or remain neutral during the American War for Independence.

"The Salem Witch Trials: The Accused, Their Accusers, and the American Experience" Salem witch trials experts Marilynne Roach and Emerson "Tad" Baker will discuss their recent books, as well as America's on-going fascination with Salem and witchcraft. Roach, who appeared on the Daily Show in January 2014 is most recently the author of Six Women of Salem: the Untold Story of the Accused and Their Accusers in the Salem Witch Trials. Baker, a history professor at Salem State University, is the author of A Storm of Witchcraft: The Salem Trials and the American Experience. They welcome questions on any aspect of the witch trials.
"A History of the Boston Post Road—America's First Information Highway" from Henry Lukas, Education Director at the Spellman Museum of Stamps & Postal History at Regis College. Traces

the history of the delivery of mail from Boston to New York and beyond from early colonial days to the present. Learn about early postmasters, postal riders and early rest stops, including the Wayside Inn. Hear descriptions of traveling on the Post Road by postal riders carrying letters and newspapers from Massachusetts through Connecticut and to New York and southward, and the start of stage coach travel after the Revolution. Learn about the setting of milestones by early postmaster Benjamin Franklin and the secret mails used during the War of independence. Hear about the expansion of the road system in the early 1800s and its impact on the post office. Gain knowledge about famous people connected with the Post Road and its importance in the growth of the country. Remember "You can learn a lot from the corner of an envelope."

"Researching the Old Homesteads of Marlborough" from Chandra Lothian, Marlborough Historical Society Trustee. There were 124 paintings of local homesteads and landscapes done by noted artist Ellen M Carpenter over the period 1875-1908. These paintings appear in the book, "Historical Reminiscences of the Early Times in Marlborough, Massachusetts," by Ella Bigelow, published in 1910. Today the paintings are owned easy to find: They're on display at the Marlborough Library. But what about the houses? Are they still standing? What became of them? In this session I'll discuss my multi-year project--obsession?--with finding all of them and creating a site history for each, with photographs taken from the same angle and location as the original paintings. I'll describe the resources I used for researching old houses and sites, and show you the result, with "Then and Now" photographs.
"Our Forebears & Massachusetts in the Civil War" from Bob Schecter. This presentation, with extensive slides, is based on my recently published book (which is not for sale). It consists of brief profiles of men who served as Union Army and Navy officers in the Civil War. The majority of officers profiled (and pictured) are ancestors of members of the Massachusetts Commandery of the Military Order of the Loyal Legion of the United States (MOLLUS). Prominent officers from Massachusetts who are not ancestors of MOLLUS members are also profiled and pictured, as are Massachusetts citizens who played prominent roles on the home front (e.g., Julia Ward Howe, William Lloyd Garrison, Frederick Douglas, and more). Each of the persons profiled has a story worth recounting.
"Ideas for Programming, Outreach, and Operations of Smaller History Organizations: What worked what didn't, and what we learned from it" -- Unlike the typical session, this will consist of exchanging ideas amongst all the participants rather than one person presenting. The proposed format is to go around the room, giving every person who has a specific initiative or lesson learned 2 - 4 minutes to describe what they did and what they learned about it. If we have a good turnout, we'll dedicate the time to hearing these ideas and won't have time for questions or discussion, but you'll know who to approach after the session or later in the day to learn more. Participants include (and feel free to add your name or send them in to be added): Annie Murphy, Executive Director of the Framingham History Center; Lee Wright, Marlborough Historical Society; others . . .

"Living History: Historic House Museums and the Classroom Teacher:

The Age of Medicine and Midwifery" from Patricia Violette, Executive Director of the Shirley-Eustis House.

The primary goal of any Living History Program is to provide a hands-on, experiential learning environment which fulfills the need for a creative approach to social studies. Living history is designed to stimulate student interest in learning about the human side of history and involves not only social studies but English, mathematics, and science as well as the arts and music. It is applicable at an elementary, secondary, and graduate level, but has proven especially effective at the middle school level.

This session will also focus on The Age of Medicine and Midwifery as an example of living history education. Session participants will experience how a midwife develops skills and abilities required to become a midwife. By identifying medicinal plants and preparing simple remedies, participants will be able to understand how midwives were an important part of the 18th-century. Participants will compare and contrast midwifery of the past to midwifery today by engaging in hands-on activities and making connections to the growth of technology. These guided activities will help them to better understand how living history can bring together the new and traditional, social and educational practices and how to relate personal skills, aptitudes, and abilities to future career decisions especially when related to the role of women. (Note: Patricia indicated that this will work best with 20 or fewer people. If it's popular, we'll repeat it at another

time slot.)

"

Risky Business: Living History Events in Traditional Museums" from Elizabeth Sulock, Manager of Public Outreach and Living History at the Newport Historical Society, and Kirsten Hammerstrom, Director of Collections at the Rhode Island Historical Society.

Despite being known for traditional educational programming like lectures, walking and house tours, and exhibitions, we recently collaborated to present successful site-specific, first-person immersive living history programs. The Newport Historical Society (NHS) used the city itself as the backdrop and setting for the Stamp Act Protest commemorating the 1765 Stamp Act riots in that town. In Providence, the Rhode Island Historical Society (RIHS) presented its third annual What Cheer Day with costumed interpreters occupying the John Brown House Museum as Brown family members and servants, bringing to life a Saturday in 1800. We'll walk through our preparation for these programs, the risks and rewards, and what we learned along the way. We'll also discuss other things we're doing and things you might consider doing to present

living history programs in traditional museum settings.

"Making History Comics" from Jason Rodriguez, editor of the Colonial Comics series, with assistant editor J. L. Bell.

For over a century, artists and storytellers have been taking stories that existed in their heads and placed them into a series of panels to make comic strips and books. In this workshop, comic book writer and editor Jason Rodriguez will be showing you how to craft your own history comic books, starting with an idea and people that exist in some continuous space and moving them into a series of moments that tell an exciting and engaging story. The workshop will cover the process of making a comic book - from an idea to a story and even to the printing, folding, and stapling - in order to encourage folks to bring history into four-color (or grayscale) life.

"Prince Demah, Portrait Painter" from Paula Bagger, a director of the Hingham Historical Society. Two 18th century portraits that have been on display since the 1920s in the Hingham Historical Society's house museum, the Old Ordinary, have now been attributed to an enslaved African American artist. Prince Demah's short life was eventful and included painting lessons in London, a brief commercial career in Boston, and service in an artillery regiment during the Revolution. The one other known painting by Prince (now in New York's Metropolitan Museum of Art) was found in a family collection in Worcester County, and we know that Prince made other portraits, both as a copyist and painting from life. History Camp will be a great place to spread the news about this previously unknown artist: our area's small museums and historical societies are the logical place to look for more of his works.
"How Would-Be Assassin Samuel Dyer Nearly Triggered the Revolutionary War" from J. L. Bell, proprietor of the Boston 1775 blog. In October 1774 an angry seaman named Samuel Dyer arrived in Newport, describing how the Royal Navy had kidnapped him from Boston to London, how high government ministers had interrogated him about the Boston Tea Party, and how the Lord Mayor of London had helped him to return to America. Rhode Island Patriots fêted Dyer and sent him back to Boston. Soon after arriving, Dyer confronted two Royal Artillery officers on the street and shot at them before escaping to the rebellious Provincial Congress in Cambridge—only for those Patriots to send him back to the royal authorities and the Boston jail. This talk digs into Dyer's story: how he came close to setting off war in Massachusetts, what happened to him next, and how much of the outlandish story he told was true.
"Digital Humanities/Tools for Teachers of American History: Using Primary Sources (U.S. History to 1865, part one)" from Sara Hamlen.

Are you looking for original history texts and primary resources tools for your classroom projects? Come take a virtual tour of the

Library of Congress

website! We'll join Harriet Tubman as our guide, to explore "beyond the text book" resources at LOC.gov. We'll search for prints, portraits, manuscripts, sound clips, scrapbooks, and diary entries to encourage "history-thinking."

"Saving the Reality: A Local Museum's Mission in Preserving One of the World's Most Significant WWII Collections" from Travis Roland, Assistant Curator of the Museum of World War Two in Natick. Considered by many to house the most comprehensive collection of WW2 artifacts and documents in the world, the museum is home to over 8,000 original artifacts, from personal items of famous world leaders at the time, to once Top Secret Invasion Plans of Normandy and Iwo Jima, to treaties that literally changed the course of history and the world that we live in today. Travis will take you on a virtual journey of the museum and discuss its mission of making sure that the sacrifices of those who came before us and are rapidly dwindling from this earth are not forgotten. We'll find out why famous actor Tom Hanks calls the

collection, "The Holy Grail of World War Two artifacts," and how it appeals to people of all walks of life.

"John Trumbull's Portraiture in an Iconic Historical Painting of the Revolutionary Era" from Sam Forman, modern biographer of Dr. Joseph Warren and author of the upcoming young adult historical romance "Twenty-One Heroes." Architect Rick Detwiller has identified for study whether the controversial patriot James Swan (1751-1830) is depicted as the hitherto anonymous protector of the mortally wounded Joseph Warren in the central vignette of Trumbull's precedent setting historical painting "Bunker's Hill." The resulting inquiry provides a window into Trumbull's design, visual storytelling, and meticulous individual portraiture of this early and well known image of the Revolutionary Era. Art, history, and biography come together in this illustrated lecture.
"The 1775 Dysentery Epidemic, Looking at the Little Picture"

from

Judy Cataldo

. Overlooked by even town histories, the 1775 dysentery epidemic impacted many families. And although the epidemic didn't change the outcome of the war, this talk will examine how it changed the lives of many who fought in it.

"Decoding and Applying Common Core for Public Historians: Close Reading 19th Century Sources" from Mark Gardner. In this session, Western Rhode Island Civic Historical Society archivist and American History teacher Mark Gardner (@HistoryGardner) will walk everyone through several hands-on exercises designed to familiarize the museum and historical society folks with the vernacular of the Common Core, in particular close reading, lenses, and response to informational text. Using primary source materials not too different than what many public history institutions already have in great abundance, we will learn how "speak the language" and better understand how we can connect to what high school teachers and students are doing in the classrooms. Mark K. Gardner is the archivist at the Western Rhode Island Civic Historical Society (headquartered at the Paine House Museum in Coventry RI) and serves on the board of directors at the Pettaquamscutt Historical Society in Kingston, RI. He also teaches US History and AP US Government and Politics and is state co-coordinator for Rhode Island Model Legislature.
"The Swastika, the Spy, and the Black Sun: a Historian's Quest into the Murky Depths of Post-WWII Fascism," from Sam Clark, PhD. student and Crown Fellow at Brandeis University.

In 1960, a man lay dead in his San Francisco jail cell after having evidently taken his own life with a cyanide capsule. Days before, the FBI had arrested this strange character after airport security discovered that his luggage was full of multiple passports each with a different alias and country of origin. This session

seeks to answer pressing questions, such as, Who was this man, where did he come from, and why should historians care? At the time, authorities did not know that this man was at the epicenter of post-WWII fascism, an ideology whose followers were thought to have been wiped out with the defeat of the Axis. However, the history of post-WWII fascism reveals the growth of an international web of organizations that have played influential roles in the 20th century, right up to the present day. Although extreme-right movements tend to exist on the fringes of global society, this presentation reveals that they should not be ignored.

"Maybe we should stop calling it 'History:' A roundtable discussion on making history relevant for today" with Neil Licht. All are invited to participate.

Today, many are baffled by the chaotic state of our world. Long-trusted roadmaps and moral beliefs we were taught were the path to the good life no longer seem to apply. Young and old, we're worried about our future and the future of our children and grandchildren. Those of us who have a passion for history know that

understanding history can help us understand our world and, with that knowledge, we can shape our future. But to many, history is boring. It's about the past, just names and dates to be studied for a test in school and then forgotten.

This roundtable will give us a forum to discuss and brainstorm ways to help others see that history is in fact relevant, and that studying history can help one make sense of the world and understand the impact of the decisions that individuals, communities, and countries make.
Interested in presenting? E-mail your topic, session description, name, and links (such as to social media, a personal site or blog, or your institution). (We were having trouble with the wiki, so decided that the simplest thing was, for now, to add sessions via e-mail.)
More comments from people who came last year
Excellent sessions, interesting people.
Great sessions and panels.
I hoped it would be good . . . and it was great.
A couple of the presentations were so-so, but the rest were phenomenal.
Definitely an interesting mix of content sessions and more practical how to sessions.
Excellent sessions, interesting people.
Extremely well-organized, great group of attendees, really interesting presentations.
Great sessions and panels. Good demo products.
I hoped it would be good . . . and it was great!
It was a lot of fun. Impressed by the level of interest, taking up all available places in advance.
It was an interesting conference with a lot of different lecturers.
It was well-organized, sessions were interesting, and there was a great mix of topics.
I wasn't sure what to expect but it was great to be surrounded by others who enjoy history.
The sessions were very idiosyncratic and too focused on the Revolution period.
There was a great variety of subjects discussed. The presenters and attendees alike represented a diverse cross-section of career historians.
I came away with ideas and resources and I will be sharing those this week at the historical society.
I enjoyed the casual environment, the food, the people, and most of the sessions. My only negative feedback is that I wish that some of the presenters had been more focused and that they had stuck to their time.
The variety of topics was amazing. No one leading the sessions I attended seemed like an unapproachable "expert." So many folks were happy to share information and encouragement.
I especially admired the younger "20 or 30 somethings" who were patient with some of us who are not so technosavvy. I also liked meeting some of the folks who came to share information about their publications, and historical reenactment and Museum Trek programs.
I was not sure what to expect. I had never been to an unconference. Very well organized. Great space. Good food. Excellent greeting/welcomes.
All the programs were interesting, I met a lot of terrific people.
I rarely meet anyone who shares my excitement about history. Thanks especially for having everyone introduce themselves.
For the first time for this event, I think it went well -- most of the folks who signed up to put on presentations showed up and the ones I went to were informative and sometimes standing/sitting-on-the-floor room only.
Some top notch presenters and novice presenters all in one place. Sharing their interests and livelihoods with peers.
A very nice method to collaborate and showcase components in history that might not have previously been available. Most of the sessions were informative and provided me with new ideas or questions to think about.
I found that it was a bit too America-centric for my tastes, but I also understand that, as we are in Boston, it was likely to be focused on early American history. I would like to see more non-American history next year!
I am always inspired by how others go about doing the work of research & what they find out from primary resources.
It was really fun! I liked the casual atmosphere a lot, and the size was just right--plenty of cool people to talk to, but not so many that it was overwhelming. I hope it happens again next year.
It had the potential of being really disorganized and/or chaotic, but instead it felt like a great communal effort.
The presentations were interesting, and felt intimate. Everyone felt like a colleague.
There were a lot of different programs on a number of different topics. I liked that it was informal.
The topics were great and varied enough that I wouldn't have gotten the breadth of knowledge at any other single event.
The breadth and quality of the presentations, and the enthusiasm of the attendees, left a good impression.
A note about helping to cover the costs of History Camp
History Camp is run by volunteers who believe that fostering an interest in history and supporting historic places and institutions are vitally important. Our goal is just to cover costs; no one is making any money.
There are registration and donation options at every level, including for students and volunteers. Money should not keep anyone from attending. Everyone is welcome. We're just hoping those who can will chip in to contribute to cover the costs.
What to wear or bring
A print out of your registration (or the Eventbrite attendee app on your smartphone)

Enthusiasm!

Reenactor? Come as you are!


Optional

Your laptop or tablet--We'll have wi-fi access


Something to use to take notes

Your preferred badge holder--We've purchased pin-type badge holders. If you'd prefer one with a clip, bring one you received at a previous conference and we'll give you the paper insert with your History Camp information.
Getting to History Camp 2015
Registration will open at 8 a.m. and we'll start the 'round room introductions at 9 a.m. We'll wrap up the day with another session that brings us all back together and then pack up so that we're out of the building by 6 p.m.
History Camp 2015 is at the Harriet Tubman House at 566 Columbus in Boston at the corner of Massachusetts and Columbus Avenues, a 5 minute walk from the Mass. Avenue T stop on the Orange Line and a 10 minute walk from a large covered parking garage at 10 Gainsborough.
Via mass transit: Take the T to the Mass Ave. stop on the Orange Line and then walk about a block. (See the map below and the MBTA's interactive system map.)
By car: Parking in the neighborhood is tight. The easiest location is the Gainsborough Garage, a large covered parking garage that is less than a 10 minute walk from the Harriet Tubman House. When leaving the garage, turn right and follow a flight of stairs that takes you to a walkway over the railroad tracks. It's roughly two long blocks. (See the map below.) The garage is open 24 hours a day and is well-lighted and staffed. It's also expensive for those of us who don't regularly park in Boston (view their rates). One of the alternatives is to park at an outlying station (such as Alewife, where parking is $7 for the day) and take the T in. Using Alewife as an example and calculating in the roundtrip fare on the T, you would save roughly $10 over parking at the Gainsborough Garage and walking. (View the MBTA's interactive system map.)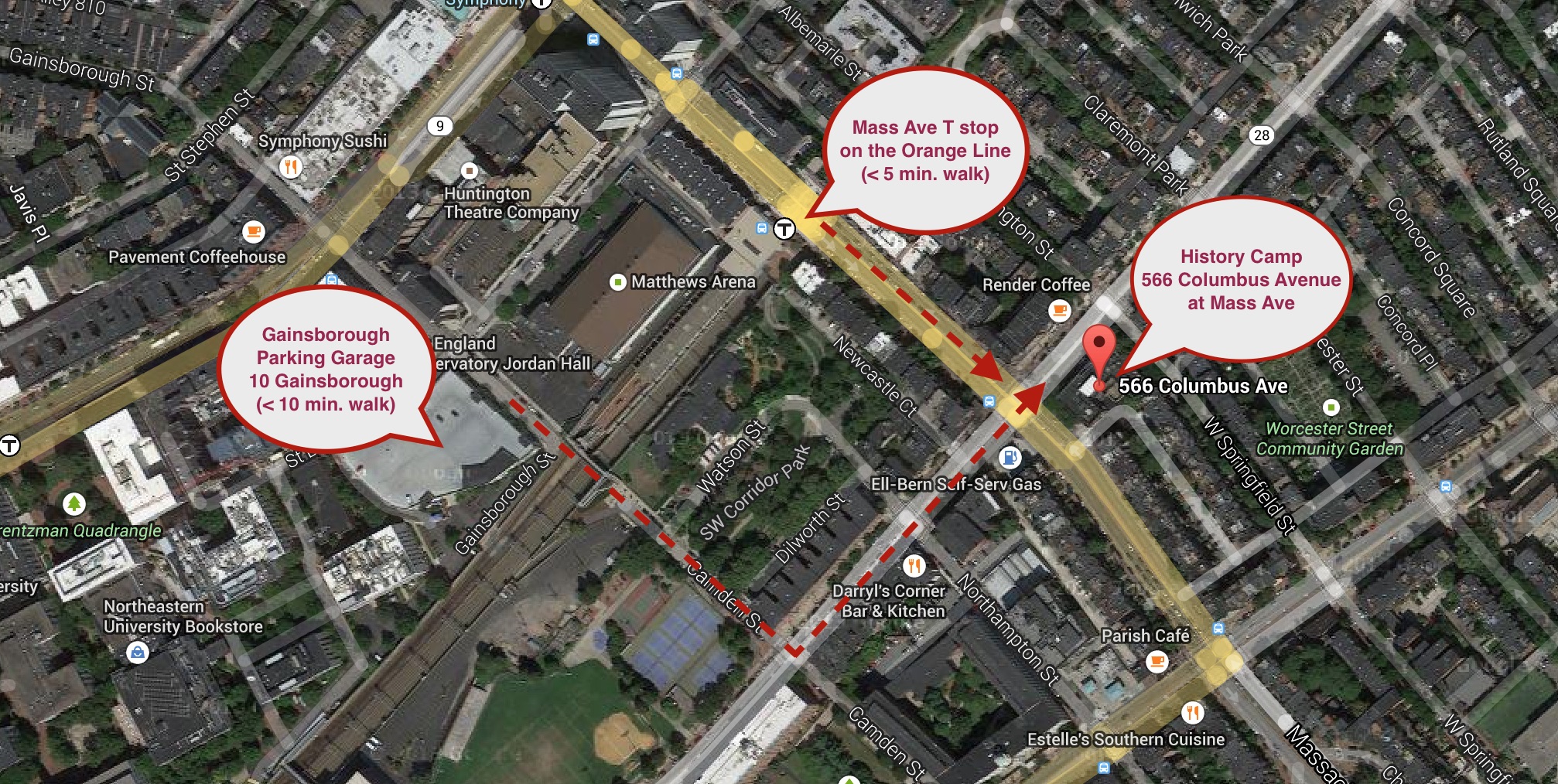 How History Camp came into being
Last year a small group of volunteers put together the first History Camp with an event in Cambridge that drew people from many walks of life interested in and engaged with history. They came from throughout New England and the Northeast and had great this to say about the experience:
There was such a variety of people and backgrounds that it made things very interesting.
I did not realize when I signed up that there would be that many sessions to choose from all day. Solid presenters, great venue, good support.
I was worried that as a layperson that I would feel incredibly out of place. Indeed, when the morning introductions were done, I was worried that I had made a huge mistake. But as the day went on, I didn't feel that any of the talks I chose were beyond my understanding or interest. It was a really fun time.
The topics were great and varied enough that I wouldn't have gotten the breadth of knowledge at any other single event.
It was a lot more fun than I expected! The group was a lot more diverse (in terms of professional backgrounds, stages in their career, etc) than I expected.
I was impressed with the number of talks that were offered and the professionalism of the speakers. Also, the event was extremely well organized, the space was perfect, and the lunch was very nice.
It was exciting to, each hour, be able to, on a whim, pick a fascinating topic to explore in depth. It was very social too.
It was fun to meet people from such a wide variety of background and interest.
The people were great and genuinely interested in what everyone was doing and what they had to say.
I was interested and impressed with the topics of discussion.
There were so many different subjects and genres of history, all of them interesting, that it was difficult to choose which lectures to attend. I wish I could have been in 2 or 3 places at once.
It was the first time anyone anywhere had used this unconference format for history, and after that positive experience, we've come back together to create History Camp 2015 and this time it's in Boston.