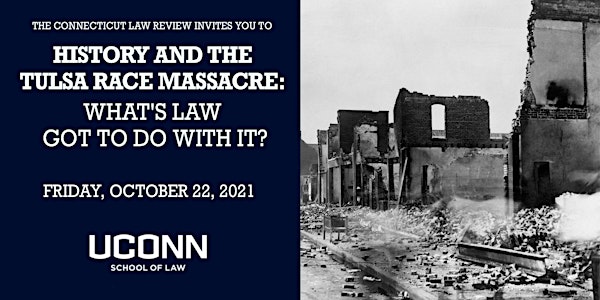 History and the Tulsa Race Massacre - A Connecticut Law Review Symposium
This symposium will explore the legal and historical relevance of the Tulsa Race Massacre.
By UConn School of Law, Connecticut Law Review
Date and time
Friday, October 22, 2021 · 6:30am - 12:30pm PDT
About this event
One hundred years ago—from May 31, 1921 through June 1, 1921—a white mob attacked the predominantly Black neighborhood of Greenwood in Tulsa, Oklahoma, looting homes, setting fire to businesses, and murdering hundreds of Black residents. The mob left almost 10,000 Black residents homeless, and it destroyed "Black Wall Street," a neighborhood formerly known for its self-reliant economy and thriving business district. Nearly 1,500 properties, including Greenwood's schools, newspapers, libraries, hospitals, churches, and homes, were destroyed or damaged by the fire.
Despite the horror of the Massacre, the survivors and their families have never gotten justice through the courts, the state of Oklahoma, or the city of Tulsa. Although the Massacre briefly made national news, it was soon forgotten. Even in Tulsa a veil of silence fell over the event. For decades, residents hid the truth of the event, and, by the 1940s, new residents had never heard of the Massacre. The Massacre was absent from both the media and education. It took over seventy years for the Oklahoma Legislature to authorize a special commission to investigate the "Tulsa Race Riot."
To this day, our nation continues to disregard the Black narrative of the Massacre and, more broadly, history remembered and narrated by Black citizens. The Massacre's actual history is relegated to irrelevancy. Law has not acknowledged the injustices of the Massacre, much less constructed remedies for its impact on Greenwood residents then and ever since. Those who have the power to give life to the law—judges, lawyers, scholars, and students—have the responsibility to remember the events of May 31, 1921 through June 1, 1921 and to recognize that such violence continues to threaten Black people in the United States without redress.
This Symposium will focus on three main ideas suggested by the Massacre and its aftermath: lack of historical recognition of it, lack of legal protection against it, and lack of knowledge surrounding issues of race in legal education.
Our first panel will contemplate the absence of the Tulsa Race Massacre from our collective national memory and examine how the Massacre is "news" to so many one hundred years later. The panelists will discuss how the Massacre was forgotten on a local and a national scale. This panel will also explore how the law views history, as well as how historic preservation law protects mostly white history.
Our second panel will consider the role of government action and inaction in establishing and perpetuating racial inequality, which is often unknown to the citizenry. The panel will use the Massacre as a representative case to examine (1) the disparate treatment of Black and white people's exercise of self-defense and defense of home and property under the Second Amendment and (2) the policies and laws that have reinforced racial housing segregation to this day.
Our third panel will explore the role of modern legal education in developing a new generation of legal advocates who think critically and intelligently about race in the law. This panel will consider the current obligations of law schools to teach about race and to engage in meaningful and constructive conversations about racism and discrimination in the classroom. This panel will focus not only on the importance of classes such as Critical Race Theory, but also on the acknowledgement of race in the traditional first-year curriculum.
This event will be held virtually and welcomes the University of Connecticut School of Law Community, including students, faculty, staff, and alumni. This event is free of charge, as it is sponsored by the Connecticut Law Review. The program is eligible for Connecticut CLE Credit.
The detailed schedule is as follows:
Friday, October 22, 2021
9:30 – 10:00 AM Welcome & Opening Remarks
10:00 – 10:50 AM Panel 1: Lack of Recognition
Scott Ellsworth, Professor of Afroamerican and African Studies, University of Michigan.
Kara W. Swanson, Professor of Law, Northeastern University School of Law.
Sara Bronin, Professor of City & Regional Planning, Cornell College of Architecture, Art, & Planning; Associated Member, Cornell Law School.
10:50 – 11:05 AM Panel 1: Q&A
Moderator: Cecil Thomas, Staff Attorney at Greater Hartford Legal Aid and Adjunct Professor, University of Connecticut School of Law.
11:05 – 11:15 AM Coffee Break
11:15 – 12:15 PM Panel 2: Lack of Protection
Nicholas Johnson, Professor of Law, Fordham University School of Law.
Robert Cottrol, Professor of Law, George Washington Law & Raymond Diamond, Professor of Law, LSU Law.
Norrinda Hayat, Associate Professor of Law, Rutgers Law School.
John McMahon, Assistant Professor of Political Science, SUNY Plattsburgh.
12:15 – 12:30 PM Panel 2: Q&A
Moderator: Professor Kiel Brennan-Marquez, Associate Professor of Law, University of Connecticut School of Law.
12:30 – 1:00 PM Lunch Break
1:00 – 1:45 PM Keynote Lecture
Speaker: Lolita Buckner Inniss, Dean, University of Colorado School of Law.
Q&A Moderator: Karen DeMeola, Assistant Dean, University of Connecticut School of Law.
1:45 – 1:55 Coffee Break
1:55 – 2:55 PM Panel 3: Lack of Knowledge
Alena Allen, Professor of Law, University of Arkansas School of Law.
Cheryl Harris, Professor of Law, UCLA School of Law.
Kendall Thomas, Professor of Law, Columbia University Law School.
Sonia Gipson Rankin, Associate Professor of Law, University of New Mexico School of Law.
2:55 – 3:10 PM Panel 3: Q&A
Moderator: Nadiyah Humber, Associate Professor of Law, University of Connecticut School of Law.
3:10 – 3:30 PM Closing Remarks
FAQs
How can I contact the organizer with any questions?
Contact deborah.king@uconn.edu with any questions.
Can I update my registration information?
Yes.
Is my registration fee or ticket transferrable?
No, please cancel your reservation if you can no longer attend.
Is it ok if the name on my ticket or registration doesn't match the person who attends?
No, please register for yourself and any guests that will be joining you.