HISTORY AFTER HOURS: Talk and Book Signing with Author James Barron
Description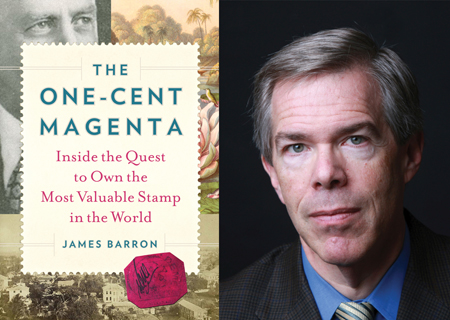 Join us for an evening talk with James Barron, New York Times journalist and author of the recently published book The One-Cent Magenta: Inside the Quest to Own the Most Valuable Stamp in the World (Algonquin Books). Through the stories of those who have bought, owned, and sold the One-Cent Magenta, James Barron delivers a fascinating tale of global history and immense wealth, and of the human desire to collect. A book signing will follow Mr. Barron's remarks, and his publication "The One-Cent Magenta..." will be available for purchase at the Museum Store.
For those who are not familiar with the One-Cent Magenta (also known as the British Guiana), Sotheby's put it this way:
Every collecting area has its Holy Grail. For stamps it is the British Guiana. Frequently described simply as "the most valuable stamp in the world" or "the most famous stamp in the world."
Make sure to get a glimpse of the One-Cent Magenta after the talk. This is your once in a lifetime opportunity to see the world's most famous stamp after all!
Doors open to the public at 6:00 pm; complimentary bar and light refreshments provided. The talk starts at 6:20 pm.