The Historic Selma Tour of Homes offers visitors a chance to experience hands-on history through guided tours.
About this event
The Selma Dallas County Historic Preservation Society and the City of Selma are proud to once again showcase our beautiful City. At 202 years old, Selma is home to the largest contiguous historic district in Alabama; where a special blend of southern hospitality, Spanish moss, heirloom blooms, wrought-iron fences and intricate architecture enchant locals and visitors alike. We will begin Friday evening from 6 to 9:00 p.m. in Orrville, touring the Ben Ellis-Dunaway House. Historian Cartledge "Cart" Blackwell will be presenting a wonderful program on the Architecture of Selma and Dallas County. Heavy hors d'oeuvres will be served along with beer, wine, and other beverages. Saturday will showcase eight historic homes, two museums, a church, several businesses, and art from 10:00 a.m. until 4:00 p.m. The day will end with a tour through Old Live Oak Cemetery from 4:30 – 7:00. Visitors will be captivated by the stories of humor, perseverance, and tragedy as history comes alive.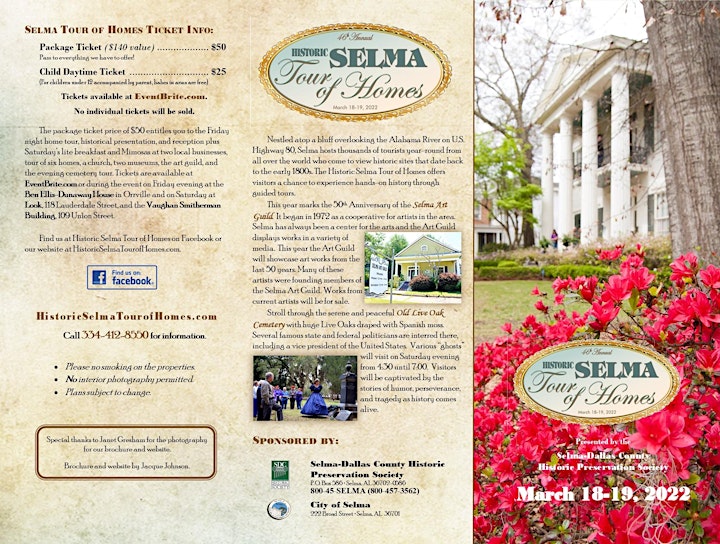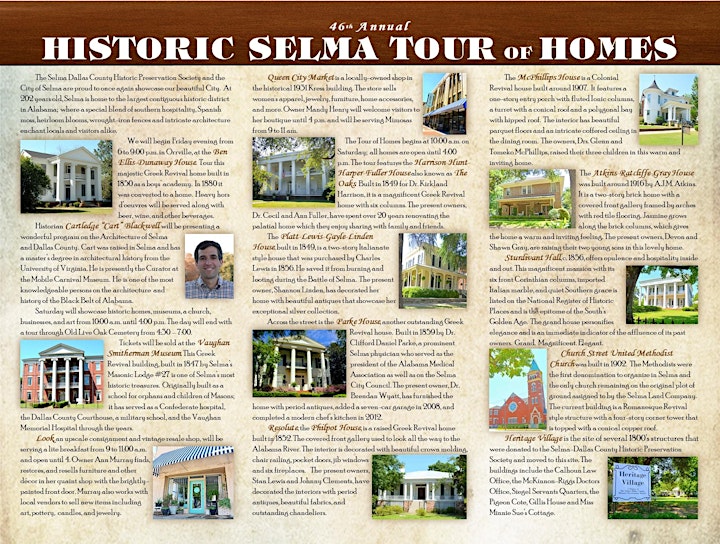 Organizer of Historic Selma Tour of Homes 2022
The Mission of the SDCHPS:  To preserve, protect and restore Selma and Dallas County's past by supporting educational, entertaining, and constructive methods of displaying, preserving, protecting, and restoring historic structures and locales in and around the Selma and Dallas County area. PRESERVE, PROTECT, RESTORE.