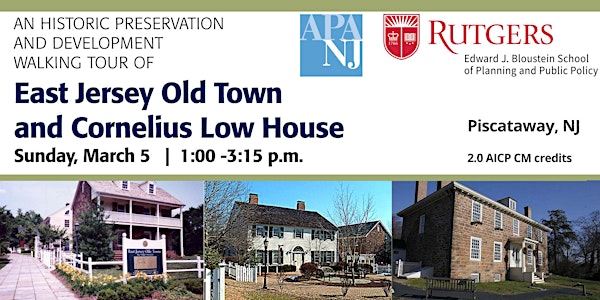 Historic Preservation Walking Tour: East Jersey Old Towne/Low House
Participants will explore a pre-Civil War world featuring award-winning exhibits, historic buildings, and seasonal programs.
By Rutgers University, Bloustein School
Date and time
Sunday, March 5 · 1 - 3:15pm EST
Location
East Jersey Old Towne Village 1050 River Road Piscataway, NJ 08554
About this event
The Bloustein School and APA-NJ have collaborated to offer a free, custom tour of East Jersey Old Town and the Cornelius Low House. Led by Mark Nonesteid of the Middlesex County Cultural and Heritage Commission and David Listokin, Bloustein School Distinguished Professor and an expert in historic preservation, participants can explore a pre-Civil War world featuring award-winning exhibits, historic buildings, and seasonal programs. In a fully functional recreation of 18th-century living, the East Jersey Old Town Village offers visitors the chance to experience the daily life of blacksmiths, tailors, and stone carvers in the American colonies. The Cornelius Low House -- now home to the Middlesex County Museum--is the former family home of Cornelius Low, a businessman in the Raritan Landing community who owned a warehouse for grain he purchased from local farmers, then shipped to New York. The building has stood since 1741 and is now on the National Register of Historic Places.
2.0 AICP CM credits.
TOUR LOGISTICS:
Participants must provide own transportation to each site.
1:00 p.m. Tour will begin in the parking lot at East Jersey Old Town Village and last approximately 1 hour.
2:00 p.m. Participants drive to Cornelius Low House
2:15 p.m. Tour of Cornelius Low House will begin and last approximately 1 hour.
GPS address, directions, and informational links about the sites -- which participants are encouraged to review in advance --can be found by visiting https://go.rutgers.edu/ejboldtowne
By registering for this event, you are also agreeing to give Rutgers University/Bloustein School permission to record you and your registered guests' (including minors under the age of 18) image and/or voice. You grant Rutgers/Bloustein School all rights to use these sound, still, or moving images in any medium for educational, promotional, advertising, or other purposes that support the mission of the university. You agree that all rights to the sound, still, or moving images belong to Rutgers/Bloustein School.
About the organizer
The mission of the Edward J. Bloustein School of Planning and Public Policy at Rutgers, The State University of New Jersey is to create just, socially inclusive, environmentally sustainable, and healthy local, national, and global communities.
Research, teaching, and outreach at the Bloustein School aim for intellectual originality and practical rigor in an atmosphere of spirited and open debate. Bloustein activities are rooted in diversity of experience and thought. They create settings where individuals and communities can flourish. The Bloustein ethic strives to improve the quality of public discourse by producing ideas and measures that have impact.
The Bloustein ethic engages those who do their jobs not just honorably, but with a passion for their work that alters their surroundings. The Bloustein School seeks to foster new research and thinking that achieve both scholarly recognition and public acceptance.