| | |
| --- | --- |
| Historic Preservation Essentials Seminars, August 2018 | |
Event Details

HISTORIC PRESERVATION ESSENTIALS SEMINARS 
In August 2018, Historic Hawai'i Foundation will continue its popular statewide educational seminars to provide training on historic preservation. This year's topics include: the purpose of preservation; the framework, inclusive of roles and responsibilities; stewardship of historic properties; best practices and tips for success and preservation tools and resources.
The half day seminar combines lecture, local examples, question and answer session and a group activity.  The goal is to share knowledge and tools with the public to help them understand and participate in the preservation process, a prerequisite to saving and preserving historic properties and cultural sites.
Who should attend? Community members and professionals who care about preserving the built and cultural sites that tell the stories of Hawai'i's history.
The seminars are provided in cooperation with the National Park Service.
Monday, August 6: Kawaihae, Hawaii Island
9:00 a.m. to 12:30 p.m. 
Mauna Kea Beach Hotel
Lloyd Sexton Gallery
62-100 Mauna Kea Beach Drive, Kohala Coast
Tuesday, August 7: Honokaa, Hawaii Island
9:30 a.m. to 1:00 p.m.
North Hawaii Education & Research Center (NHERC)
Room 204
45-539 Plumeria Street, Honokaa  
Wednesday, August 8:  Lahaina, Maui
8:30 a.m. to 12:00 p.m.
Best Western Pioneer Inn
Snug Harbor area
658 Wharf Street, Lahaina
Thursday, August 9: Hana, Maui
8:15 a.m. to 11:00 a.m.
Hana School Gymnasium
4111 Hana Highway, Hana
Friday, August 10: Kalamaula, Molokai
8:30 a.m. to 12:00 p.m.
Kulanaoiwi Halau at the Hawaiian Multi-Purpose Room
600 Maunaloa Highway, Kalamaula
Monday, August 13: Princeville, Kauai
9:00 a.m. to 12:30 p.m.
Princeville Community Center
Aloha Room
4334 Emmalani Drive, Princeville, Kauai
Tuesday, August 14: Hanapepe, Kauai
8:30 a.m. to 12:00 p.m.
Storybook Theatre of Hawaii
3814 Hanapepe Road, Hanapepe
Wednesday, August 15: Lanai City, Lanai
10:30 a.m. to 2:00 p.m.
ILWU Union Hall
840 Ilima Avenue, Lanai City
Thursday, August 16: Haleiwa, Oahu
10:00 a.m. to 1:30 p.m.
Waialua Courthouse
66-207 Kamehameha Highway, Haleiwa
 ATTENDEES WILL LEARN:
--> The definition of historic preservation is and how it benefits communities
--> How to identify historic properties
--> The framework of federal, state and local preservation programs
--> Standards and guidelines for the treatment and stewardship of historic properties
--> Tools and resources for historic preservation

WHO SHOULD ATTEND:
Anyone who cares about protecting and preserving Hawaii's historic places for future generations including professionals in preservation and related careers and members of the general public.
The classes are free and open to the public. Pre-registration is required.
For more information, contact Historic Hawai'i Foundation at 808-523-2900 or Member@HistoricHawaii.org
The workshops are provided in cooperation with the National Park Service.
______________________________________________________________________________________

FREQUENTLY ASKED QUESTIONS:

Who should attend this seminar?
Members of the community interested in or responsible for preserving Hawaii's historic and cultural places, including members of the general public and preservation professionals: historic preservation review commissioners; cultural resource commissioners; planning commissioners; planning department staff; elected officials; local preservation organizations; planners, architects, land owners and contractors who help preserve historic places.


May I attend any of the seminars?
Yes, you may choose to attend the seminars on the date and island of your choice as long as space is available.
Will lunch be provided?
No, lunch will not be provided with the exception of the August 15 seminar on Lanai. Snacks will be providedat all other seminars except for the Kawaihae, Hawaii Island seminar at the Mauna Kea Beach Hotel where coffee and tea will be served. 
What should I bring to the seminar?
Please bring a water bottle or container, pen and paper for notes. Depending on the location, it may be advisable to bring a sweater or jacket due to air conditioning.
Where can I contact the organizer with any questions?
Questions may be directed to andrea@historichawaii.org or by calling HHF at (808) 523-2900.
Is my registration/ticket transferrable?
Yes
Can I update my registration information?
Yes
Do I have to bring my printed ticket to the event?
No. Let's keep it green. Your name will be on the attendee list.
The name on the registration/ticket doesn't match the attendee. Is that okay?
Yes

Where
Kawaihae & Honokaa, Hawaii Island; Lahaina & Hana, Maui; Kaunakakai, Molokai; Princeville & Hanapepe, Kauai; Lanai City, Lanai; Haleiwa, Oahu
Multiple cities, Hawaii


Organizer
 Historic Hawaii Foundation - Helping People Preserve Historic Places.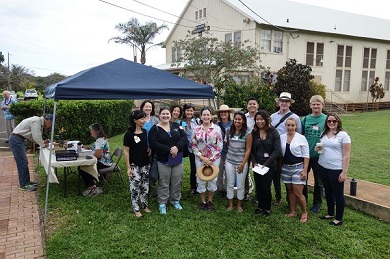 Our mission is to preserve and protect the historic buildings, sites, communities and objects that tell the unique stories of Hawai'i's multilayered history. Founded in 1974, HHF has become the driving force behind historic preservation in the state through its core programs of developing a community ethic of historic preservation, supporting smart legislation, offering educational events and training for local communities and providing technical assistance to make preservation accessible.

Sign up for our e-newsletter at www.historichawaii.org for the latest on preservation-related news & events. Learn more and visit our Preservation Resource Center at www.historichawaii.org