Sales Have Ended
Registrations are closed
Thanks for registering! We look forward to seeing you on March 19 or learning more about how you'd like to be involved. We sent you a survey link in the confirmation email for your registration. Let us know if you have any questions by reaching out to nashvillegermantownheritage@gmail.com
Sales Have Ended
Registrations are closed
Thanks for registering! We look forward to seeing you on March 19 or learning more about how you'd like to be involved. We sent you a survey link in the confirmation email for your registration. Let us know if you have any questions by reaching out to nashvillegermantownheritage@gmail.com
Description
Hey, neighbors!
We are excited to announce the kick-off planning party for the new Germantown Heritage Project, a neighborhood engagement project that celebrates the history and culture of Germantown.
Our goals are to recapture the lost legacy of Germantown's people and culture and find creative and enduring ways to tell Germantown's amazing story.
Are you a creative person with love for history? Come join us! You're welcome to join the planning party on Tuesday March 26, or contact us to let us know how you'd like to be involved.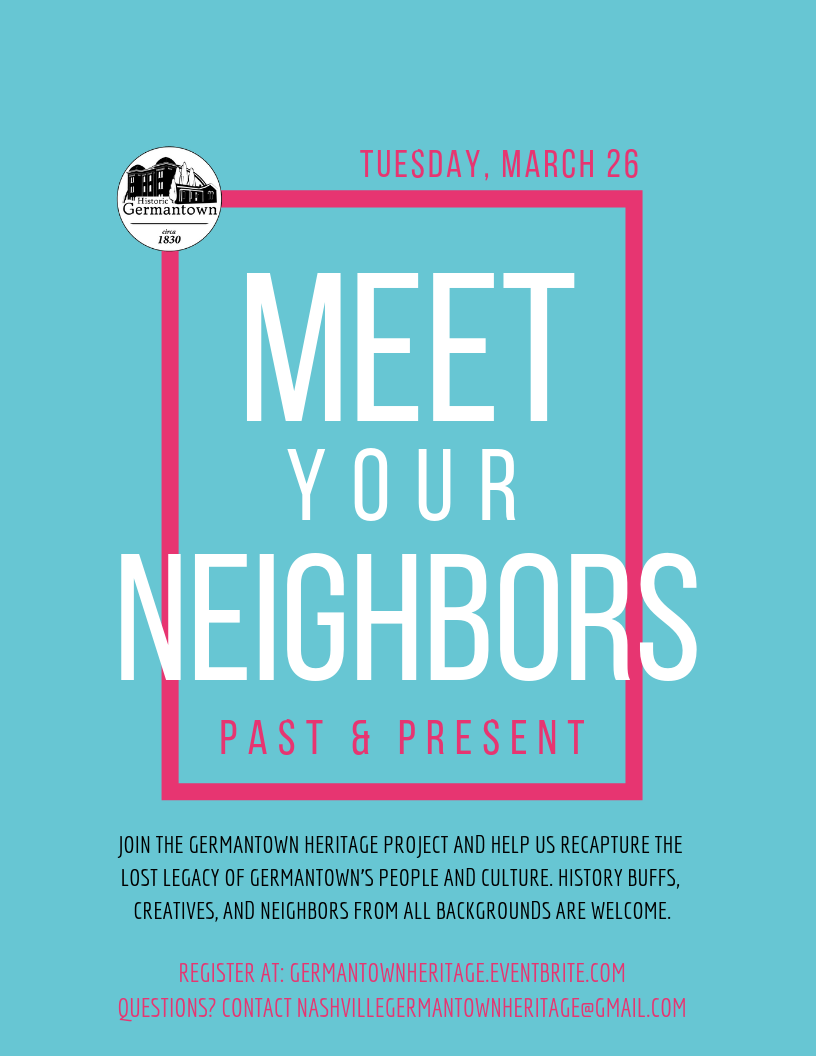 WHO WE ARE :
In conjunction with the Germantown Neighborhood Association, we are working hard to bring to life the history of Germantown's past while connecting neighbors of the present.
WHAT WE ARE DOING :
It is our mission to engage the community. Germantown Heritage project is a broad-based community engagement program centered around the documentation and sharing of the history and culture of the neighborhood. Local voices, past and present, will tell stories about what Germantown was and how it became the vibrant neighborhood it is today.
With extensive culinary offerings, thriving local businesses, engaged residents and a storied past, Germantown remains one of Nashville's favorite neighborhood's for visitors and locals.
Established in the 1850s by European immigrants, Historic Germantown was Nashville's first suburb. The neighborhood was born as large brick townhomes were erected next to modest worker's cottages. Revitalization began in the 1970s and Germantown was named a Registered Historic District in 1979.
HOW WE ARE DOING IT :
We are in the processes of fine-tuning our big ideas with a roadmap to all we can accomplish in 2019. We kicked things off with a meeting in early February in which we announced three interim committee chairs who are dedicated to determining the first steps of the project.
HOW CAN YOU HELP :
Are you interesting in getting involved with this project? We will need folks who are savvy with social media, eager to dive deep in Germantown's history, willing to hunt down forgotten tales of the neighborhood, interested in sharing big ideas and ready to lend a hand.
Forward this information to your Germantown Neighbors & Friends!
Do you know someone who'd be interested in the Germantown Heritage Project? Send them this email and ask them to complete the survey so they can be added to our mailing list.