Description
Six historic houses in Denton's Historic District will be open to the community in the Denton Historic Home Tour on Saturday, December 3, from 1 to 5 p.m. The tour is presented through the partnership of the Historic Denton, Inc. and the Denton County Office of History and Culture, partners in preservation in Denton.
The featured homes, representing several architectural styles, were built between 1885 and 1917 in an area within walking distance of the downtown square.
Three of the houses are located on West Oak Street, two on Pearl Street, and the Bayless-Selby House on Mulberry. Additional parking is available in the Calhoun Middle School parking lot and on streets between Mounts Ave, Denton Street and Gregg Street.
Tickets may be purchased at the Discover Denton Welcome Center, 111 W. Hickory Street, Denton, Texas, or online at discoverdenton.com. On the day of the tour, tickets will be available at the Bayless/Selby House, 317. W. Mulberry; the Graham/Lomax House, 723 W. Oak; and the Simmons/Maxwell House, 607 Pearl. Adults $20 advance purchase ($25) door.. Student tickets are $5. Children accompanied by an adult are free.

Tour includes 6 historic homes:
317 W. Mulberry: Bayless/Selby House, 1884
Hosted by the Denton county Office of Historyand Culture
Samuel A. Bayless and his wife, Mary, came to Denton from Monroe County, Tennessee. In 1884, he purchased a two-room farmhouse, the one-story part of the museum. Later, they built a two story Victorian Queen Anne-style addition. Samuel died in 1919. Mary sold the house in 1920 to R.L. Selby Sr. and his wife, Mary. The Selby family retained ownership until 1970. The house was moved from 1301 Myrtle Street, Denton in 1998. After restoration, the house opened as the Bayless-Selby House Museum in 2001, located at 317 W. Mulberry Street, Denton, Texas 76201. Owner and host for the home is the Denton County Office of History and Culture.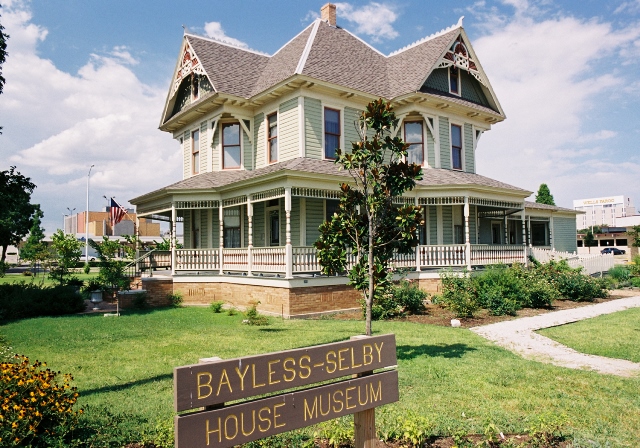 723 W. Oak: Graham/Lomaz House, 1898
Hosted by Helen & Roger Reikofski
This Classic Queen Anne Victorian was built in 1898 for Otis T. Gra­ham, son of A. E. Graham, by Frank Craft. In 1903, the house was sold to B. F. Deavenport and his wife, Mary E. Bell Deavenport (daughter of Joseph Bell), then to J. H Bell and his wife, Mattie, and finally to R. P. Lomax and his wife, Lizzie S. Lomax. Mr. Lomax was in the real estate and loan busi­ness and active in Scouting and civic affairs. The children, Elizabeth and R.H., grew up in the house. Elizabeth Lomax lived in the house for most of the family's 69 years there: 1911 to 1980. For 27 years she taught English at what is now the Uni­versity of North Texas. The house has seven original fireplaces, each with a different architectural style. A round turret rises from the second floor. A semicircular stained glass window lights a cozy inglenook, under the staircase in the en­trance hall. Typical features are asym­metrical facade, elaborate spindle work, and gable detailing.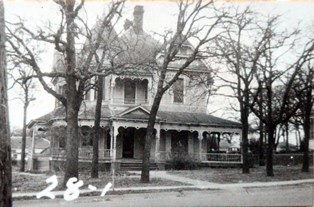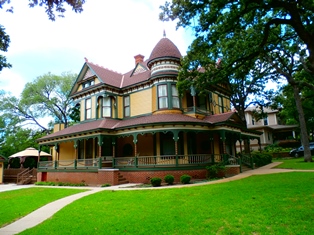 819 W Oak: Scripture/Deavenport House, 1885
Hosted by Helen & Richard Hayes
The original part of this house was built in 1885-86 for local grocer Robert C. Scripture and his wife Annie (Brown). The lot was sold to Annie Scripture for $380. The Scriptures built a brick Victorian-Italianate two-story home on the site. It was evaluated for tax purposes at $2,500. The home was sold to the Robert Hann who played a prominent role in establishing what would become the University of North Texas. In 1905, the house was purchased by a banker, B. H. Deavenport for $5,000. The mission revival changes were completed by M. B. Whitlock, a local contractor, and feature a decorative rose window on the third floor. Ben Ivey made further changes in 1946 including a wall mural on the third floor featuring the Ivey family.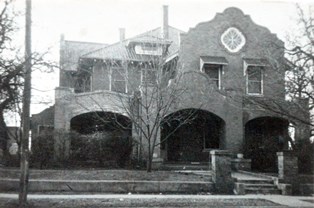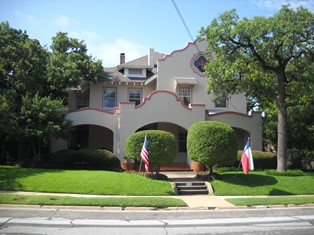 912 W Oak: Sample House, 1940
Hosted by Becky & John Wright
912 W. Oak St. is a Colonial Revival style home built by Tom C. Sample in 1940. Tom Sample owned two grocery stores in Denton before becoming a book store manager in the 1930's and 40's. Mr. Sample sold his home in 1960 to J.C. and Ruby Broyles. Mr. Broyles operated a service station on University Drive. In 1985, Mrs. Broyles sold the home to the current owners, John and Becky Wright. This traditional two-story home has beautiful original windows, hardwood floors, fireplace, and molding/millwork. Christmas trees and decorations will be on display in many of the rooms, along with numerous family antiques and festive touches.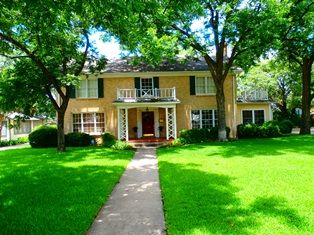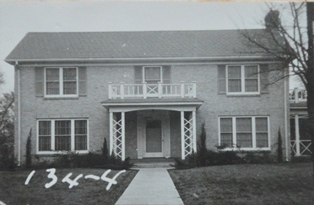 607 Pearl: Simmons-Maxwell House, 1915
Hosted by Kathy and Bill Barnett
The Simmons-Maxwell House at 607 Pearl Street was built in 1915 by James Wiley Simmons and Susan Speed Gregg Simmons in the Arts and Crafts mission style. The house has many features of Mission homes including a sturdy carved front door, thick stucco walls, leaded-glass windows, arched windows exposed beam ceilings and period light fixtures and lamps. Susan Speed Gregg Simmons was the grandson of Darius Gregg who came to Texas in 1827 and fought in the Texas War for Independence. In 1853 Darius Gregg established a 20,000 acre ranch in Denton County. Col. F. W. and Alice "Louise" Maxwell purchased the home in 1948. Col. Maxwell, wounded in the Battle of the Bulge, was a decorated veteran of WWI and WWII. Louise received the top service award from the American Red Cross for volunteer work from 1918-1958. Family members and ancestors of occupants of this home were participants in the American Revolution, Texas Revolution, both World Wars, and the drafting of the Declaration of Independence.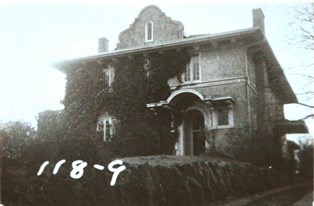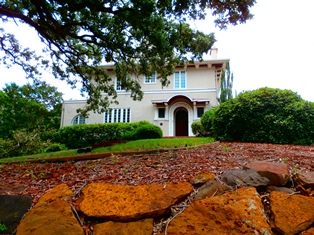 612 Pearl: Ross House, 1917
Hosted by Lynde & Jamie Olswold
The Ross House was built in 1917 for Rena and Felix B. Ross. The home is a one-story six room cottage of the Craftsman style popular from 1905 to 1930 with a low pitched front gabled roof and wide eves that overhang with exposed roof rafters. Mr. Ross was a Professor in the Department of History and Sociology the College of Industrial Arts, now known at Texas Women's University and he served on the Denton City "Council" in 1919. The home was sold to Daisy and R. J. Wilson in 1926. Mr. Wilson was part owner, operator and General Manager of the Denton Traction Company (also known as the street railway system) located in downtown Denton.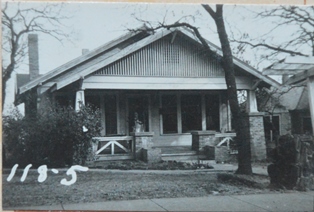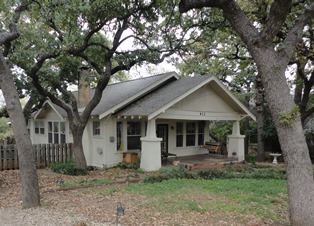 Follow this event on Facebook: https://www.facebook.com/events/125054351308781/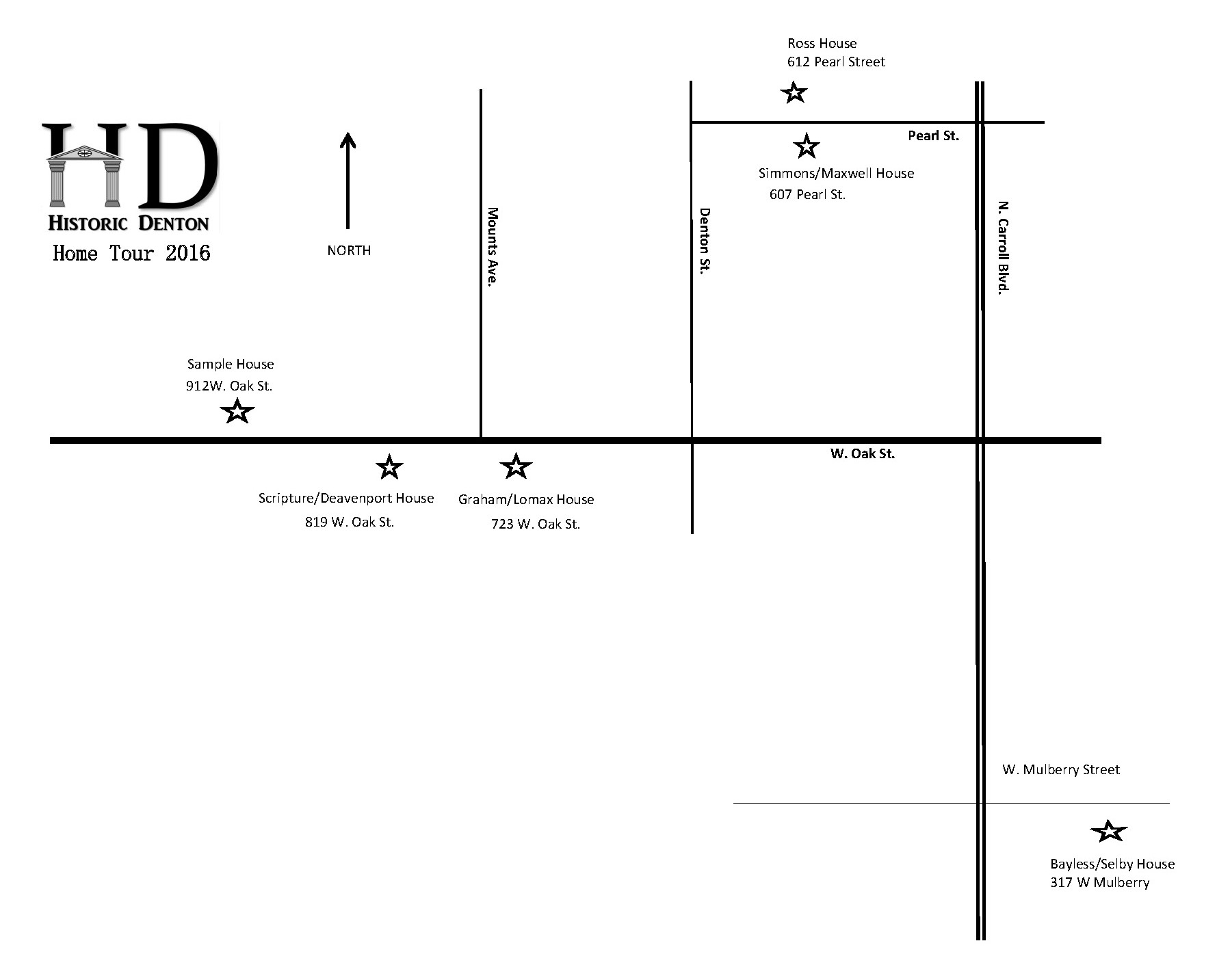 The Tour is a fundraiser for a matching grant from Denton Municipal Electric which is providing historic character street lamps along West Hickory between Welch and Carroll Blvd.
Original ticket required for entry. Cannot be reproduced or replaced. Historic Denton Home Tour and home owners cannot be held liable for any injury, damage, loss or accident to any participant or their property occurring during the course of this event.