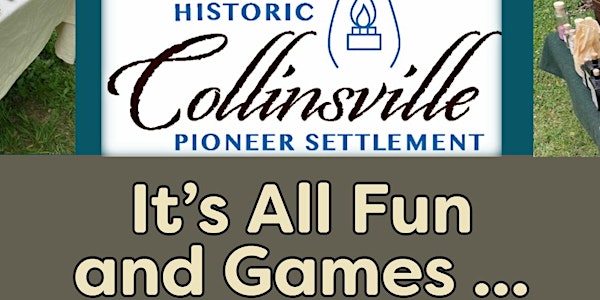 Historic Collinsville's 3-Hour Civil War Mini-Camp
The cost is $35.00 per child to be paid at the Visitor Center upon arrival. Registration is free, but the Mini-Camp is not free.
When and where
Location
Historic Collinsville- 1800s Settlement 4711 Weakley Road Southside, TN 37171
About this event
Historic Collinsville will offer a small group Mini-Camp with a focus on Civil War toys and games as well as medical practices for ages 9-12 from 9AM-Noon for $35.00 per child. In a group of 12 or less, participants will take a quick guided tour of the site's furnished buildings before engaging in activities related to the day's topics with HC directors. At no extra cost, one parent/guardian may either accompany his/her child during camp participation, independently explore the settlement, or leave the child at the site in the care of directors. Special Note: During the hours of 10am and noon the site will be open to the public, but the camp group will not intentionally interact with guests outside of the mini-camp. By the end of the experience, participants will have a better understanding of the1800s and life during the Civil War.
Join us for the third gathering in a series of Civil War Mini-Camps! Each Week is a different topic!
Specific Instructions for Participants
In a backpack or tote, participants should bring the following items: one bottle of water and a food treat (for a quick snack break), one towel (to sit on at times), items necessary for medical purposes or physical needs (like, inhalers or glasses). A cell phone is permitted (for photos and urgencies/emergencies), but must be on silent mode for the duration of the mini-camp and ear buds/headphones must be disconnected from the cell phone and put away unless used with an urgent/emergency call. Comfortable clothing, appropriate for the day's weather, should be worn.
Participants should NOT bring the following: toys (indoor or outdoor types), electronics (beyond the cell phone), candy or gum (not even for the snack break), breakfast/lunch (only snack items), or weapons (like a knife).
The following 3 rules are expected to be followed at all times: Be respectful (to everything and everyone: keep your hands, feet, and negative comments to yourself and do not damage any items), be responsible (take care of yourself and your belongings as well as the items at Historic Collinsville), be ready (follow instructions the first time they are given and pay attention to the best of your ability).