Description
Travis Rupp, lecturer at CU Boulder, and Beer Archaeologist and Innovation & Wood Cellar Manager at Avery Brewing Company, will give a lecture on the development of his Ales of Antiquity Series. The program will focus on his most recent research regarding early monastic brewing, ancient beer culture in the environs of the Dead Sea, and ancient Iberian brewing. He will also discuss his newest project which brings the Ales of Antiquity Series home to Golden, Colorado.
Location and Pricing
2:00 p.m. – 3:30 p.m.
free for members; $10 non-members.
Registration is required. Program will be canceled if minimum attendance number is not reached 24 hours prior to start time.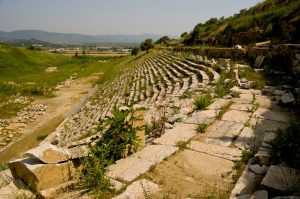 Membership
Membership pays for itself with just a few programs for your family. Join us.
Facility Rental
Learn how a Golden Museum Rental offers unique experiences that range from rustic to ritzy.