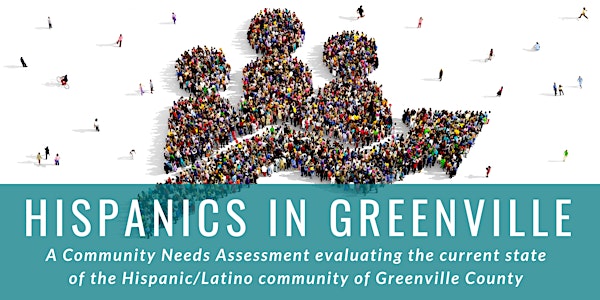 HISPANICS IN GREENVILLE
When and where
Location
Commerce Club - Greenville 55 Beattie Place #17th floor Greenville, SC 29601
Description
The Hispanic Alliance, the Community Foundation of Greenville, and Furman Univeristy invite you to the launch of HISPANICS IN GREENVILLE, a Community Needs Assessment evaluating the current state of the Hispanic/Latino community of Greenville County.
Dr. Courtney Quinn of Furman University will be presenting the findings of a research study conducted with Hispanic Alliance. Join us to learn more about local demographic trends, socio-economic conditions and particular issues affecting the Hispanic population in Greenville County.
This event is made possible by partnerships with Furman University, Graham Foundation, the United Way of Greenville County, Hollingsworth Funds and the Gilreath Foundation.

---
About Dr. Courtney Quinn
Head Researcher and Presenter
Dr. Quinn holds a Ph.D. in Leadership Studies from the University of Nebraska-Lincoln. She is a Visiting Research Associate at Furman University and teaches in the Sustainability Science major. Courtney's courses at Furman focuson the human dimensions and social foundations of sustainability including social equity, education, health, and housing. She has worked on
research projects for the Greenville Homeless Alliance and is currently a Community Engaged Learning Fellow, focusing on creating learning links between Furman students and Greenville residents. Dr. Quinn also serves as the Faculty Leadership Development Coordinator, assisting Furman faculty in developing skills to have a greater impact on their students, peers, and the larger community.