Description
Hispanic Lifestyle is pleased to announce that our 2017 SoCal Business Expo and Conference will take place on Wednesday May 31, 2017 at the Ontario Airport Hotel and Conference Center, Ontario, California. The roots of Hispanic Lifestyle's business to business events date back to 1996. Over the years Hispanic Lifestyle has celebrated the success of 100's of Latino owned businesses who continue to Survive and Thrive in California's economy.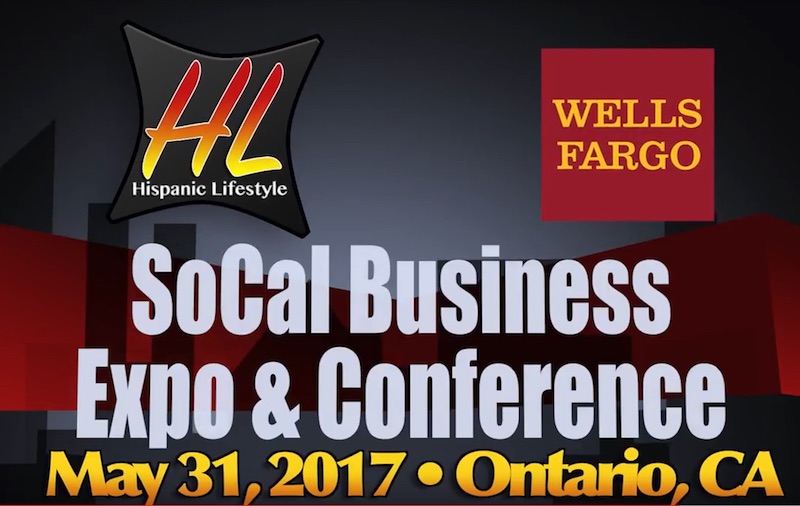 Join us on May 31, 2017 - Promo Video https://youtu.be/JnVaszoCT4Q
This year's conference will focus on a Legislative Update, Leadership Training and how to become contract ready. Start Up and Business Owners looking for financing will have an opportunity to meet with Small Business Lenders. Followed by a panel discussion with representatives of purchasing organizations. The topic will be how to present, prepare and successfully do business with major companies, utilities and local businesses.
During the luncheon program Hispanic Lifestyle will present our 2017 Survived and Thrived honorees. Lunchtime attendees have the opportunity to hear directly from the leaders of these companies. They have been asked to share with the audience insights on how their business have survived and and ultimatley started thriving tough economic times.
Sponsoring Hispanic Lifestyle's 2017 Southern California Business Expo and Conference is Wells Fargo Bank, Southern California Edison, the Inland Empire Small Business Development Center, Coke Cola, and Pair.com
Start ups and business owners have an opportunity to speak directly with representatives from the U.S. Small Business Administration, The Inland Empire Women's Business Center and U.S. Department of Commerce International Trade Administration.
WORKING SCHEDULE "Subject to Change"
DETAILS | Hispanic Lifestyle's 2017 Southern California Business Expo and Conference*
Date | Wednesday May 31, 2017
Location| Ontario Airport Hotel and Conference Center, Ontario, California.
WORKING SCHEDULE
7:00am | Exhibitor Setup and Check in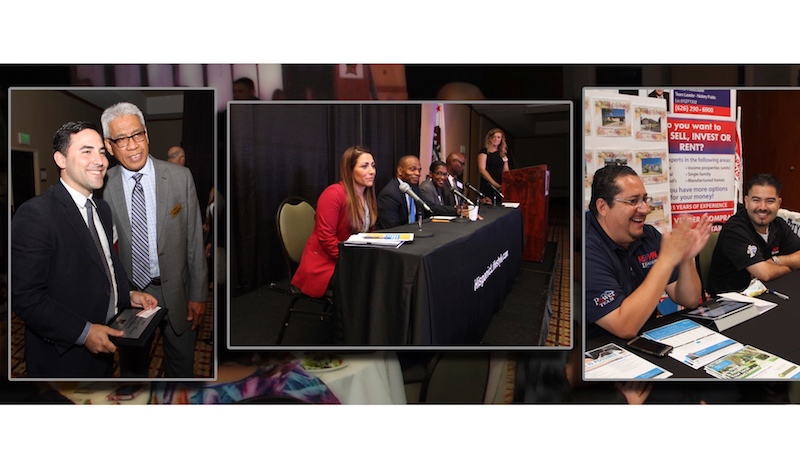 8:00am | Attendee and Registration Open
9:00am | Legislative Update
United States Congresswoman Norma J. Torres, representing California's 35 Congressional District.
10:00am | Excellence in Sales and Leadership
Presented by Adriana Gallardo is one of Southern California's most successful business women. As the mastermind behind Adriana's Insurance, an empire consisting of over 60 offices, Adriana is a symbol of leadership.
Richard Martinez is a recognized leader in the world of coaching, entrepreneur in the business of physical and emotional health, and now one of the leading specialists of one of the most talked about shows.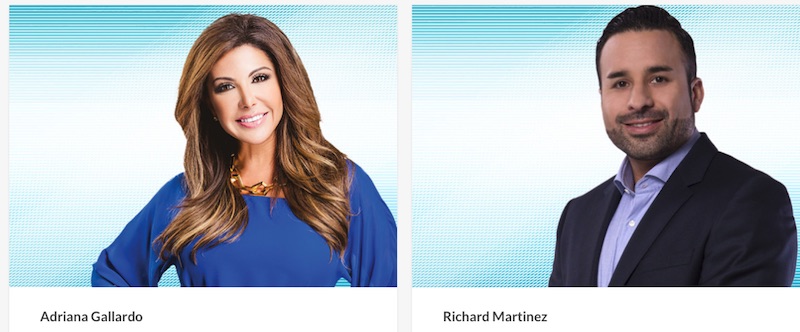 11:00am | Getting Contract Ready
One on One meetings with buyers and local purchasing representatives.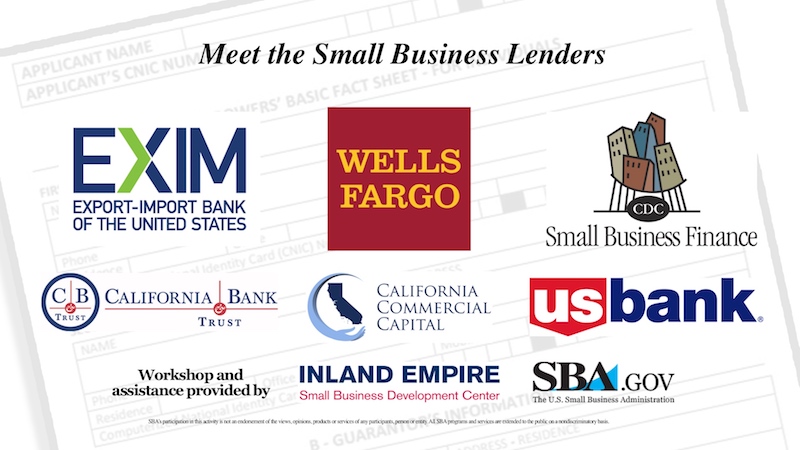 11:00am | Meet Local Small Business Lenders
One on One meetings with small business loan lenders.
Be Prepared to answer the following questions
Information on the company and principals (owners)
What the money is to be used for?
The amount requested?
Current and past 2 years of financial statements?
Moderator : Vincent McCoy, Inland Empire Small Business Development Center

SBA Reprentative: Ms. Sylvia Gutierrez, Economic Development Specialist and Women's Business Outreach Representative
Confirm Lenders:
Wells Fargo Bank
U.S. Bank
CDC Small Business Finance
The Export-Import Bank of the United States (EXIM)
California Commercial Capital
California Bank and Trust
NOON | 2017 Survived and Thrived Luncheon (Ticketed Activity)
Presentation of Hispanic Lifestyle's
2017 Southern California Survived and Thrived Business Owners
Adriana's Insurance San Bernardino, Aleph Group Inc Riverside Angel Jewelers San Bernardino Arellano Associates San Bernardino Associated Construction Services (ACS) Group Los Angeles El Pachuco Zoot Suits Orange County El Pollo Grill San Diego Ensenada Markets Los Angeles G.O. Pallets, Inc San Bernardino Inland Empire Autobody & Paint, Inc. Riverside, Intergraded Security Management Group San Bernardino Otilio Farms Ventura Radio Lazer Broadcasting Los Angeles/Inland Region Rumba Room Live Orange County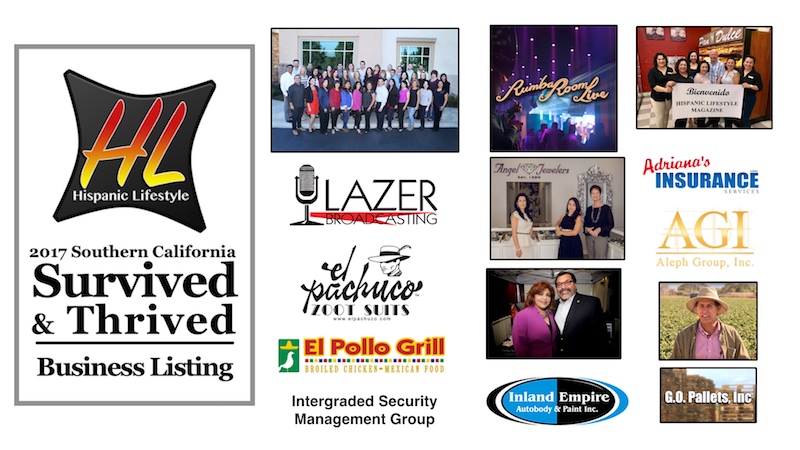 1:15pm | Door Prizes and Networking
2:00pm | Event Concludes
SPONSORSHIP OPPORTUNITIES
For sponsorship information and more details on Hispanic Lifestyle's Southern California Business Expo and Conference, please call 951.640.1146 or send your request to RDS@Hispaniclifestyle.com
WHO SHOULD ATTEND
Hispanic Lifestyle's Signature Southern California Business event provides attendees, exhibitors and sponsors the opportunity to:
Meet business consultants and experts from the Small Business Administration (SBA), Small Business Development Center (SBDC), Women's Business Centers and Department of Commerce and International Trade.
Network with buyers representing corporations and government agencies.
Meet and network with Latino Business Owners that have Survived and Thrived.
Network with Latino/ Latina Business Owners and Professionals.
Network with Latino/Latina Business Organizations.
Business Loans – Meet and network with the largest lenders to small businesses in the region.
Visit the Opportunity and Resources exhibitor area.
Over the last three years Hispanic Lifestyle's events have attracted the largest gathering of Latino/Latina professionals in the region. The majority of the people that attend our events are business owners and professionals who are decision makers and define the word "influencers". Hispanic Lifestyle has been organizing and producing quality events that celebrate the achievements of the Latino community since 1995.