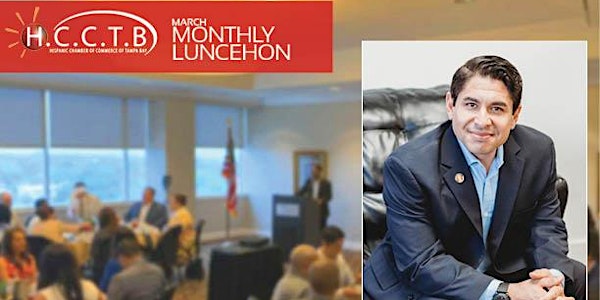 Hispanic Chamber of Commerce of Tampa Bay Luncheon
When and where
Location
Centre Club, 8th Floor 123 S Westshore Blvd Tampa, FL 33609
Description
The Centre Club | Tuesday, March 26, 2019 | Networking begins at 11:30 am
Join us for our next monthly luncheon on March 26th at The Centre Club! We will begin with networking at 11:30 am, then move onto a delicious lunch where we will be joined by special guest speaker Dr. Carlos Garcia.
The Psychology of Being an Entrepreneur/Business Owner
The talk centers around learning the challenges faced by entrepreneurs and busineess owners, how these challenges impact the individual and theirbusiness, and strategies on how to manage the stress and difficulties that come with being a business owner.
Biography
Dr. Carlos Garcia is a Licensed Psychologist and professor of psychology. He is a business owner and founder of Tampa Counseling and Wellness. He completed his residency at Rutgers University and received his doctoral degree in clinical psychology from Nova Southeastern University. Before accomplishing his educational goals, he served as a Sergeant in the United States Marine Corps and received an honorable discharge in 2004.
Dr. Garcia spent several years learning the influence that individuals and groups have within an organizational structure. His area of expertise is in assessing, analyzing, and interpreting human behavior, as well as looking at how individuals function in a group setting, how they impact the group dynamics, as well as how they are influenced by the system.
He currently provides consulting services such as senior level coaching, leadership development, and performance improvement. He specializes in working with entrepreneurs and business professionals looking to become better business leaders and make an impact in their respective industries. Dr. Garcia draws on his years of experience in both military and professional organizations to teach others how to become more masterful and strategic leaders.
*****
Your ticket includes lunch served by the amazing catering staff at The Centre Club. Our monthly luncheons are open to non-members and current members alike.
Sign up for our Newsletter at https://tampahispanicchamber.com/
If you have any questions, please email us at President@TampaHispanicChamber.com